When a friend told me about Mystic, a new series about a troubled young teen and her bond with a magical horse, set in breathtakingly beautiful New Zealand, my gut reaction was, "Gimme."
The lush green hills and sparkling waters of New Zealand's coastline always provide a gorgeous backdrop (remember how the world gushed over the scenery in The Lord of the Rings?), but knowing that New Zealand is currently living with no new COVID-19 cases adds a timely layer of escapism to this stunning fictional series. And then you add horses, including one magical horse, and you quickly realize that Mystic is the show you didn't know you desperately needed.
The UK-New Zealand co-production, stacked with notable talent, is described as a "family thriller". After the death of her father, 14-year-old Issie Brown (Macey Chipping) moves to Kauri Point, New Zealand with her mother (Laura Patch), who is determined to help them find a fresh start. Missing her friends and overwhelmed with the mixed emotions that come with grief, Issie is resentful of the move and having a hard time connecting with both her mom and the local teens. But life starts to turn when she encounters a lost horse…and also starts seeing a ghost horse.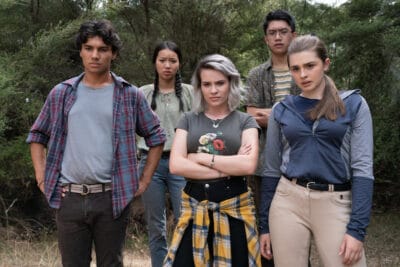 It sounds far fetched, but the encounters are both comforting and thrilling, which is how Chipping describes working on the show. "Animals are so pure and innocent – they are beautiful creatures. They are also unpredictable which makes for good comedy and they are excellent for eliciting emotion from an audience," says the actress, known best as Young Rose in Vampire Academy. "Learning to horse whisper was one of my favourite parts of working on Mystic. I watched one of the horse wranglers do it then tried it myself. It definitely took more than one go but we got there eventually. It made me quite emotional because you really do form a bond with the horse for it to walk up beside you when your back is turned. It made me fall in love with the story even more!"
As someone with severe allergies to horses, I've always been envious of friends who ride, but you don't need to straddle a horse to understand its power; the mere sight of one can elicit a visceral reaction. (Who else yells "H-O-R-S-I-E-S" with a wide grin while driving by a field?)
Jennifer Schramm is a counsellor who has been offering clients equine-facilitated therapy since 2012. This takes on many shapes, sometimes it's caring for the horses, or going for a ride, and sometimes it's just about talking while sitting in a field next to a horse. She has seen how they have helped countless individuals deal with numerous issues, but it's often grief that brings people to her horse farm in King City.
"I think a lot of times people can't put words to their grief. But there is something non-judgemental and authentic about a horse that draws that out of you. They bring people into their presence so they are able to connect with that grief and feel it," Schramm says, sharing how the horses often spark strong emotional responses. "I've seen people touching a horse and to us it looks like nothing is happening but they are actually touching a part of themselves that brings out tears, or sometimes I've had people have so much grief release that they start screaming."
Schramm tells me that 85-90 % of the people who attend her horse therapy sessions have shared that they've had some kind of previous relationship with horses when they were a kid or teen. For Chipping, working with horses was a real draw, and she credits much of that to the positive experiences she had with horses in her childhood.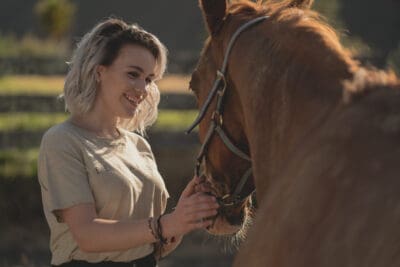 "When I was younger quite a lot of my friends had horses that I would ride when I visited them. However before production began I had lots of riding lessons where I improved my riding skills every time. I've gained such a strong love for horses – it was incredible to be around them every day on set," says Chipping.
Mystic is a well-written series with a cast that gives persuasive and endearing performances, and of course the landscapes are magnificent, but it is the horses that give the series a tender and magical quality providing a unique kind of escapism. Or as Schramm says, "They are massive creatures, and some of the most gentle animals in the world. They are scared of us, but they are willing to be with us, in our space. There is something in the energy of a horse."
Watch Mystic on Super Channel Heart & Home Sundays at 8PM ET. Catch-up episodes are available on Super Channel On Demand through cable providers, Amazon Prime Video channels, and the Apple TV app. More info here.