Whether you are a Bay Street businesswoman in search of an after-work libation, or you want to toast Pride with a fresh AF queer cocktail, the Drake's newest family member, Drake Mini Bar, is a cute, sun-drenched space in the middle of Toronto's financial district. While it sits next door to Drake One Fifty, it has its own distinct vibe. And we love the drink menu.
If you want booze, there are a ton of delicious and Insta-worthy cocktails, from a sparkling wine Palermo Spritz to a whisky strawberry Ginger Rogers; it's a carefully curated bevy of options that will satisfy the most sophisticated palette.
We also commend The Drake's ongoing commitment to offer an interesting and thirst-quenching list of non-alcoholic temperance cocktails. We can't wait to knock back a Garden State (Seedlip 108, cucumber, fennel, pineapple, basil, lime) or a Wanderlust (10 Grapefruit, cucumber, mint, peach, lemon, seltzer).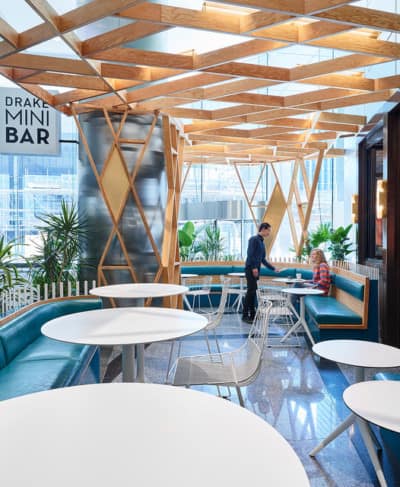 Whether you want to observe the York Street hustle with the city's high-powered suits, or you prefer to fix your gaze on the enticing murals by artist Rajni Perera, there is lots to look at and soak up in this superbly designed hotspot.
Make a summertime date to savour & sip! (Did we forget to mention the food? Order a bunch of small plates!) They start early; they go late. Monday to Friday, 7:30 a.m. to CLOSE / Sunday, 4 p.m. to CLOSE.