Artist, producer and founder of Mixtape VR, Nyla Innuksuk has shaped her passion for virtual reality into an Indigenous-owned and female-run business that creates custom 360/VR experiences. She's created work for A Tribe Called Red, CBC, The Jerry Cans, and more.
This weekend she'll be at Digifest, Toronto's international festival celebrating digital creativity, speaking about how media art impacts cities and how people interact with it.
SDTC: What was your first introduction to VR? What compels you to this medium?
NI: I was first introduced to VR as a new video game platform. A friend of mine had a DK2 (Oculus Rift Development Kit) and I thought it was really fascinating.
In 2015 there had been a few docs out, including Clouds Over Sidra by Chris Milk. I thought it was a powerful medium and after looking into it realized it was something I could do if I had the right tools. I started reading everything I could find on VR/360 filming and consuming all of the content that was out there. I went to VR meet-ups being held in the city and it became all-consuming. I was totally hooked.
What was your education/career trajectory prior to founding Mixtape VR?
I have been making movies since I was a kid. My brother broke his leg when I was twelve and my parent's got him a MiniDV camera for Christmas because he couldn't snowboard with his friends, but he could still go out and film them. I ended up using the camera more than he did and was making horror movies and shorts with my friends all the time. I ended up studying film at Ryerson and worked for about eight years in production, sometimes directing, until I came across 360/VR.
I convinced some friends in the film industry (distributors and producers) to let me make 360 marketing extensions of their 2D feature films and television series. I had some friends who made tablet-based games and started working with them, taking on VR/360 projects through their company. I essentially quit everything else I was doing and started working in other realities full-time. In 2017 I realized I wanted to have more control over the kind of content I was making, and I decided to found my own company, Mixtape VR.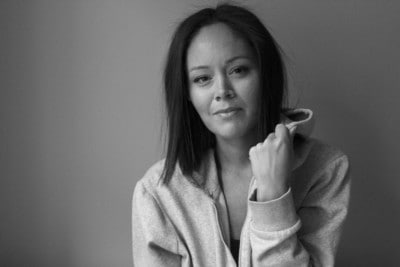 What projects are you currently working on that you're excited about?
Right now I'm working on a few different projects, all under the overarching goal of telling stories and building perspective. I was selected to be part of Google's Jump Start program. It allows me to play around with one of their cameras, which is a lot of fun. I just finished a fashion/tech 360 video as well as music doc for the Junos. I'm currently in production on a VR extension of a television series called Amplify, as well as an interactive VR experiential piece using volumetric capture. I'm also having a lot of fun developing a multi-player VR video game.
I'm currently directing my first 2D feature-length film called Slash/Back, which is about a group of girls in Nunavut who chase down aliens and battle them. It is a total blast and really fun to be doing something outside of the VR/360 space. We are just in development now, but I'm guessing it will start to take over my life more as the year goes on.
On the side I am a director on a couple of boards and I consult for a comic series for Marvel.
Can you walk us through a day in your life, from getting up until going to bed?
I get up and go to the office first thing on most days. I will check all of my emails and discuss with my team about what we have going on that day/week/month. Sometimes I have meetings throughout the day, but I try and keep those to the mornings and between Tuesday and Thursday.
At the office we could be doing a variety of things–camera testing, writing, meeting with directors and clients. If we have a shoot coming up, we are location scouting, casting or researching. If we are in post we are our busiest. This is when we are managing the workflow and stitching footage, editing, overseeing sound design, working on special effects and delivering content to the client.
A lot of my time is spent in meetings (except when I am in production). I travel quite a bit for work so I might be on location, but this means when I am in the office I have a lot of stuff to catch up on.
When I am done at the office, I really try not to work in the evenings. I feel like it can be so easy for work to overwhelm your life, so finding the right balance of work and time for your family, friends and self is key. I'm not as productive at my job if I am stressed or tired, and I value my friendships, so I work actively at not working all the time.
What can we expect from your talk at this year's Digifest?
It is interesting to see what people are working on and important to provide the audience with diverse perspectives on interactive works. I think as a woman, and as an Indigenous woman working in tech, I have a unique approach to share.
Digifest takes place from April 26 to 28 at Corus Quay. Snag your tix here.