Ophira Calof is one of the writers and performers in Generally Hospital, a Fringe hit that will be remounted at the Toronto Sketch Comedy Festival next month. Generally Hospital is a comedic show about a serious place: the hospital. This sketch comedy revue lifts the veil that shrouds the hospital and lets the audience in on all the weird, wacky, and bewildering things that happen inside.
Ophira, who uses a wheelchair, is an active member of the sketch community but is unable to access community hubs like Comedy Bar, Bad Dog Theatre and the Social Capital Theatre. She creates opportunities for herself, other performers and audiences in accessible spaces with shows like Generally Hospital.
We chatted with her about accessibility, comedy and the inadvertently hilarious scenarios that go down in hospitals.
SDTC: The premise of Generally Hospital sounds funny. Whats the most absurd thing that you've experienced in a hospital/medical setting?
OC: Last year I got to live out my Grey's Anatomy fantasy of witnessing medical professionals have relationship drama. I took an ambulance to the ER and the paramedic pushing my stretcher took me for a little detour so that he could stop and ask out a nurse! I tried not to be too obtrusive, but given the fact that they were standing on either side of my head as I vomited, it was a tad challenging. I like to imagine that they've now eloped and are living happily ever after.
What is your favourite sketch from the performance, and why?
This is a difficult question! The sketches are our babies and it feels wrong to play favourites, but I will say I really love our opening number. It's a full-cast scene, so we get to have fun together onstage, and it tackles a subject that can be seen as quite dark with a lot of optimism, silliness and jazz hands.
Which comedians have had the biggest influence on your comedy? Where do you get inspiration from?
In terms of comedy, Rachel Bloom and Josh Thomas have both been big influences with their skill in tackling sensitive subject matter with empathy and hilarity, and I'm continuously inspired by the many outstanding comedians based here in Toronto, like Ann Pornel and Ashley Botting, along with the amazing Generally Hospital team. Ultimately, the most credit goes to everyday life, because it provides such a wealth of ridiculous material to work with.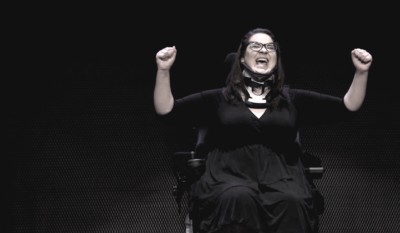 Walk us through a day in your life, from getting up til going to bed?
I'd say it's pretty similar to everyone else's, with an extra dose of existential angst, and Netflix binge-ing!
What are you focused on these days? What is an issue we should be paying more attention to?
One thing I'm focused on right now is representation, specifically intersectional disability and illness representation. I think it's incredibly important to examine what stories we hear and who is telling them, because stories are the fabric of our culture. We need the opportunity to both see ourselves reflected and to connect with and learn about each other's experiences in order to prompt sustainable change.
What are three ways we can make comedy in this city more accessible to all?
Oh goodness, just three? In that case I'd like to draw attention to ASL Interpretation, Audio Description, where the visual elements of the performance are narrated, and Relaxed Performances, which involve a more relaxed sensory experience and casual environment. Accessibility doesn't just mean a ramp (although, speaking as a wheelchair user, please, still install them!), and there are so many ways that we can be more inclusive in comedy and truly incorporate accessibility into our work.
Generally Hospital comes to Toronto Sketch Comedy Festival from March 7 to 9 at Crow's Theatre (345 Carlaw Ave). Get tickets here.