Bring on the good vibes: Field Trip Music & Arts Festival will return to Fort York and Garrison Common this summer! Remember music festivals? The friends you see, the fashion on parade, the emotions that take over when you belt out lines from a favourite song with thousands of other fans? It all feels like a distant dream… a sweet memory from a different lifetime.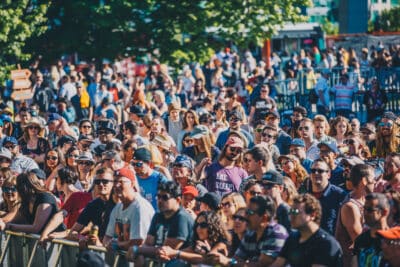 Field Trip is a favourite fest for many reasons: we love the origin story; if you live downtown, it's easy to walk or bike to; the creative and fun Day Camp programming makes it a great event to bring kids to; the food is always delicious, and there is lots of art to experience while you wander the grounds of Fort York & Garrison Common. In general, it's a super chill but beautifully energizing event.
The one-day festival will take place on July 9th and kicks off with OMBIIGIZI and Georgia Harmer, and will close with Nathaniel Rateliff and the Night Sweats. Other artists on the stellar lineup include Peach Pit, Kurt Vile and the Violators, Lucy Dacus, The Halluci Nation, Valley, Busty and the Bass, The Rheostatics, The Rural Alberta Advantage, Haviah Mighty, Daisy the Great, and Pierre Kwenders,
"It's such an honour to be playing Field Trip and kicking off the return of this great festival in my hometown," said Georgia Harmer. "I spent every birthday during my teen years attending Field Trip with friends, and I can't wait for that moment on stage where I'm looking into people's eyes like – Oh, I see you, you see me. It's all ok, we're going to have a good time."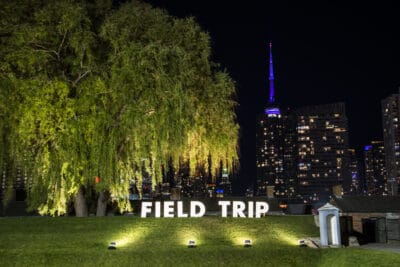 Limited presale tickets (25% off) will be on sale Wednesday, March 23 at 10 a.m., until Thursday, March 24 (at midnight or until sold out). General on sale begins Friday, March 25. All tickets will be available at www.fieldtriplife.com. General admission tickets are $114.50 ($142.66 with fees and taxes), while VIP passes are $194.50 ($233.06 with fees and taxes), kids 12 and under are free.
"This is the perfect time for Field Trip to return. At its core, Field Trip has always been about community and we need to reconnect with our communities now more than ever," said Kieran Roy, President of Arts & Crafts, co-founder of the festival. "We can't wait to welcome people back to Field Trip to celebrate, be together again, discover their favourite new band, see their kids hula hoop, and be reminded of all the things we love about our city and about being with others."
To say that we've missed stretching out on the grass to take in hour after hour of live music would be an understatement—it's more like a need or desire we've been desperately clinging to, hoping to one day feel it all again. That time has finally come, people.