Jill Andrew and Aisha Fairclough are co-founders of the Body Confidence Canada Awards and Fat in the City. The award-winning columnist and TV producer are united by their body image advocacy work and by their rock-solid relationship. We found out about their dreams, their struggles, and why they're crazy about each other.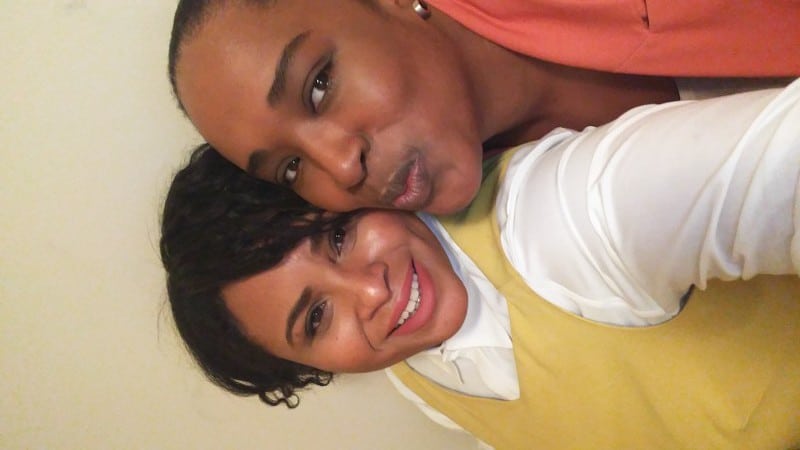 SDTC: tell me about the moment when you first met. Did you know right away you would change each other's lives in such a profound way? And since you're both such fashion mavens – what were you wearing?
Jill: Aisha was (and is) so beautiful on the outside. I get to experience her beauty daily through her magnetic smile…those dimples. But what I didn't realize I'd get to experience was her generous heart, her ability to support and champion loved ones and causes she believes in, her willingness to support me and believe in me at times when I didn't believe in myself. When I first met Aisha I was enthralled by her dreams. She had big dreams and I'm lucky to be by her side as she continues to achieve each and every one of them. We have so much more dreaming and doing to be done and I'm thankful everyday that we get to dream and do together.
Aisha: I remember meeting Jill at the bus terminal. She was wearing a black leather moto jacket and jeans. She was strikingly beautiful and I know it sounds corny but I love her more every day. Sometimes she drives me bananas but what drew me to her immediately was her strength, larger-than-life personality and her energy that literally fills an entire room.
What have been some of the more challenging moments for you two as a couple?
Jill: Early on in our relationship we lost some friends. Friends who either couldn't accept us being in a same-sex relationship and/or those who couldn't accept that our previous relationships had ended and we were moving on. In the end, the friends who accepted are those who we know today were real friends to begin with. Similar challenges also came from family too. We continue to work through the rough patches as they present themselves.
Aisha: No relationship is without challenges! If someone says their relationship is perfect they are lying. Relationships last when you learn and grow from challenges. If you ignore the issues and don't address them, no matter how difficult they may be, your relationship will eventually fall apart. It's important to have tough conversations and to fight fairly. You must always remember that you are standing in front of the person that you love, so speak with kindness.
What have been some of the most memorable and life-affirming moments?
Jill: There have been so many memorable moments. Aisha and I love dressing up and attending fundraisers, galas, and events to support various social justice causes. Those will remain some of my fondest memories! Those, and the smaller ones like walking through the park, playing with our cats (or any cat at that) and our trips! Our first time to Atlanta gay pride was a trip. Loved that! Or when we travelled to Florida and Aisha met my sister for the first time – that was a really magical moment. Aisha has stuck by me when I've been sick, when I've been in hospital, in emergency rooms. That has been the most life-affirming thing for me. It's one thing to have a love you can play with, but to have one who also prays with you, and is there when the chips seem like they're falling down all over the place, is a true blessing.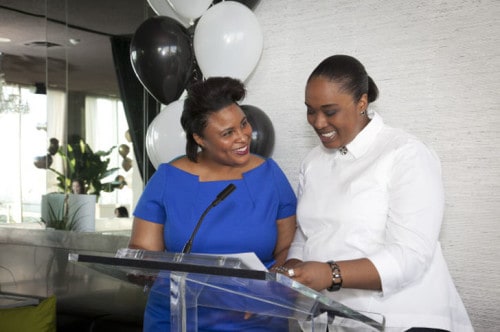 Can you describe when you knew that this was the woman for you?
Jill: When I knew that all the challenges, all the tough patches were totally worth it!
Aisha: There isn't one moment, but small moments each and every day that show me she's the woman for me.
What is the key to a great relationship?
Jill: Communication, communication, communication and commitment. You've got to listen to what your partner has to say. You might not always agree with it, but part of listening is learning how to empathize. To consider things from their vantage point. I try to do this in my relationship. And play time! You must make time to play, to be silly, to just chill. Everything can't always be work related – and if you're partners like Aisha and I, who do a lot of work together, you must prioritize play time.
Aisha: Good communication, kindness, and play.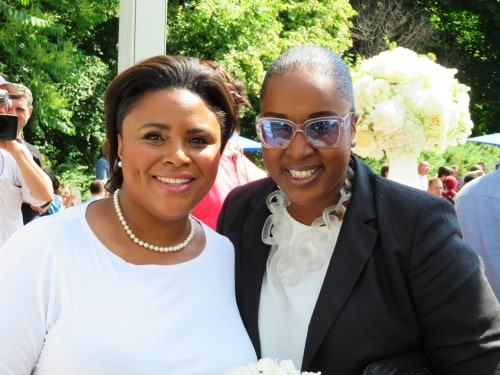 What do you love most about each other?
Jill: Her smile and her kind heart…and the fact that she is truly a big dreamer for both of us (and even our unborn children for whom we already have names picked out). She sees big things for us in terms of love and happiness and also in terms of the ways we'll be able to help make positive changes happen in our various communities. And she's a doer. Dreamers are great but it's only half of the equation. She inspires me to be a consummate doer and feeler!
Aisha: Her eyes…her spirit, her ability to overcome many of the challenges that life has thrown her way. I love her commitment to the community. I love that she is a voice for change. Her drive, her laugh, the way she walks and the way she commands attention when she enters a room. Jill makes me feel like I'm only person in the room. I feel loved, cherished, and most importantly – respected for who I am and who I want to be. We dream out loud and we dream together.
Love is ______?
Hard work.
Want to apply for the Body Confidence Canada Awards? Submissions close this Friday July 1st. See here.