In the smash-hit play Blind Date, starring Christy Bruce, you'll experience all the exhilaration and excitement of new love as Mimi goes on a blind date with a different man every night–plucked right out of the audience!
Direct from critically acclaimed, sold-out runs in New York, Toronto and London's West End, this fast and funny fusion of improvisation, theatre and social experiment is sure to make you fall in love with Mimi and celebrate her audience-member-turned-romantic-hero. You will laugh, but you will also be surprised at how moving the evening is.
Produced by Festival Players and staged at the historic Regent Theatre in Picton, Ontario, this is a very good reason for you to finally plan that long-awaited trip to Prince Edward County. Stay at The June Motel, dine a The Drake Devonshire, grab coffee at The Vic Cafe, check out some vineyards, visit the beach, and settle in for a night of unexpected twists at one of Ontario's most cherished venues.
Excited, we connected with creator Rebecca Northan to ask her things about theatre, love, and disastrous blind dates.
SDTC: Do you have any first date rules?
RN: Be honest. Be yourself. Those are general guidelines for life in general.
Blind Date has been so incredibly successful. What was your original goal? How does it feel today to see it staged all around world?
I improvised it. After a full summer of doing the ten-minute version, I wondered what would happen if we took the time to get to know the guy. After a bit of chatting, my mentor suggested that I go out on stage and see if I could sustain something for around seventy-five minutes.
The goal has always been to take care of the audience member who ends up on stage and make sure that they have a nice time. I would never have anticipated that I'd still be doing this show ten years later or that I would enjoy sitting back and watching other actors put on the "the nose." It's truly thrilling.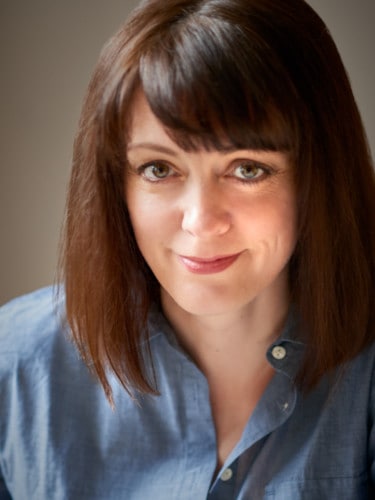 What's the most memorable audience feedback you've received about a blind date gone wrong? Or maybe just interesting audience feedback that play evoked.
I've never been on a blind date in my personal life. Honestly, people love to ask about "the worst," or the bad and the ugly, but that is not in keeping with our company philosophy. On the surface, Blind Date seems to be a light comedy, but our guiding principle is to celebrate one person each night, in real time, and I think this is why the show has moved and captured so many people.
Quite often we hear, "I was expecting to laugh and enjoy myself, and I did. What was a surprise was how moved I was."
The BEST thing we hear from Dates is, "That was so much fun! I had no idea I was capable of something like that! And I've never had a standing ovation before."
The best thing we hear from the wives or girlfriends is, "I'm so proud of you! I fell in love with you all over again!"
Single guys who end up on stage are often approached by women after the show and given their phone numbers.
How has your perspective on dating shifted since you first began this project?
My perspective on men has shifted doing Blind Date. I have more love and empathy for them. They're good sports who try to do their best, and they are often really playful.
What's your advice to budding young writers?
Write, write, write. But don't get stuck just sitting alone writing. There is much to be discovered on your feet, improvising and collaborating. Take risks.
What, to you, is romance?
True listening.
Blind Date runs August 23-25 and August 29-September 2 at The Regent Theatre in Picton, Ontario. For more info and tickets, click here.