Night creams are a polarizing topic at SDTC HQ. Some of us love them, while others find them too greasy and heavy on the skin.
Personally speaking, I (Olga) haven't had much luck with sleeping creams in the past, but have recently taken a renewed interest. Now that I'm less than a year away from being thirty, it's time to get my skincare regime sorted.
These days, my face needs an extra bit of help in the mornings. Gone are the glory years when a decent night of sleep erased the stress, fatigue and that extra glass of red from my skin.
That's why I was excited to try Garnier Ultra-Lift Miracle Sleeping Night Cream during a recent sleep. It's got seven active ingredients including Lavender Essential Oil, which is one of my favourite smells in the world. They got the texture just right, it's silky without being greasy, and feels wonderful against my skin. It didn't even transfer onto my pillow!
The morning after, my face felt firm and hydrated, and I noticed that my complexion looked even, which allowed me to go concealer free for the day! The formula promises to improve the look of your skin with regular use. So I can't wait to see even more results! For the best results, use nighly with Garnier Ultra-Lift Miracle Sleeping Eye Cream.
Garnier Ultra-Lift Miracle Sleeping Cream is available in retail stores across Canada around the $24.99 price point.
Watch the video below to see my first morning results, and check out #morningselfie on Twitter for more pics and testimonials!
CONTESTS!
Score your very own bottle of Garnier Ultra-Lift Miracle Sleeping Night Cream! To enter, leave your name, email addy and city of residence below. Finalists will be chosen and invited back on April 6th to comment on our second follow-up post for a chance to win the grand slam prize! GUESS WHAT? There's more than one way to WIN!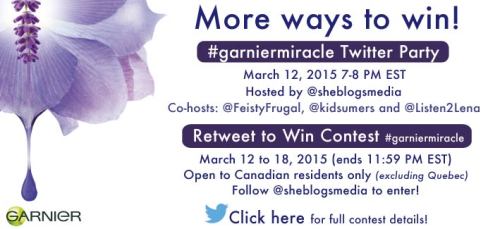 Although this post has been generously sponsored by Garnier Canada, the opinions and language are my own, and in no way do they reflect Garnier Canada.