Janelle Niles wants everyone to know that Indigenous comedy is here to stay. Niles is a Black, Mi'kmaw, two-spirited comedian, and the founder of Got Land? — a community and platform for Indigenous comics, the first of its kind in Canada.
Niles launched Got Land? in 2019, and many Indigenous comedians have joined her since, performing across Canada. With bold and fresh comedic voices, the group has made waves with humour that unflinchingly confronts real issues Indigenous people face, from stolen land to a lack of clean water to stereotypes and racism.
On Wednesday, October 4 at Hot Docs, Got Land? will be putting on an Indigenous comedy night with performances by Niles, and Indigneous comedians Don Kelly and Denise B McLeod.
"They're in for a treat, the vibes will be ON! It's going to shed light on some tough topics while making audiences laugh all ugly," says Niles. "If we don't leave them laughing, we leave them with a conversation they were reluctant to have."
The evening will also feature a special screening of the short film Janelle Niles: Inconvenient, directed by Cass Gardiner and Kelly Zemnickis as part of the short doc collection Citizen Minutes.
"As a comedian, and a female one, there was something about Janelle's drive and confidence that I was keen to share with others; because it's SUCH a male dominated art form, I felt it was really important to highlight someone who was making her own stage and sharing her voice," says Zemnickis.
The short film paints a portrait of Niles, her approach to comedy (there's always a message), and why she decided to create Got Land?.
"Janelle's use of satire, irony, and self-deprecating humor address serious issues in Canada like historical trauma, colonialism, and racism, while also celebrating the resilience and strength of Indigenous people – all while making them laugh," says Gardiner.
We caught up with Niles before the show to ask her a few questions about Got Land?, the impact of Indigenous comedy and more.
What compelled you to start Got Land?
Got Land? was supposed to be a one-off Indigenous comedy show in Ottawa. I created the show because I felt we were tokenized, and no other club or open mic would hire more than one Indigenous comedian at a time. I had no idea it would be something the community was so hungry for, and it became my life, my business and something bigger than my itinerary. It's a movement.
You described Got Land? as expressing solidarity through humour—why do you think this resonates with people?
Solidarity, the word, is triggering to those who do not care for change. The people who do not care for solidarity through humour are the same ones who listened to George Carlin change the world in the same way. How ironic. It's because we are Indigenous our voice falls on deaf ears unless we can make them laugh while we do it. There's a hesitancy to dig up the flaws of Canada's past. Got Land? resonates with people because our message is now digestible. They tend to tone us out, but through comedy, they sit on the edge of their seats!

Has there been a standout show or memorable moment from your time with Got Land?
My personal dream was to perform on the Just For Laughs stage. In 2022 Got Land? had the privilege to perform two back-to-back shows in Toronto at the Just For Laughs 42 festival. Our group of comedians came from far and wide, and it was a show I will never forget. Performing on Truth and Reconciliation Day was very tough, but we heal through humour and gave the community what they needed at the end of the day, validation.
In the documentary, you talk about having a message and mission with your comedy. How would you describe that message and the impact it's had?
Our message is we are still here and even if it's "inconvenient" we will not stop bringing the laughter and mission across Turtle Island.

What is making you laugh these days?
Audacity makes me laugh. Anything or anyone who has the audacity to undermine the struggles of marginalized people. I take it to the stage. I'm not laughing at the issues; I'm laughing because Canada has the audacity to think we don't matter.
You mentioned receiving some mixed reactions to your shows. What do you hope that audience members take away from a Got Land? show?
We hope they take away a conversation they were reluctant to have had prior to the show. If we can plant a seed of truth through our humour, we have done our jobs. Some of us just tell jokes. Comedians have the right to be whatever style of comedy they wish. Me personally, I have a message in 99.9% of all my jokes. Got Land? is a message in itself. It's not just about my obsession with Milk.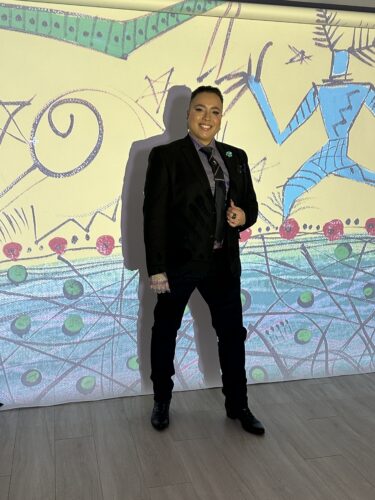 What has been most rewarding about being part of this community of Indigenous comedians?
The most rewarding about the community is we have one at all. When I started, we didn't have one. But now, we have Indigenous comedy shows across Turtle Island. Some who were formerly Got Land? comics, and others who want to showcase Indigenous comedy better than Got Land? That's great! I want us all to win, and if I am missing something others can do, I'm glad to be their inspiration, good or bad. It's rewarding I started something bigger than myself.
Who are some Indigenous comedians making waves we should know about?
Randy Schmucker is an amazing comedian based out of Ottawa Ontario. He brings their theatre training onto the stage and is so funny yet informative. I feel they are going to take the nation by storm.
Hezron Muckpaloo is a green comedian but has done so much in a short time. From showcasing for Just for Laughs, to performing at the Arctic comedy festival. Hezron shows he is preparing to become the comedian he has always dreamed of. I may be biased because I am his mentor, but I do believe he has it in him to make even bigger waves in the next year.
In your opinion, why is an Indigenous comedy show so important right now, in 2023?
It's something people haven't seen or experienced before. The more shows we have, the more saturated our message becomes. I thank Idle No More for my comedy career. The movement gave me permission to speak up, where we were told to stay quite and humble before. My comedy was birthed from a movement that changed Indigenous voices forever. We no longer remain silent, and when we finally started talking, they started listening. Even if fallen on deaf ears, our comedy isn't going away, and neither are we. It's important to keep the message alive. We are still here.
Tickets for the Indigenous Comedy Night on Oct 4 are available here. Janelle Niles: Inconvenient premieres as part of Citizen Minutes on CBC Gem and Crave on October 18.