I first met the Lauren and Mariel, the beautiful and bubbly dynamic duo behind PARTYSKIRTS, at a #MartiniProsecco brunch held at the Bang and Olufsen Lofts.
In all honesty, I thought I had grown out of the princess skirt, but as soon as I put on the fuchsia PARTYSKIRT I was gifted at the brunch, I began twirling in front of the mirror in my bedroom, and I couldn't stop. These skirts are just SO MUCH FUN!
A few weeks later, I got to chat with the Vancouver-based sisters a little more in-depth about their thriving business!
SDTC: How did the idea for PARTYSKIRTS come about?
L+M: It happened super organically! A couple years ago we felt like we had a void in our wardrobe and had our mom bring out the sewing machine and make us a few items. The standout was the PARTYSKIRT! We loved how fun it felt to wear and that it was a separate piece, making it versatile when styling for multiple wears. Before we knew it she had the sewing machine out and was making it for us in countless colors. We would wear them out and have girls come up to us asking, "Where did you get your skirt?" We realized we were onto something and decided to share PARTYSKIRTS with the world!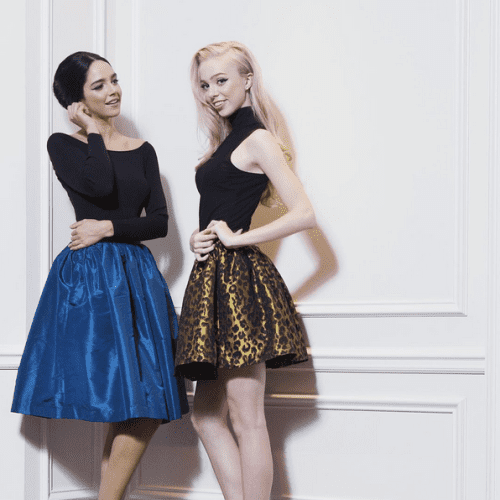 SDTC: What do you love most about working with your sister? What do you find the most challenging?
L+M: We can read each other's minds! It's pretty awesome getting to work with someone you know like the back of your hand. We are almost always on the same page creatively as the brand and lifestyle really are a reflection of us. A challenge we are faced with is often being considered one person since it is such a package deal, but really we are quite different! As we spend more time growing the brand, that is something we would like to make sure everyone knows and understands!
SDTC: What does a typical work day look like for you, from waking up to going to bed?
L+M: We wake up and each take a little bit of personal time. Then, since we live across the hall from each other, we always drive to work together. Along the way we stop and get a coffee and something quick to eat for breakfast. We then head into the office to do anything we need to complete there. Since we are so hands-on a lot of our day is actually spent outside of the office. Whether it's to source fabric, visit the factory, photograph content for our journal or Instagram, we are usually on the go for half the day at least! One thing is for sure, on work nights we both head into bed early and unwind with our favorite shows! With running our own business, no two days are ever the same though!
SDTC: What is the best piece of advice that you've ever received?
L+M: Anything is possible! We were brought up in a household that taught us to dream big and to follow those dreams!
SDTC: What was your biggest obstacle in getting PARTYSKIRTS off the ground, and how did you overcome it?
L+M: I would say it was probably just figuring things out. Where do we get fabric? How will we get our skirts made? How will people find us? How do you get a website made? All the little things to bring the vision that had lived in our heads to life. Since neither of us had started anything like this before, everything we do we are doing for the first time.
SDTC: What, in your opinion, is overrated in the Canadian fashion industry?
L+M: Even though we love it – probably yoga wear. We are such believers in celebrating the everyday and that you can never be too overdressed. With the craze of yoga wear I think people are too relaxed about their attire, even for special occasions.
SDTC: What advice do you have for young designers trying to make it in Canada?
L+M: Canada is such a awesome place to launch a company. Everyone is so supportive of young entrepreneurs, which is amazing, and something we feel is unique to Canada.
SDTC: What is your favorite piece from the current collection?
L+M: We love our holiday metallic print skirts! They are so fun and they are quite different than the classic PARTYSKIRT! They really twinkle when the light hits them.
SDTC: What is your proudest accomplishment to date?
L+M: Collaborating with KEDS shoes was very cool for us. We have always worn KEDS so when we tweeted them last spring and heard back that they wanted to talk, we were over the moon! Since then we have designed two collections for them where we designed custom prints that collaborated with our skirts!
SDTC: What does 2016 have in store for PARTYSKIRTS?
L+M: More collaborations! We love the aspect of our business that we are able to work so seamlessly with other brands. There are some dream brands we want to work with, and 2016 is the year it's going to happen!