Kathleen S. Jayme is an award-winning filmmaker who is bringing her latest film, Finding Big Country, to Toronto's Reel Asian International Film Festival this Sunday, November 11.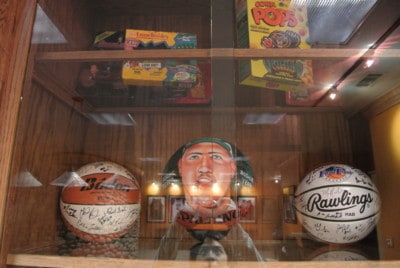 The documentary chronicles her mission to find her childhood hero: The Vancouver Grizzlies Bryant "Big Country" Reeves, who was forced into early retirement on the heels of criticism and career-ending injuries. The film won the People's Choice Award at VIFF.
This week we asked Kat about her obsession with Big Country, the film, and the power of nostalgia.
SDTC: Why do you think the Vancouver Grizzlies, and Bryant Reeves specifically, had such a big impact on you growing up?
KSJ: I was seven years old when the Grizzlies came to Vancouver. My dad and my lolo (grandfather) took my brother and me to so many games as kids. Going to games became my gateway to dreaming that one day I would play in that exact same arena. Because of the Grizzlies, my dream was to be the first girl to play in the NBA. To have a professional team in your own backyard when you're a kid is so special. That's why I want the NBA to come back to Vancouver.
The Grizzlies played such a huge role in my childhood and fuelled my love for the game that I want that for the next generation of young athletes. Big Country was also a huge part of my childhood because he was our franchise player. He was also the biggest guy on the court and had the coolest nickname. As a seven-year-old, you don't forget that.
Were you worried that when you found Bryant, you'd be disappointed somehow? What were you hoping you would find?
I was nervous about meeting Bryant. There's that saying: "You should never meet your childhood hero," but now I know you should never meet your childhood hero…unless they're Bryant Reeves. During the research for Finding Big Country, everyone I spoke to spoke so highly of him and told me I had nothing to be worry about. This helped calm my nerves, but I was still nervous. Thankfully, Bryant lived up to everything his friends said about him.
What were you hearing from other people when you told them you were making a film about this mission?
Everyone was very excited about this idea as many people have wondered what happened to Bryant Reeves. And every reporter I spoke to in Vancouver told me how they had, at one point, tried to get in touch with Big Country. In fact, he was considered the "Holy Grail" of interviews. Even reporters in Oklahoma had been trying to get a sit down interview with Bryant for years.
How are you similar to Bryant?
In so many ways Bryant and I are the exact opposite. He's a 7-foot country boy from Gans, Oklahoma, and I'm a 5'2, female Filipina-Canadian. I guess we're the same because we both loved basketball but also had other passions in life. Bryant always loved being outdoors and farming and had always been passionate about agriculture. And my other passion was filmmaking. Thankfully, after both our basketball careers were over, we had something else that we loved to pursue.
What do you hope audiences take away from this film?
At the heart of it, Finding Big Country is all about keeping our childhood dreams alive and about celebrating our failures. Not everyone gets to make it in the NBA or WNBA or gets to live out their childhood dream. But hopefully that childhood dream can morph into something different and maybe something even better than what you could have ever imagined as a kid. My hope is that audiences walk away owning what they might have perceived as a "failure" at some point in their life and instead look back on it, grateful for how things turned out in the end.
Why is nostalgia such a powerful force in our lives?
This might be a hard question for me to answer because I'm a very nostalgic person. I've documented so much of my life—if you've seen Finding Big Country, you'll know exactly what I mean. To me, nostalgia is such a powerful force because it brings me back to my childhood and what it feels like to dream big as a kid. It's such a powerful feeling and one that I try my best to hold onto.
Finding Big Country screens this Sunday at TIFF Bell Lightbox. Get your ticket here.