Renowned mezzo-soprano Rihab Chaieb was born in Tunisia, grew up in Montreal, and had never thought about opera, or classical music, until she was eighteen.
"We are first-generation immigrants; I grew up with Arabic music," she tells me from a room in New York City, where she was wrapping up the final shows of Philip Glass' Akhnaten at The Metropolitan Opera. Her performance was praised by critics, with The New York Times declaring that her role as Nefertiti was "seized with assurance and ringing might."
This week, she's in Toronto, where her career first took off, to join the Toronto Symphony Orchestra for their 100th performance of Beethoven's Symphony No. 9. "Coming back home to do a feel-good piece that's all about joy means the world to me."
Rihab's story is a fascinating one. "I started classical music through metal," she tells me, explaining that teenage rebellion led her to pull together a ragtag heavy metal band, even though she had absolutely no experience singing. "I didn't know how to read music or play an instrument… I had no technique… I really sucked," she tells me. But she had drive, passion, and a lot of undiscovered talent.
The band was faltering, but knowing how much it meant to her, Rihab's friends encouraged her to seek out some vocal training. She typed "voice lessons Montreal" into the Yahoo search engine (this was the 90s) and found some affordable classes in the Plateau neighbourhood.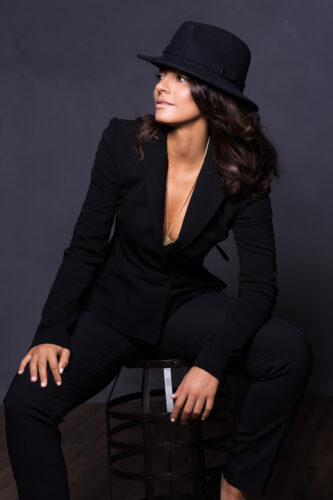 During her first lesson, she was surprised that the vocal coach handed her Schwesterlein (Little Sister) by German composer Johannes Brahms. Practicing the 19th century piece at home turned out to be a transformative experience for Rihab. "I was crying uncontrollably, shaking on the floor," she explains, painting a picture of a teenage bedroom covered with posters of Iron Maiden, Cradle of Filth and other metal legends. It's a strong visual image that would make a memorable scene in a film. From that moment on, her destiny shifted.
It wasn't long after that Rihab abandoned her math degree to focus all her energy on singing—a decision that her parents, a mathematician and an engineer, could not understand. But Rihab had her own path and took on several jobs, including lifeguarding and working late into the night at clubs on Montreal's notorious Crescent Street (we picture trays full of bright blue shots) to pay her way through school.
Following graduation, she was determined to land a spot at the Canadian Opera Company. "I said to myself, 'If I don't get into this COC program, I'm going to stop singing.'" Luckily she made it. Her do or die mentality helped her break through the industry, eventually landing her at Carnegie Hall with The Met, where she has proved herself as an outstanding vocalist, but also a true character.
On our call, I was struck by Rihab's honesty, sincerity, and willingness to share her secrets. I loved hearing about what she does and doesn't eat 24 hours before a performance. Go-tos are Nori Teriyaki Sheets "they give that saltiness and some minerals that are good for concentration" and coconut water. Rihab sticks to one coffee a day and refrains from drinking any alcohol the night before a performance. Her pre-show energy boost ideally happens three hours before she walks onto the stage. "I have a bowl of steel-cut oatmeal with berries and Canadian maple syrup," she tells me, adding the most important detail: "I travel with my own maple syrup." Spicy foods, or anything that could give her an acidic stomach, are avoided in the lead-up to a big concert.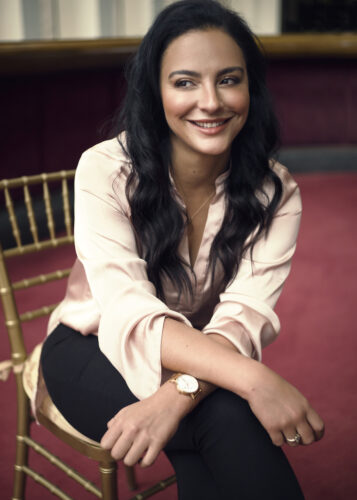 I find these details intriguing, and the attention she puts towards her workouts is equally focused. For Rihab, the connection between body and voice is huge, but there's one part of the body that she prioritizes: "As long as your pelvic muscles are awake, you're fine." She stresses how important it is that the kegel muscles are ready. "That is half of my technique," she laughs, explaining that "It's not a squeeze, but a tuck… an engagement with your pelvic muscles." For Rihab, the pelvic floor is where the core sound comes from. "It's the source of life, the source of energy, and the source of movement." I begin to wonder when was the last time I actively worked on these muscles.
Beyond the food, drink, and critical physical movement, Rihab does lip trails (I enjoy the demo on our Zoom), yodeling, soft scales, and siren noises. "You don't need to sing loud to see if your voice is in good shape. If it doesn't crack, then you're fine."
I admire her confidence, and as she walks me through her extensive regime (I wanted all the details), my mind floats to the girl lying on the floor of her bedroom, convulsing to Brahms, surrounded by Metal gods, ripped from magazines and taped to the ceiling. No doubt it was a confusing time, but how fun would it be to bend down and whisper in her ear, "One day you will sing on the world's greatest stages. Life will look nothing like you imagined, but your biggest dreams will be realized."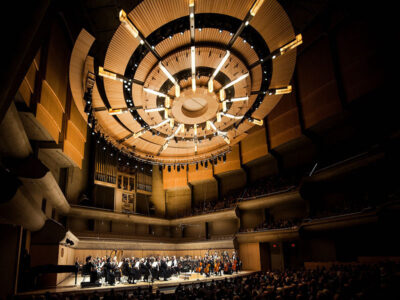 Don't miss Rihab Chaieb this week at Roy Thomson Hall (June 15 -19). The Toronto Symphony Orchestra will also be joined by the Toronto Mendelssohn Choir, soprano Angela Meade, tenor Issachah Savage, and bass-baritone Ryan Speedo Green. It's going to be a breathtaking experience—get your tickets now.