When the humidity index reaches 30, I get so incredibly lazy that I fantasize about chucking my makeup bag into the lake. It doesn't have to be that way though! In my new Summer Makeup Series, I shed light on the products and practices that are like a romper for your face – easy and comprehensive.
Now that it's finally gotten warm in Toronto, let's focus on makeup that won't melt off your face when the weather gets gnarly. (Shout out to those who wear full faces of makeup in the summer. I see you, with your setting sprays and concrete will.)
Strobing
If you have an Instagram account, then you're privy to one of the most confusing makeup trends as of late. Strobing isn't actually as complicated as it sounds, and it suits every level of experience with makeup. It's one of the simplest ways to add radiance without having to use a lot of product.
You're going to need to use a mirror in natural light so you can mimic the way the sun hits the highest points of your face. Grab your product – you can use powder, cream, or liquid highlighter. Joe Fresh makes a solid formula that's absolutely aces and can be applied directly from the tube. If you're willing to splash out a bit more, the hype surrounding BECCA Shimmering Skin Perfector is well earned. I use the rose gold shade because most of my makeup choices hinge on how lazy I'm feeling at the moment and this shade lets me skip blush without having to sacrifice colour. I've also had wonderful results with the universally flattering Watt's Up from Benefit, a cream to powder formula in champagne.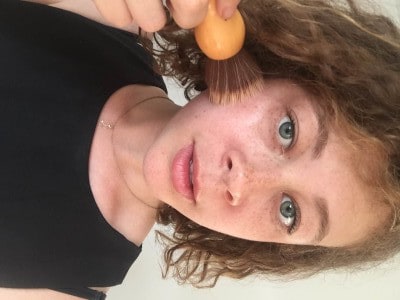 Before you apply your highlighter, feel around under your eye sockets for the actual bones you're going to be calling attention to. Feel them? If you don't – please close this web page and call an emergency hotline to report a missing skeleton because you have more pressing issues than looking like you've just been fucked by a sunbeam.
Back to application – if you're using a powder, grab a brush with a small head for precise application. Dab or dust the product on the spots you identified earlier. Don't worry about making a perfect swoop; you can blend it out afterwards. Do your cheekbones first, then hit up your cupid's bow, underneath your brows, the bridge of your nose, then your temples.
You've already committed to looking like a glowy angel so why stop now? One you're done, grab a fluffy brush with a large head and do a quick sweep using soft circular motions to prevent any harsh lines of product from standing out. If I have one essential makeup tip to impart here, it's this: always, always, always blend!
Photos tell the prettiest lies through light, and strobing is a way to make magic happen on your face before the lens even sees it.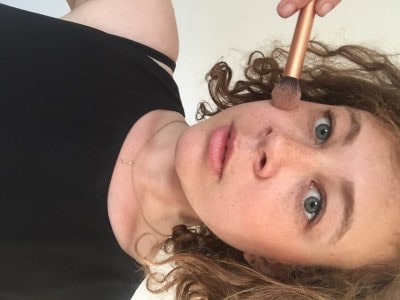 Summer Lips
I equate adulthood with the ability to wear lipstick without getting it in places it's not supposed to go: your teeth, beyond your lip line, your chin (??????), other people, other people's pets. Lipstick only seems to work when it's frozen in place on a subway ad or on someone who never gets told that they talk too much.
Bare lips feel boring to me though, so I find myself reaching for balm stain hybrids more often in the summer. The first one that ever caught my eye was the chubby crayon that Revlon employs Emma Stone to hawk. Once you look past the marketing, it's quite a wonderful invention because it leaves a wash of colour that actually lasts throughout the day while keeping my lips soft without an excess of goopy product.