The Tribeca Film Festival is trying something new: visiting different cities to host Tribeca Talks, in-depth conversations between actors and filmmakers about the artist's professional and personal journey.
This past Monday, the film industry–makers, marketers and critics–gathered at the Thompson Hotel screening room for the very first Tribeca Talks in Toronto. For an hour, we listened to actor Gretchen Mol thoughtfully converse with Director Mary Harron. Perhaps most well known for I Shot Andy Warhol and American Psycho, Harron also directed The Notorious Bettie Page, in which Mol starred as the legendary rebel pin-up babe, Bettie.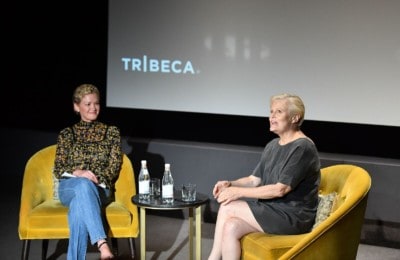 Both women have had incredibly fascinating careers, and the choices they have made in their work have been cautious. I scrawled down as many wise words as I could, and these are my favourite takeaways:
1. She puts great value on casting: "No good film was ever wrongly cast."
The Lesson: Take the time to get it right.
2. The highlights of our journeys are often not planned: "A lot of the best things in life have been completely accidental."
The Lesson: Get out of your bubble and explore; in doing so, you may unintentionally end up in interesting places.
3. On managing the spurts of success and the long waits in between: "After the exciting things happened, I had to start over, be patient and keep working."
The Lesson: Keep going and always focus on the work.
4. Regarding small bits or less attractive work: "There are no small parts…you give 100% and try to get the most out of it."
The Lesson: Give it your all and never assume a small opportunity won't take you to your desired destination.
5. On advice someone gave her regarding the divided reviews on Bettie Page: "This film is like a dog whistle. Some people hear it and others don't."
The Lesson: You'll never please everyone, and that's okay. Make art for yourself, and those who get it, will get it.
6. Managing the ego when work isn't consistently received well: "It's not the worst thing to be knocked off your perch…as long as it doesn't defeat you."
The Lesson: Failing isn't failing. Get back up and keep going.