The days are darker and the temperature is dropping, but this time of year always brings with it some of the biggest buzz-worthy titles. Here are the major releases arriving to Netflix this holiday season that we're most excited about.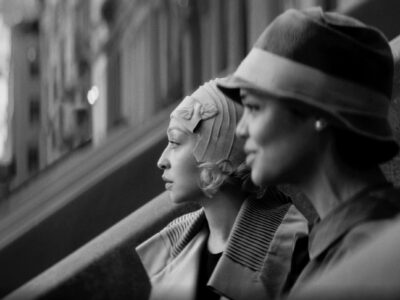 Passing
Adapted from the acclaimed 1929 novel of the same name by Nella Larsen, PASSING is a story of racial identity, gender, the responsibilities of motherhood, and sexuality. The film follows two Black women, Irene Redfield (Tessa Thompson) and Clare Kendry ( Ruth Negga), who can "pass" as white but choose to live on opposite sides of the color line during the height of the Harlem Renaissance in late 1920s New York. After a chance encounter reunites the former childhood friends one summer afternoon, Irene reluctantly allows Clare into her home, where she ingratiates herself to Irene's husband (André Holland) and family, and soon her larger social circle as well. As their lives become more deeply intertwined, Irene finds her once-steady existence upended by Clare, and PASSING becomes a riveting examination of obsession, repression and the lies people tell themselves and others to protect their carefully constructed realities.
PASSING is a powerful directorial debut for actor Rebecca Hall (The Night House, Permission), and it's inspiring global conversations. Read her interview with the Washington Post here. Now playing on Netflix.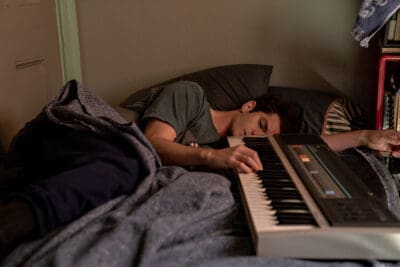 tick, tick…BOOM!
We're not always in the mood for a musical, but being from the generation who saw Rent when it first opened, we were curious to watch tick, tick…BOOM!, an adaptation of the autobiographical musical by Johnathan Larson, the creator of Rent. It's excellent, and Andrew Garfield, who plays Larson brilliantly, is already getting big Oscar buzz.
Directed by Pulitzer Prize and Tony Award winner Lin-Manuel Miranda, tick, tick…BOOM! takes audiences back to 1990, New York City, or when the city had a roughness and edge that can only be found in small pockets nowadays. The film follows Jon (Academy Award nominee and Tony Award winner Andrew Garfield), a young theatre composer who's waiting tables at a diner while writing what he hopes will be the next great American musical. tick, tick…BOOM! is now playing in select theatres and arrives to Netflix November 19.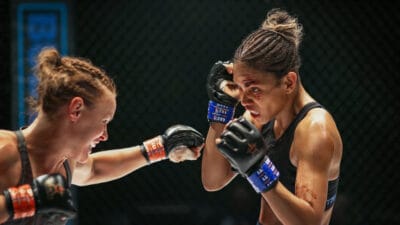 Bruised
Jackie Justice (Halle Berry) is a mixed martial arts fighter who leaves the sport in disgrace. Down on her luck and simmering with rage and regret years after the fight, she's coaxed into a brutal underground fight by her manager and boyfriend Desi (Adan Canto) and grabs the attention of a fight league promoter (Shamier Anderson) who promises Jackie a life back in the octagon. But the road to redemption becomes unexpectedly personal when Manny (Danny Boyd, Jr.) — the son she gave up as an infant — shows up at her doorstep. BRUISED marks the directorial debut of Academy Award winner Halle Berry in a triumphant story of a fighter who reclaims her power, in and out of the ring, when everyone has counted her out.
Is there anything Halle Berry can't do? She's iconic—we can't wait for this hard-hitting film to hit Netflix on November 24.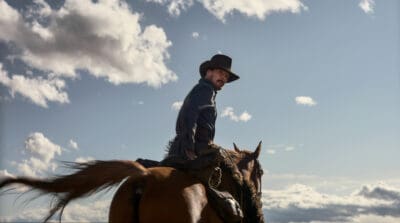 The Power of the Dog
Jane Campion is a master of cinema—we've known that since we first watched The Piano nearly 30 years ago. The Power of the Dog was an audience hit at TIFF this year, and worldwide rumblings suggest that it is slated to be a major contender come award season. We believe it.
The year is 1925. The Burbank brothers are wealthy ranchers in Montana. At the Red Mill restaurant on their way to market, the brothers meet Rose, the widowed proprietress, and her impressionable son Peter. Phil behaves so cruelly he drives them both to tears, reveling in their hurt and rousing his fellow cowhands to laughter – all except his brother George, who comforts Rose then returns to marry her. As Phil swings between fury and cunning, his taunting of Rose takes an eerie form – he hovers at the edges of her vision, whistling a tune she can no longer play. His mockery of her son is more overt, amplified by the cheering of Phil's cowhand disciples. Then Phil appears to take the boy under his wing. Is this latest gesture a softening that leaves Phil exposed, or a plot twisting further into menace? Whatever the case may be, the trailer had us hooked and wanting more.
Critics are raving about the performances by Benedict Cumberbatch and Kirsten Dunst, calling it their best work yet. The Power of the Dog opens in select theatres on November 17th, and arrives to Netflix on December 1st. Watch the chilling trailer now.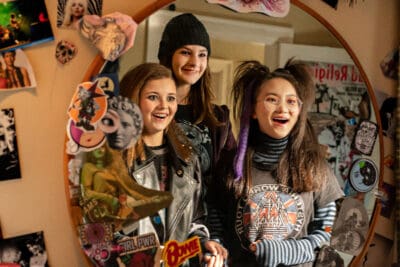 Mixtape
A quick look at the trailer gave us Booksmart meets Moxie meets Babysitters Club vibes, but set in 1999, so our head also jumped to My So Called Life and Ghost World.
On the eve of Y2k, orphaned, awkward 12-year-old Beverly Moody (Gemma Brooke Allen) discovers a broken mixtape crafted by her teen parents who died in a car accident when she was a baby. Raised by her grandmother Gail (Julie Bowen), a former teen mom herself who finds it painful to speak about her late daughter, Beverly sees this mixtape as a chance to finally learn more about her parents. So she sets out on a journey to find all the songs on the tape. Enjoy the throwback. Arrives to Netflix December 3. Watch the trailer now.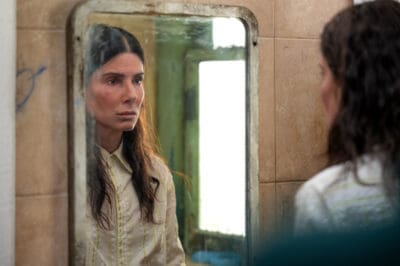 The Unforgivable
Released from prison after serving a sentence for a violent crime, Ruth Slater (Sandra Bullock) re-enters a society that refuses to forgive her past. Facing severe judgment from the place she once called home, her only hope for redemption is finding the estranged younger sister she was forced to leave behind. We're counting down the days for this film to release on Netflix on December 10, and have a hunch this might be Bullock's strongest role yet. Watch the trailer.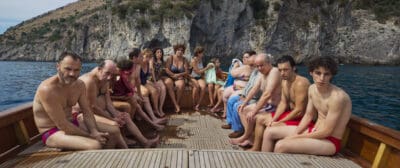 The Hand of God
From Academy Award-winning writer and director Paolo Sorrentino (The Great Beauty), comes the story of a young man's heartbreak and liberation in 1980s Naples, Italy. The Hand of God follows Fabietto Schisa, an awkward Italian teen whose life and vibrant, eccentric family are suddenly upended—first by the electrifying arrival of soccer legend Diego Maradona and then by a shocking accident from which Maradona inadvertently saves Fabietto, setting his future in motion. Sorrentino returns to his hometown to tell his most personal story, a tale of fate and family, sports and cinema, love and loss. In select theatres December 3, on Netflix December 15.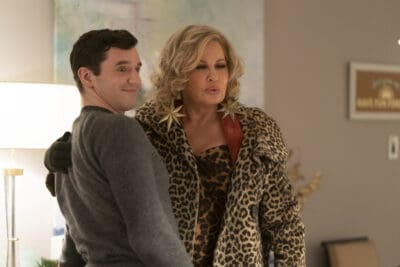 Single All The Way
This cast looks incredible. Desperate to avoid his family's judgment about his perpetual single status, Peter (Michael Urie) convinces his best friend Nick (Philemon Chambers) to join him for the holidays and pretend that they're now in a relationship. But when Peter's mother (Kathy Najimy) sets him up on a blind date with her handsome trainer James (Luke Macfarlane)— the plan goes awry. Also starring Jennifer Coolidge, Barry Bostwick, and Jennifer Robertson, this holiday film is sure to bring some laughs. Single All The Way (best Christmas title ever) arrives to Netflix Dec 2. Watch the trailer and you'll see why we're pumped for this one.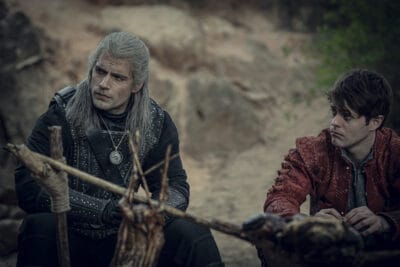 Witcher, Season 2
Feel like being transported to a different century? If you love Games of Thrones or Vikings, you'll dig Witcher.
Convinced Yennefer's life was lost at the Battle of Sodden, Geralt of Rivia brings Princess Cirilla to the safest place he knows, his childhood home of Kaer Morhen. While the Continent's kings, elves, humans and demons strive for supremacy outside its walls, he must protect the girl from something far more dangerous: the mysterious power she possesses inside. We can't wait. This adventurous spectacle releases on December 17.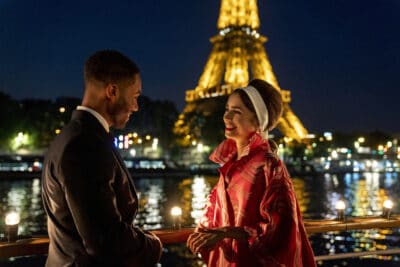 Emily In Paris, Season 2
If you are in the mood for something light and fun that will whisk you far away, Season 2 of Emily In Paris will delight.
Now more entrenched in her life in Paris, Emily's getting better at navigating the city but still struggling with the idiosyncrasies of French life. After stumbling into a love triangle with her neighbour and her first real French friend, Emily is determined to focus on her work — which is getting more complicated by the day. In French class, she meets a fellow expat who both infuriates and intrigues her. So much drama! We love the fashion too. Arrives to Netflix Dec 22.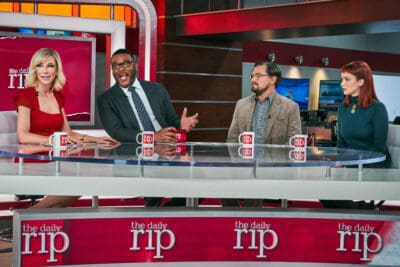 Don't Look Up
Don't Look Up, written and directed by Academy Award winner Adam McKay (The Big Short), tells the story of two low-level astronomers, who go on a giant media tour to warn mankind of an approaching comet that will destroy planet earth. Starring Leonardo DiCaprio, Jennifer Lawrence, Jonah Hill, Cate Blanchett, Tyler Perry, and Meryl Streep as PRESIDENT(!), this has to be the movie spectacle of the year. In select theatres December 10, and on Netflix December 24.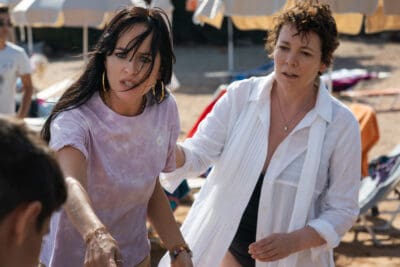 The Lost Daughter
For New Year's Eve, we're staying at home to watch Maggie Gyllenhaal's directorial debut—and we're quite happy about that plan.
Alone on a seaside vacation, Leda (Olivia Colman) becomes consumed with a young mother and daughter as she watches them on the beach. Unnerved by their compelling relationship, (and their raucous and menacing extended family), Leda is overwhelmed by her own memories of the terror, confusion and intensity of early motherhood. An impulsive act shocks Leda into the strange and ominous world of her own mind, where she is forced to face the unconventional choices she made as a young mother and their consequences. Chilling! Maggie Gyllenhaal makes her directorial debut from a script she adapted from the novel by Elena Ferrante. Arrives on December 31. Watch the trailer.