Aerin Fogel grew up in Toronto's music scene before #MeToo, before subjects like consent or toxic masculinity were openly discussed. "I played in a band in my early twenties for a few years, did a bunch of touring and records and had some great experiences, but I also had some pretty rough experiences," says Aerin, sharing that she was so put off by Canada's music scene, that she took an extended break from it. After a few years, she had an itch to return, but she wanted to reinvent the space to be more welcoming, inclusive, and safer. "I wanted to do it differently…something that felt proactive and part of a solution. I was trying to bring a trauma-informed perspective into my work in music…and I think that's where Venus Fest came from."
Since its launch in 2017, the Venus Fest community has grown tenfold. "The first year was meant to be this one-off day to celebrate women and non-binary artists, but the response was so overwhelmingly positive and receptive that I thought maybe we should do more… and here we are six years later."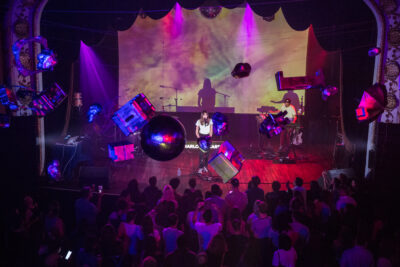 This Friday, the feminist music fest will kick off its 6th year with a three-day event at 468 Queen Street West. After two years of online and hybrid programming, the excitement and anticipation to gather together is palpable, and the lineup for Venus Fest 2022 is phenomenal. Vancouver's Hannah Georgas, NYC's Vagabon and Toronto's Austra will be headlining, alongside numerous buzzworthy performances by local bands like Mother Tongues and the newly added Tiger Balme.
Running a music fest from a trauma-informed perspective means that Aerin and team put a lot of effort and thought into ensuring that the space feels as safe as possible for Venus Fest guests. "Part of that has to do with who's on stage and who's behind the scenes," says Aerin, sharing that the programming reflects the audience, and vice versa. "There's a ton of queer folks and trans folks in our audience, so having some point of connection to the people who are organizing or onstage is important." But Aerin and the team are also committed to continuous training. "We've been participating in a lot of the anti-racism training that's been happening over the last couple years. We try to keep a focus on learning on an ongoing basis and do our best to meet the needs of the people who will be in the space."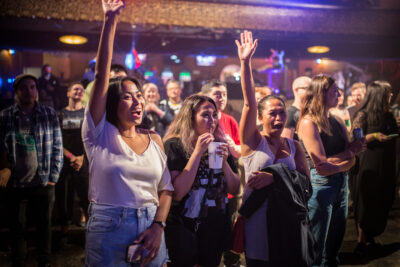 With the Friday night billed as "all ages", some of the people in that space will be tweens and teens, which is an important offering for Venus Fest. "If we're talking about fostering the development of young folks or emerging artists who have barriers in the music community, in different ways, it's important to open these more welcoming spaces to kids and youth from the very beginning. As a total teenager, having all-ages spaces in music was so incredibly helpful and crucial in having the confidence to do what I do now. It's also really cool when there are kids at a show… it's a fun vibe."
Like so many arts organizations, the pandemic put Venus Fest on a wild ride. Their last in-person fest was in 2019, and Aerin shares that at that point, the audience was doubling—there was a ton of momentum before things came to a grinding halt. "We had a bit of a timeline collapse. Even though the festival is back, on a bigger scale, it does feel a bit like finding our way again. There's this incredible sense of joy and gratitude from audiences to be in spaces again… it feels really exciting to me."
Aerin built Venus Fest to give music lovers, like herself, a safer space to celebrate bands and artists, and in doing so, she also transformed Toronto's music scene and inspired the Canadian music industry as a whole.
Get your tickets to Venus Fest 2022, happening October 14-16.