In her sophomore feature, The Five Devils, French filmmaker Léa Mysius has crafted a fascinating and eerie portrait of a family whose lives are upended when the past returns. The film had its world premiere at the 2022 Cannes Film Festival, and critics have described it as "an elemental queer love story" and a "witchy thriller". The fantastical tale is available to watch on the curated streaming service MUBI starting May 12. Trust us: It's unlike anything you've seen before.
Tensions in 8-year-old Vicky's family arise when her father's estranged sister Julia arrives back in town, instantly putting her mother Joanne on edge. Vicky's mystical abilities, guided by an extraordinary sense of smell, begin to transport her into her mother's memories, slowly unravelling a heartbreaking mystery. Snippets of Joanne and Julia's teenage romance are revealed through Vicky's eyes, as the film weaves between the present-day tension between the two women, and the past events that eventually tore them apart.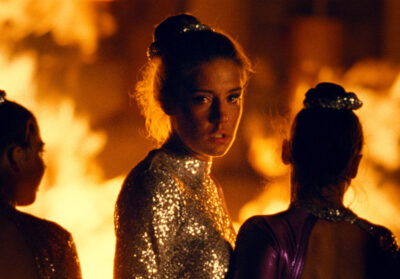 The Five Devils is set in a village at the foot of the French Alps, enclosed by towering mountains and vast stretches of chilly water, reinforcing the story's mythical elements. "Choosing the fantasy genre allows me to talk about the meanders of human obsessions in a playful, spectacular and chilling way," Mysius shares.
While the film has elements of fantasy, it is also a very human story, as all of the characters ponder big questions about life, love and missed chances. "I wanted this film to make us reflect on our society, our life choices, our disillusionments, our obsessions," she said. "The fantastical is only a means and not an end."
For Mysius, the driving force of the film is Vicky's desire to understand where she comes from. "The Five Devils works around these existential questions: how did I come into the world and why did I come into the world as me?"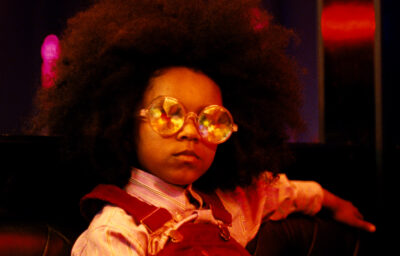 Adèle Exarchopoulos, best known for her starring role in the queer drama Blue is the Warmest Colour, shines as Joanne, slowly revealing the cracks in her cold exterior as we learn of her inner turmoil. Young Sally Dramé, a first-time actress in The Five Devils, perfectly captured Vicky's character's depth and eccentricities.
Mysuis describes her film as "a story of failed or frustrated lives" — the unhappiness in each of the adult characters is palpable, especially as we learn of the paths they didn't take. But with Vicky at the centre of the film, viewers realize that all of these "missed lives" are the reason she exists, prompting them to reflect on their own lives, and not just the sorrows that come from regrets or missed chances, but all of the possible joys, as well.