The music students at Holy Heart High School, in St. John's, Newfoundland, had big plans for Monday, May 4th. They had sold out their 1100 seat school theatre (within 2 hours!) for a massive concert that would have been broadcast throughout the province for Music Monday.
The event was going to be Star Wars themed to coincide with the May the fourth (be with you) Star Wars Day celebrations. Beyond the school band (all 75 members!) excited to play the magnificent theme song by John Williams, the school had also organized to have people wear costumes, shine lightsabers, and join in—it was a big occasion that the entire community was looking forward to. But like everyone everywhere, they've had to get creative, experimental, and move things online.
"As a choral director, and a music teacher, my job is dependent on the people who are in front of me to sing," says Choral Director and Music Teacher Robert Colbourne. "When I wave my arms, I like to wave them so that people sing back to me." For several years, Colbourne has been a big fan of Music Monday, a cross-country event hosted by the Coalition for Music Education, to promote and celebrate music education. "This year is definitely different."
While the day would have seen schools across the country, congregating en masse to sing and play music, the event has now shifted online, and will bring together hundreds of thousands of students, music educators, parents and music lovers of all ages. It's not the same, but it will still be incredibly affecting, and one upside is that everyone can tune in to join the celebration.
Teiya Kasahara is a soprano living in Toronto, who has been holding mini concerts on their balcony throughout the pandemic. Kasahara knows how vital music is in giving us hope in uncertain times, and is one of the many talented musicians who will be participating in Music Monday.
"Music has always been a huge part of my life. I can remember my first Orff music class as a 3-year-old, then piano class at age 5, choir at age 7, band at age 11, more choirs, and then I discovered opera at age 15," Kasahara shares. "Without music education, and the accessibility to a variety of musical genres to learn and play in, I wouldn't be the person I am today." Kasahara describes music as their second language. "I want all children to be able to experience music in their education. Music heals, uplifts, and inspires!"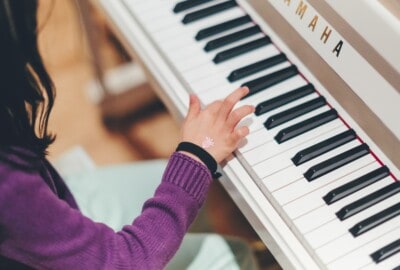 Kasahara's sentiments are ones shared by just about every music teacher across Canada. Both Leila Brown and Kirsten MacLaine are educators who will have their elementary students involved in this year's Music Monday. They believe that this year, more than ever, connection through music is vital.
"My students and I will celebrate and sing the [national] anthem 'together' virtually," says MacLaine, who runs the music program at Gulf Shore Consolidated School in North Rustico, PEI. " It will remind us of why we love making music together, and give us the opportunity to look forward to when we can make music together again."
For Brown, who teaches some of Canada's youngest music lovers at Woodland Elementary School, in Dildo, Newfoundland, Music Monday represents an opportunity to celebrate and honour the many ways in which music helps us. "Music is always there to lift people and create a sense of enjoyment. To have a national day set aside to remind everyone of the value that music brings is important."
The 12-hour live broadcast will certainly be a joyous occasion, but music during a time of uncertainty also provides kids and youth with a sense of comfort, and an outlet for emotions. "Music allows a child to connect with their feelings and teaches them to express themselves in a way that words alone cannot," says MacLaine.
While he's found moving music education online to be quite an interesting learning experience, Colbourne looks forward to when he can meet with his students in real life. "The ideal moment for me is when I raise my hands in front of the choir again and they make that first sound together. It will certainly be a great day."
Until then, we can all come together in harmony this Monday, to connect virtually and, as a country, rejoice and honour the importance that music plays in the education of Canadian children.
On Monday, May 4th, starting at 9am EST, Canadians can tune in to either the Coalition for Music Education's website, YouTube or Facebook to experience live performances as well as a nation-wide sing-along. There will also be interactive activities for kids of all ages, messages from prominent Canadians, and a special curated Spotlight Celebration that will highlight favourite content from across the country.