The 42nd Toronto Storytelling Festival is running until May 16th—if you haven't yet experienced this magic, you still have time to dive in.
This year's theme is Listening to the Voices of Nature, or stories that explore our relationships with the natural world, and investigate how deepening those relationships can be transformative.
With activities like birding and hiking taking on new meaning in the pandemic era, and their benefits being more widely valued and understood, it's a theme that's on many people's minds. But no matter what the theme, storytelling is a powerful form of connection and healing, and the final weekend at Toronto Storytelling Festival has options for story lovers of all ages.
Arctic Stories and Music
Stina Fagertun shares ancient and unique fairy tales from her Coastal Sámi, Kven, and Arctic storytelling traditions. She transports us to the magical landscape of Norway – the land of the Northern Lights and the Midnight Sun. Stina takes viewers to the shores of the Arctic Ocean to join the Sámi reindeer herders for fantastical stories ranging between land and sea, traditional and contemporary. Pre-recorded in Tromsø, Norway.
Saturday, May 15, 2:30 – 3:00pm. PWYC. More info here.
Workshop: Taproot: a workshop for artistic explorers
If you could save a place you love with a story, what story would you tell? This workshop led by Mairi Campbell and Dawne McFarlane is for storytellers, musicians, theatre makers, artists, and educators and invites participants to explore how place is part of who we are. You will be led in creative exercises to embody landscape in voice and story. The exercises learned in this workshop can be applied to your own artistic exploration of story and song.
Saturday, May 15, 10:30am – 12:00pm. $15. More info here.
StoryTent
Storytelling Toronto presents free storytelling for the whole family at the StoryTent. FUN.
Saturday, May 15, 1:00 – 2:00pm. FREE. More info here.
Magic Button
Storytellers who also work with the Parent-Child Mother Goose Program tell stories they love. With the press of a magic button, audiences will be transported to all parts of Canada and the world! For parents, their babies and young children, grandparents, friends, and tellers.
Sunday, May 16, 10:00 – 11:00am. PWYC. Register here.
Love Your World
Stories from long ago for our future. Hosted by Itah Sadu and featuring Louise Profeit-LeBlanc, Bob Barton, musician and storyteller Moyo Mutamba and his son Kuda. With words of thanks from Acting Executive Director Debra Baptiste and Dawne McFarlane.
Saturday, May 15, 7:30 – 9:30pm. PWYC. Register here.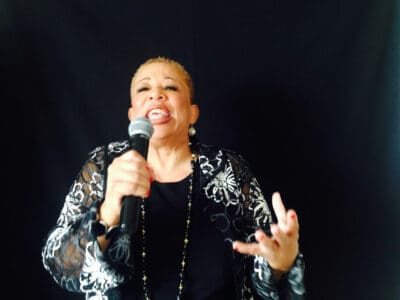 Anancy Stories
Anancy is a trickster hero from West Africa. He is why all of our tongues are red; he brought debt to the world; made puss (cats) and dogs fight; made wasps sting; as well as gave us common sense… and so much more. Listen to Sandra Whiting share an Anancy tale or two…
Sunday, May 16, 1:00 – 1:30pm. PWYC. Register here.
The Real Baba Yaga
These old stories give us a powerful, intriguing female figure with mastery over day and night, life and death, temptation and punishment. Come and meet the real Baba Yaga. Intrigued? We definitely are.
Sunday, May 16, 2 – 3pm. PWYC. Register here.
Closing Address: Saoirse, song, and wisdom for the path ahead
Diana Beresford-Kroeger remind audiences of the value of Saoirse, freedom of the spirit and the imagination. Mairi Campbell and David Francis reach across the sea to unite participants in singing "Auld Lang Syne." Kahontakwas Diane Longboat will give closing words to illuminate the way ahead.
Sunday, May 16, 4:00 – 5:00pm. FREE. Register here.
See full lineup of programming here.