Contrary to popular belief, the best part of fall is not the over-rated seasonal drinks. It's the cosmetics. Okay, that's unfair/untrue, but they're definitely in the top 20. After spending four months coated in a fine layer of sweat, I can finally start slapping on makeup without worrying that it'll either dissolve into a mess of streaks and shadows, or else slide off of my face entirely. It's the small things, you know?
Here are the products that are getting me hot and bothered during this crisp fall month. They're not necessarily new, but they're definitely worth checking out.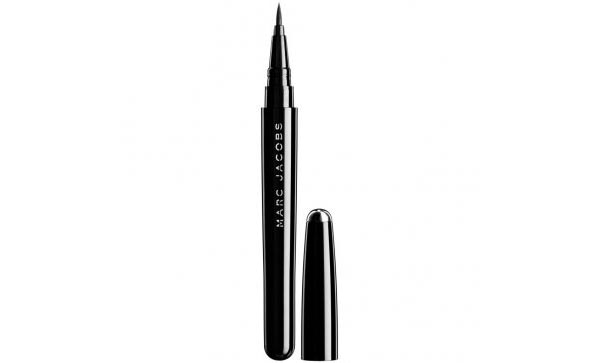 I'm going to be blunt: most eyeliner pens are objectively terrible. They claim to provide dark, lasting, precise strokes, but instead perform like busted gel pens. For this reason, I tend to stick to potted cream liners. Yes, they can be tricky to use, but even the drugstore versions (Maybelline's Eye Studio Lasting Drama Gel Eye Liner is a favourite of mine) deliver on the basic level once you figure out how to use the brush without temporarily blinding yourself. But saints be praised! I've finally found a pen to convert this nonbeliever. The Magic Marc'er Precision Pen, the best offering from Marc Jacobs' new-ish makeup line IMO, is the perfect blend of form and function. The formula is a thick, true black (none of that dark brown/charcoal nonsense) and dries with an almost vinyl finish. The firm felt tip makes my go-to cat-eye a breeze, and narrows to a point that's thin enough for tightlining. It also looks as great when I get home at midnight as it does when I leave the house at noon. 
Marc Jacobs Beauty Magic Marc'er Precision Pen in Blaquer, $36, Sephora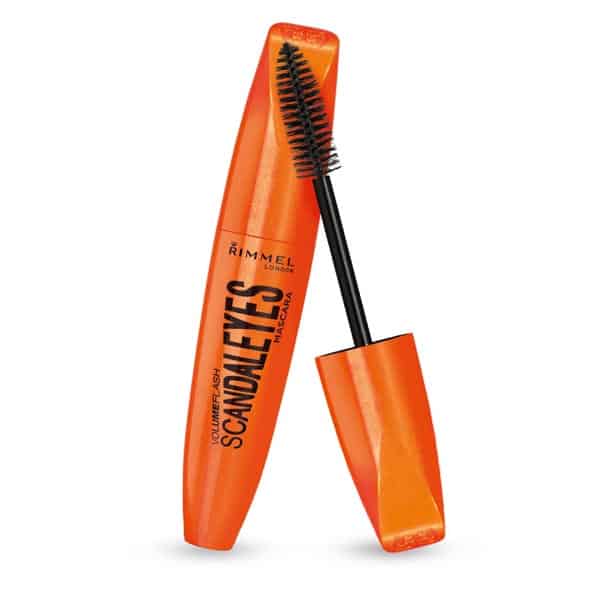 Real talk: You do not need to spend a lot for quality mascara. If the fact that you're supposed to throw them out every three months (if they don't dry out before then) doesn't turn convince you, the fact that you can also get amazing results for way less should. Case in point: Rimmel London ScandalEyes Mascara. 
The price was the first thing that drew me in. I didn't have the money to replace the $25 tube that had been my summer love (you do need to spend a lot for pretty packaging), so when I saw it on sale for $4 at Shoppers Drug Mart, I went for it, garish orange tube be damned. I've been enjoying thick, heavy, defined lashes ever since. 
Don't be thrown off by the massive brush. I usually gravitate towards those dainty rubber centipede brushes, but I like how this one manages to catch each lash with one lazy swipe. In fact, you don't even have to brush it on. I just hold it under my top lashes and blink furiously until they're sufficiently coated. I know that we're supposed to slowly and carefully comb through our eyelashes or some such noise, but I've found that that can lead to clumping with this mascara. Don't over-think it. 
Rimmel London ScandalEyes Mascara in Extreme Black, $8.99, well.ca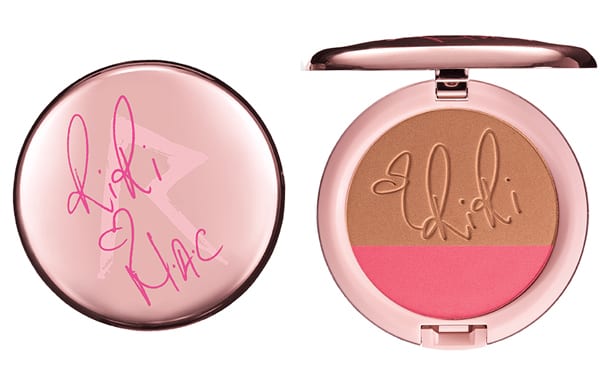 Do you want to know how beautiful this bronzer-blush is? It's so beautiful that I spent my last $30 on this after I lost my money clip in New York a few weeks ago. No regrets. This RiRi Hearts MAC Powder Blush Duo combines a matte bronzer and a coral blush. Thankfully, there's minimal shimmer. It's subtle and buildable, so it works for caramel-skinned girls like me who are trying to maintain their summer colour as that winter pallor creeps in (ha, yeah right), and a range of other skin tones as well. Just swirl a big, fluffy brush over it, and apply with abandon. Because of the colours' subtlety, it's very hard to apply too much. Then again, too much might not be a bad thing. As for the packaging, my heart smiles every time I see the rose gold compact on my dresser. It's sold out online and in most stores right now, but I'm sure that the truly intrepid will be able to track one down. I have faith.
RiRi Hearts MAC Powder Blush Duo in Hibiscus Kiss, $34, maccosmetics.com