We used to love browsing the shop on Ossington, and while it's been nice to stay connected to Victoire online, we're delighted that co-owners Katie Frappier and Regine Pauette will be returning to Toronto (Sept 16-18), for a very special pop-up at Daydream Studio (163 Sterling Road).
As soon as the event info arrived in our inbox, a delightful visual for the weekend began to set in: Bike to Sterling, shop the pop-up, grab a coffee at Ethica Roasters, take in the views at the adjacent Museum of Contemporary Art (it's temporarily closed, but the exterior is interesting in and of itself), and perhaps hop on the West Toronto Rail Path and wind up to The Junction neighbourhood. It's a solid Saturday plan. Or Sunday! They're around all weekend.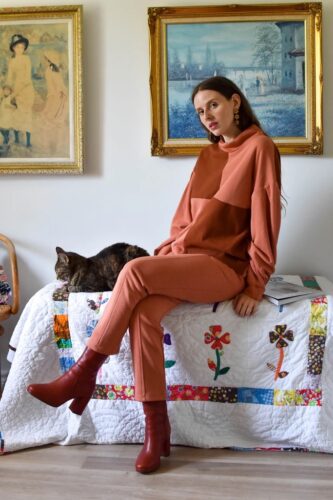 Founded in 2006, Victoire has always been a leader in supporting independent Canadian fashion labels, both emerging and established, with a strong commitment to championing sustainable and ethical business practices. At this weekend's "Rendez-Vous," shoppers can expect new stock from Eve Gravel, Valerie Dumaine, Dagg & Stacey, Ursa Minor, Noemiah, as well as a few new brands to Victoire including DorsaLi, Lepidoptere, Toast Yarn, Frnge & more.
The Victoire Rendez-Vous will take place from 11-7 PM on Friday and Saturday and 11-5 PM on Sunday. If you have any questions, send Kate and Regine a note at notrevictoire@gmail.com.
Model in top photo wearing Onderbroeks Classic Robe. Model on bed wearing Eve Gravel's Togo Pants and Patti Top in Terracotta/Rose.