The legalization of cannabis for responsible adult consumption is finally on the horizon. Maybe you're a veritable connoisseur who's been smoking for years, or maybe (like me) you have a few questions. Like, will I ever find a strain that won't send me into a paranoid hellscape?
Leafly is a great resource that aims to demystify cannabis. There are modules where you can figure out which strains can help with certain occasions (e.g., to conquer social anxiety, to get active, or for good night's sleep) and strains to deal with medical conditions (e.g., arthritis, stomach pain, cramps) as well as cannabis news, lifestyle and products.
Recently, we chatted with Michelle Bilodeau (founder of The Eco Edit and Leafly's Family, Beauty and Wellness Ambassador) about how her relationship with cannabis has changed over the years and why she thinks more education will do us a world of good.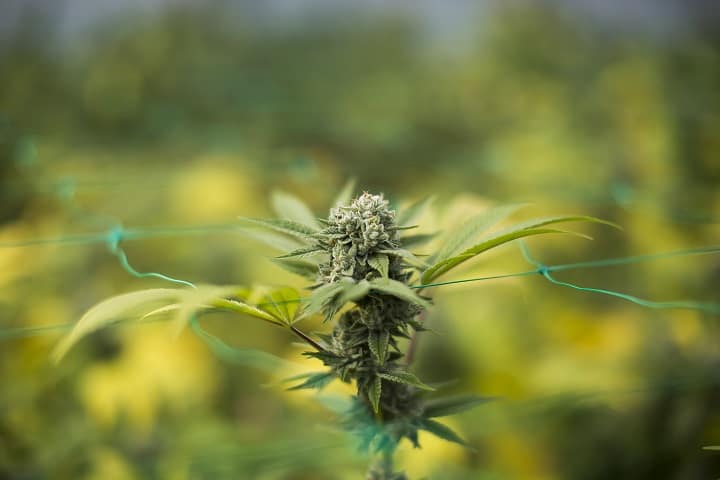 SDTC: When did you first toke? How has your view on cannabis changed over the years?
MB: I used to have parties at my parents' house when they'd go to the cottage. I think I was about seventeen or eighteen. My guy friends went into the garage and asked me if I wanted to smoke; I said yes. I've dabbled since then, but always more as a recreational thing than something I did all the time.
As I've gotten older, I've seen a lot of friends and family members who have turned to cannabis medicinally, and it has helped them immensely. My father-in-law was misdiagnosed with Lou Gehrig's disease about twelve years ago. They basically told him he had six months to live. He was in a lot of pain because his muscles were twitching involuntarily, and it just progressively got more painful. They didn't really have any answers for him.
Then someone offered him a joint and he smoked it and almost immediately realized his symptoms were dissipating. The pain went away and the twitches started subsiding. He was then able to get a medicinal license. It's helped him in different ways: he had a hip replacement last year, and instead of relying on opiate painkillers, he was able to rely on cannabis and get over the pain.
Also, my father passed away five years ago. He had Leukemia. I saw my dad wither away because of chemotherapy. Doctors think that chemo is the answer, but it's just another form of poison. My dad was in remission, and relapsed, and it got to the point where days before he passed away, he was just like, "Stop. I don't want anymore fucking chemo. Stop pushing this on me." I think if there's a way we can medicate or treat ourselves more naturally, why not explore that option? It should be a choice.
Do you use cannabis now?
I've started experimenting with CBD oil with my little dog, Carter. He's thirteen and has had a couple of seizures over the last year and a half. He has quite a bit of anxiety. It seems to be helping with the anxiety so far. The vet was asking if I wanted to bring him to a neurosurgeon for a brain scan, and I was like, "No, that's too much."
I was in Washington state (where it's legal) for a trip with Leafly and they took us to some really great dispensaries and an edibles factory. It was really awesome.
Where do you think cannabis fits into new motherhood?
There are wine mommy clubs and this idea that wine is mommy's medicine. And I think that's fine – if wine helps you relax after the baby has gone to bed, do what you gotta do. I'm a firm believer that moms should take care of themselves and figure out ways they can de-stress.
In terms of cannabis, like alcohol, there are side effects. But there are also a lot of benefits. I think it's about understanding what cannabis can do for you – if you're interested. There are tons of studies that say it helps with anxiety and depression – it's just knowing what strains to work with. Or if you just want to do CBD oil because you don't want to get high, you can do that as well. It's just about educating moms if it's something they're interested in learning about.
Past experience has shown that pot makes me paranoid. But I've been thinking I may try CBD oil for my next-level PMS.
Right? I had a friend tell me that she took so much Advil and Midol when she had her period cramps that it basically doesn't do anything anymore. She's turned to cannabis when she gets her period, and that helps her deal with painful cramps and whatnot.
What are you looking forward when cannabis is legalized?
I'm excited for recreational marijuana to be legal because I want to be able to purchase it and know what's in it. I want to experiment and see if there's a strain that can help me chill out and focus creatively, or gain focus so I can get organized. Also, just because it has played into my life a lot lately with being around my father-in-law, I've learned a lot about it. I want to see where it's going to lead.

Why did you want to get involved with Leafly?
I want to help educate people on it. I think people are scared – they maybe smoked a joint in high school and got super paranoid. They maybe tried something that made them feel out of control. There are different strains that do different things and have different benefits. It's like going to the liquor store and finding a good wine. People will be able to find a strain that is good for them, whether it's CBD oil or something to help them relax.
I wanted to link up with Leafly because I love the educational tools that they have on their site. They really try to balance both sides. Here are the strains you can smoke and what they'll do for you, and here are the negative sides of cannabis. I want people to be aware. I don't think that going recreational will result in a country of stoners. It's really just about educating ourselves about what works, and if it doesn't work for you, then it's not for you.