This week's DIY brought me back to my high school days, when my girlfriends and I would be handed an oversized tee for gym class, sports teams, or school wide events, and we'd "express our individuality" by promptly cutting them up to fit in a much more appealing (read: revealing) way. Ah, the good old days. When I came across this nostalgic-feeling tie dye piece in my growing stack of cotton t-shirts this weekend, I realized that I didn't really wear it that often 'cause it never fit quite right. Since I am sooo not a sewer, I grabbed a pair of scissors and channeled my early 2000′s aesthetic to create a cute, casual, cropped number for the hot summer days that are surely on their way (right?). I can see this paired with white jeans or cute cutoff shorts for ultra-casual weekend jaunts downtown. Wanna make one yourself? It'll take you 5-10 minutes max!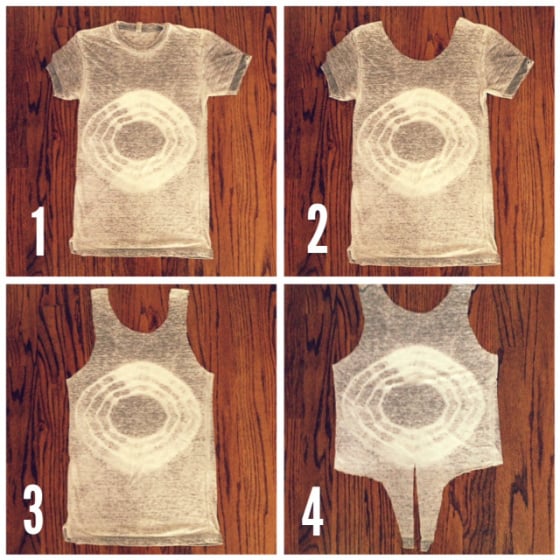 STEP 1: Take a loose or oversized t-shirt and lay it out on your floor or table.
STEP 2: Cut about an inch around the existing neck of the t-shirt to widen the neckline.
STEP 3: Cut about an inch around the existing arm holes to create wide tank straps.
STEP 4: Start by cutting in a straight line right up the middle of the t-shirt and about an inch on either side to create two long pieces that can be tied in front. Continue to cut along the sides (at the hips) and around the back for an even, cropped length.
STEP 5: Throw on the top, tie it up (you may want to clip the ends of the ties depending on length of original t-shirt) and off you go for some summer fun!