I have a long list of solid life accomplishments, but calmly, confidently cooking a classic chicken dinner—or even making fajitas, for that matter—has never been among them.
My friends and family know that I spent the better part of my university years living off homemade pesto pita pizzas made in my toaster oven. Dinners during the last near-decade working in the fast-paced PR industry consisted of either cereal or take-out sushi. This despite the fact that I had the opportunity to work with some of the country's top chefs, including Chuck Hughes and Sandi Richard, to help encourage Canadians to eat delicious, nutritious and easy-to-make meals. Somehow, everything we preached never quite stuck with me in practice.
It's not all a bust. I can make a mean peanut butter cookie, have mastered my mom's classic chocolate cake and serve a delicious lasagna at dinner parties. But I'm not always comfortable with sauces stewing, pots hissing, and everything needing to be served all at once yet requiring different cooking times and attention. I've always felt that my cooking abilities were a sad state of affairs.
Having moved to Paris this summer to study at the Sorbonne and soak up as much joie de vivre as possible, I decided to sign up for a cooking class to learn from the best of the best: Le Cordon Bleu. I lived in the South of France during my undergrad so their "Taste of Provence"-themed class seemed fitting.
It was a sunny Saturday morning. I walked past the Louvre and over Pont Neuf to the metro, then up the steps of their main campus and into one of their famous kitchens – where Julia Child herself once trained – not exactly knowing what to expect.
We were given crisp, white aprons with the blue Cordon Bleu logo emblazoned at the top, and blue-and-white striped tea towels to tuck into the side. A long, narrow table was set with individual workstations, including large bowls of beautiful, fresh vegetables, buckets of fresh herbs (thyme, rosemary, mint, basil), as well as large and small knives and utensils placed on a cutting board.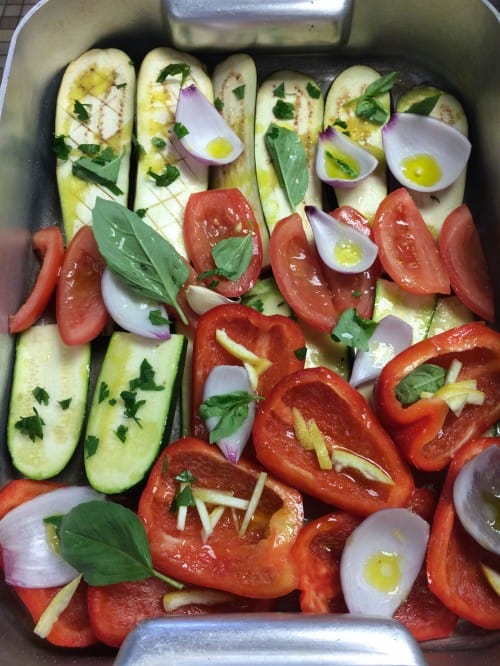 Our French chef and instructor Iman Bogen and English translator stood at one end and shared some initial rules of engagement:
– Workstations must be clean at all times (naturally, I knew that from watching MasterChef).
– Nothing must touch the table—all the knives must remain on our cutting board, all food products, waste and cooking utensils must be in separate bowls. Nothing can be lying around haphazardly without a specific place.
– Jewellery of any kind is dirty and dangerous – take it off.
Worst of all – there must be no paper, pens or notes near the food. This meant we were to watch the chef's (extremely elaborate) demonstrations, remember and repeat. Not an easy feat when you are an absolute beginner tasked with making pressed vegetables and goat cheese terrine, lamb chops with a herb and pistachio crust, tomato compote and zucchini flan.
At one point, the chef kindly came over to explain something in more detail. When I responded, "OK, merci beaucoup," he looked at me sternly and explained, "You can say OK at McDonald's. Here, you must say 'Yes Chef'. Got it?" OUI CHEF!
Over the course of six hours, I learned how to properly "trim" and cook a rack of lamb, simmer a sauce from the remaining fat and bones, make a tomato and red pepper stew, and compose a chèvre terrine that would impress even the fussiest of dinner guests.
I learned that nothing should be wasted. No movement, no food. We were shown how to effectively use the juices and "leftover bits" to make a delicious sauce, rather than start with new ingredients. We were taught to strain three different pots in a specific order so that we'd only need to go to the sink once, not three times. You aren't meant to be flailing around like I usually am – every movement you make in the kitchen should be precise and meaningful.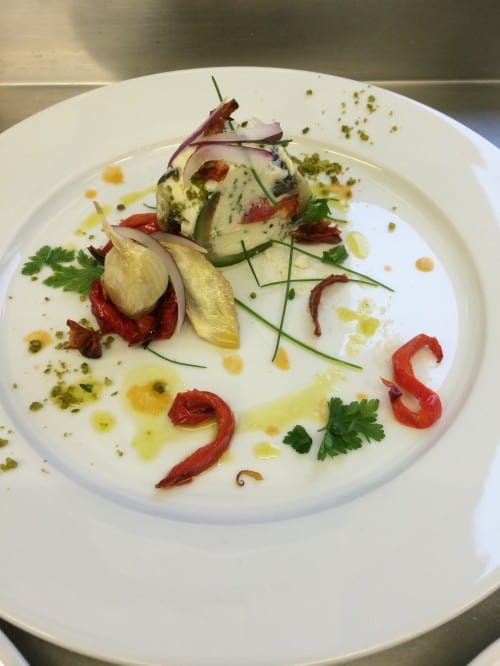 Finally, I learned that plating our dishes should be done quickly and naturally. The bulk of your time in the market should be spent choosing the best produce, but the plating should be fresh and fun, not contrived.
It was a whirlwind. It was absolutely incredible. I'll never become a master chef, and I'm not even sure I'll ever be able to properly recreate this meal without the help of a top chef guiding me, sous-chefs assisting and cleaners clearing pots as we go – but I sure am going to try. Next time you're invited for dinner, you know what I'll be serving. Bon appétit!
Follow Lynn on Twitter: @lynn_bee