"A lot of us eat organic food and avoid harsh chemical cleaners, but when it comes to our cosmetics, we turn a blind eye. We don't really know what's hiding in our makeup and we don't really want to know, either."
Unfortunately, ignorance isn't bliss when it comes to that precious face of yours. Unless you want to deal with the longterm repercussions of loading toxins onto your mug, it's time to get wise about the products you use each and every day.
The sad truth is, your favourite eyeshadow pallet is likely chock full of carcinogens, hormone disruptors and allergens. As is that "naturally sourced" moisturizer you love to slather on. Upon this realization, I began the transition to all-natural cosmetics a few months back. It was confusing at first, but once I tapped into the wealth of knowledge already out there, cosmetic choices became more apparent. One huge source of knowledge for me, personally, has been Sally Glover.
Sally is the owner of Fresh Faced, an online cosmetics shop dedicated to keeping your face fresh and toxin-free. It's based right here in Toronto, and it sources plenty of local brands, too. I wanted to share with you some of the things that I've learned along the way, so I asked Sally to enlighten SDTC readers as to what's really hiding in their cosmetics.
SDTC: What are the most harmful ingredients in regular cosmetics? Why are they bad for you?
SG: It's easy to choose between a conventional apple and an organic apple at the grocery store, but buying beauty products is a bit more complicated. Half the battle is knowing what to look out for—and why. A good guideline is David Suzuki's "Dirty Dozen," a list of the 12 most harmful ingredients used in cosmetics. Start with the big ones, like parabens, the most widely used preservative in beauty products. Parabens easily penetrate the skin and are known hormone disruptors, an effect that is linked to increased risk of breast cancer and reproductive toxicity. There are no restrictions on the use of parabens in cosmetics in Canada, so it's important to read labels or shop at a trusted source like Fresh Faced, where we have done the work of weeding out harmful ingredients for you.
I'm also really wary of anything that contains "fragrance," since the words "fragrance," "perfume," or "parfum" usually stand in for a host of hidden chemicals that aren't listed as ingredients because they are considered trade secrets. Fragrances contain hormone disruptors and are among the top five allergens in the world, according to the Environmental Working Group (EWG), an American nonprofit health advocacy org. Look for products scented with natural essential oils. Fortunately there are some great resources that can help make the transition to clean beauty products a lot easier (and a lot less overwhelming!). Download the Think Dirty app and scan the products on your bathroom shelf to find out which you might want to replace first, or scan while you're out shopping to rate what you're buying. EWG has a great database called Skin Deep, where you can search for specific products and brands to see how they're assessed for safety. And it's not all doom and gloom! There are some truly amazing luxe natural beauty products out there—so amazing that you won't feel like you're making a sacrifice to switch.
SDTC: Which types of makeup (foundation, shadow, etc.) are most important to avoid when choosing regular cosmetics?
SG: It's really hard to claim that one type of product is worse than another. I could argue that switching natural lipstick is important, since we likely ingest some of what goes on our lips, but I don't really want any synthetic chemicals going in my eyes, either. Replace one product at a time with a green alternative, and before you know it, your beauty arsenal will be squeaky clean! Choosing multitasking products works well, too—a lip color that can moonlight as a blush or a tinted mineral sunscreen that protects and evens out your skin tone. Part of the danger of conventional personal care products is that we use so many of them—often multiple times in a day. Even if you aren't ready to make the full switch to natural and organic brands, the less products you use, the more you limit your exposure to potentially harmful chemicals.
SDTC: How should you transition to all natural cosmetics? Gradually or all at once?
SG: Gradually is the easiest and most cost-effective way to switch to natural cosmetics. There's no need to rush home and toss the entire contents of your makeup bag (which might equal more than a full paycheque, for some of us!), but it's good to be aware of the amazing natural alternatives next time you're ready to shop for something new.
SDTC: Which items should you transition first?
SG: I always recommend that people think about which products they apply most often, and where on the body they're going. So you might apply lipstick once in the morning, and then again periodically throughout the day/night, whereas you probably only shampoo your hair once every other day. Based on that logic, replace the lipstick with a clean version first. ILIA Beauty makes beautiful lipsticks, tinted lip conditioners, glosses, and lipstick crayons that are equally as effective, and packaged just as beautifully, as conventional brands.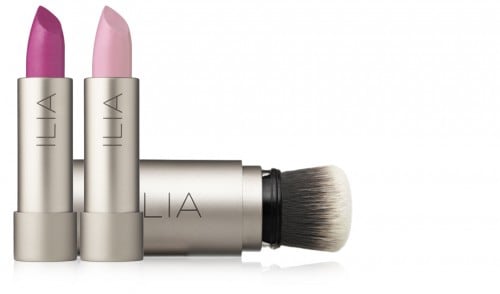 Switching to natural deodorant is also pretty important when you think about how close your armpits are to your breasts and lymph nodes. After years of searching for a natural deo that actually works, that is packaged beautifully, that smells good, and that doesn't irritate my pits, I've finally found not one, but two, holy grail deodorants: Soapwalla Deodorant Cream and Leaves of Trees Deodorant. Look out, summer! Seriously.
SDTC: What changes (in your skin, routine) can you expect from switching to all natural cosmetics?
SG: My own experience with switching to natural was really positive. My skin is definitely more clear, glowy, and healthy than it was a decade ago, despite being ten years older! Skin and issues can be very personal and individual, and it can be difficult to get to the root of any problems without having a clear, full picture of your health. If you have very reactive skin, samples are a great way to test out new products to see if they work for you. Fresh Faced has a comprehensive sampling program that allows you to order up to 10 samples at a time.
To show you just how wonderful all-natural cosmetics really are, Sally is offering SDTC readers 10% off from now until Friday, June 13th at midnight! Just use code SDTC10 at check-out when you order from freshfaced.ca