Summer time, and the lippin' is eaaaaaasy…. we're dreaming of summer smooches and this DIY is just in time. While we wait for the weather to get consistently lovely (great job so far, keep it up, The Weather) we'll be on our porches makin' cute lil jars of homemade lip balm for friends, lovers, and summer crushes we haven't even met yet. Check this out.
You'll need:
Jars – craft stores/beauty supply store
Paraffin Wax – beauty supply store
Petroleum Jelly – dollar store
Coconut Oil – Bulk Barn or grocery store
Candy Melts – Bulk Barn
Oil-based Candy Flavouring – Bulk Barn
Plastic Freezer Bags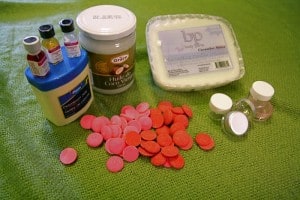 Got everything? Great! Now:
Grate 1 teaspoon of paraffin wax into a plastic freezer bag.
Add 4 teaspoons or coconut oil, 4 teaspoons of petroleum jelly, 4/5 red, pink or white candy melts and a 1/2 teaspoon or your preferred candy flavouring to the bag (we liked cinnamon best but also tried raspberry and peppermint)
Place the sealed bag in a bowl of very hot water and let the ingredients melt for a few minutes.
Massage the bag a bit to mix the ingredients together.
Snip a corner of the bag and pour the contents into the waiting jars (one bag should fill approximately 6 small jars)
Pop those jars into the fridge to cool and set completely (this should take about an hour).
Pucker up and enjoy!