If you want to try mountain biking this year, there's no better place to start than the Sweet Pete's Women's Ride Series at Evergreen Brick Works.
The weekly beginner friendly ride, slated for Wednesday evenings, is pressure free while being a good workout. "Every ride has at minimum one sweep and one lead, so folks can go their own pace without worrying they'll be left behind, or fearful that they'll take a wrong turn on unfamiliar trail," says Alex Legum, the project coordinator of Active Living at Evergreen.
"Convincing people to do something they think is scary is really hard. Mountain biking can be intimidating. Riding off road for some people conjures up images of high-level downhill races. Trails are hard to find and fear of getting lost can be overwhelming.  You have to pay way more attention to your surroundings on a mountain bike over a road bike. This is the thing I love about trail riding over road riding. It really tunes you into your environment. You have to consciously pick lines, and you have the added bonus of not having to worry about motor vehicles."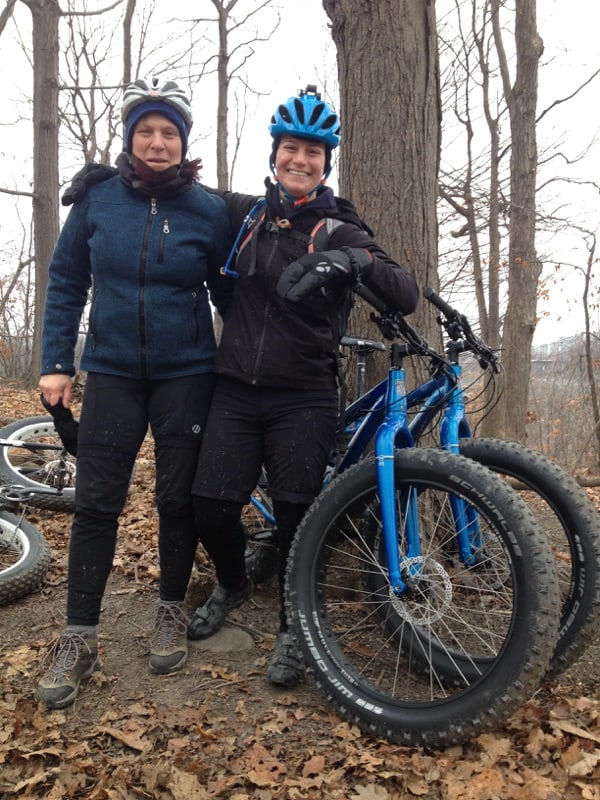 Mountain biking historically has been a male-dominated sport. "When you start out with that big of a gender imbalance, affirmative action is necessary to defeat those obstacles to getting women on bikes," says Legum. "If women are scared that they're going to be dropped, get lost, chicken out (and then face being mocked), then they're not going to ride."
"I have found riding with women to be a wholly different experience than riding with men. The rides are supportive. We push each other without expectation, bullying, or pressure. A friend of mine – a professional downhill racer – has a hilariously telling rule: she never rides with two guys. Three guys, one guy, eight guys – totally. Two guys and she finds that they spend the whole ride competing."
Women-Only Mountain Biking officially starts as soon as the trails are dry enough, so likely the first week of April, but be sure to check in with Evergreen to confirm. These rides are a suggested donation of $10.