In preparation for the most uncomfortable back-to-school season in our lifetime, we've pulled together 10 breathable masks that come highly recommended by parents.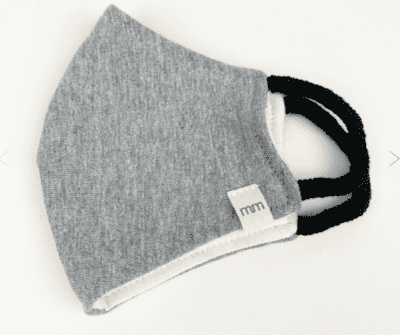 Mini Mioche
The Queen West children's boutique has made a very cozy mask for little faces (and priced it less than most local shops).
Made in Canada
$12 per mask
Breathable and soft, with cozy elastic for maximum comfort around the ears
Created for kids aged 3-9
Fabric: Exterior: 95% cotton/5% spandex french terry, Interior: 80% Rayon from Bamboo/20% Organic Cotton jersey, Elastic: 95% polyester/5% spandex
Find in-store, or email support@minimioche.com to order
More info on website
IG: @minimioche
Mayana Geneviere
This local lingerie company did a swift pivot after COVID hit, and families are raving about the gentle fabric, usually reserved for intimates.
Made in Toronto
$18.50 per mask / $49.50 for a 3-pack
Soft elastic straps with adjustable toggle for customized fit
2-Layers of 100% tightly woven cotton, as recommended
Filter pocket to insert your own filter
Made for kids 2+
Positive reviews from parents with children who have sensory issues
Positive reviews from parents with kids who have tiny, narrow faces
More info on website
IG: @mayanageneviere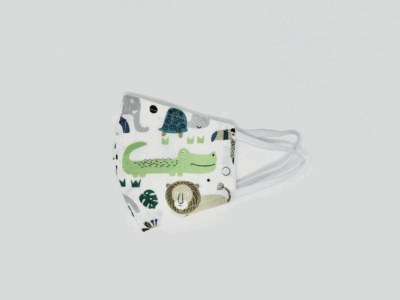 Moji
Great designs, locally made, fits well, delivers promptly.
Made in Canada
$19.99 for fun print / $16.00 for basic
The masks are made of 2 layers of cotton with a pocket that you can add a filter to (they recommend a coffee filter or baby wipe).
Cotton lining: Lined with 100% premium cotton.
Elastic ear straps ensure a comfortable fit.
More info on website
IG: @mojimaskcanada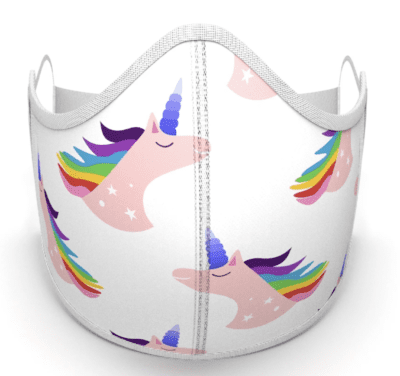 BYOM (Bring Your Own Mask)
There's a touching family story behind this Oakville mask company, launched soon after a mother lost her job and was inspired by her daughter, a frontline worker at a local pharmacy.
Made in Toronto
$18 per mask
Masks boast a two-layer polypropylene filter
Different kid and youth sizes, so you get the right fit
No chemicals—water-based dyes
Lot of fun prints for kids and teens
More info on website
IG: @bringyourownmask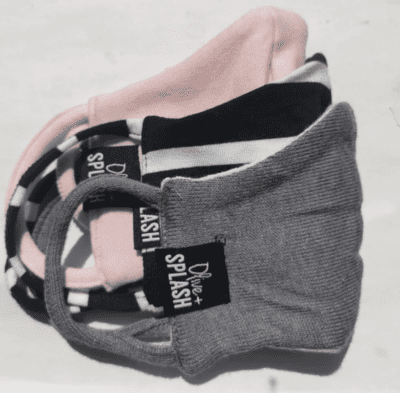 Olive & Splash
This local bamboo athleisure apparel company was one of the first Canadian designers to make the move to mask production, and their masks are especially loved by those with sensitive skin.
Made in Toronto
Sold in a 3-pack for kids at $49.99
Replaced elastic with "ultra light-weight and butter-soft bamboo stretch material (no digging elastic)"
Hypoallergenic
99.8% Antibacterial
More info on website
IG: @oliveandsplash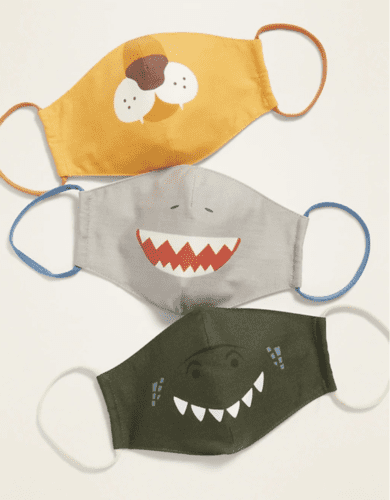 Old Navy
While it's great to support local companies, this is also an incredibly challenging financial time for many families. Old Navy kid masks are well priced, have super cute designs, and parents are raving about the fit too.
Variety 5-Pack of Triple-Layer Cloth Face Masks for Kids is $15 (See featured image at top of page)
Variety 3-Pack of Triple-Layer Cloth Critter Face Masks (with Laundry Bag) for Kids is $12 (As seen directly above)
On the Old Navy site, there are 784 reviews for the kids masks, with an average rating of 4.6 (We've also had numerous parents in our community share positive feedback)
3-ply, woven, 100% cotton poplin
Lots of fun styles to choose from
Current delay on shipping due to high demand
More info on website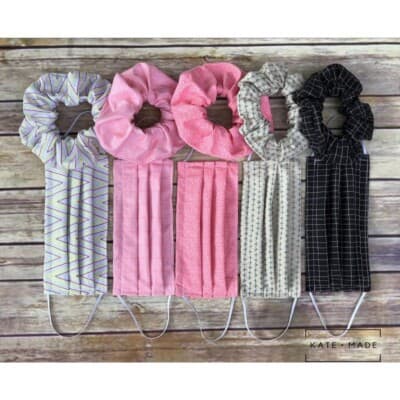 Custom By Kate
Kate Bolla is a local mom of three who has begun an adventure of creating comfortable custom clothes. We love the mask-scrunchie combos, which may help make this whole ordeal a little more fun for your kiddos.
Handmade in Toronto with love
Made to order, based on preferred fabric
$8-10 per mask, or $13-15 for the mask + scrunchie combo
IG: @custom_by_kate / DM her to inquire further and/or place an order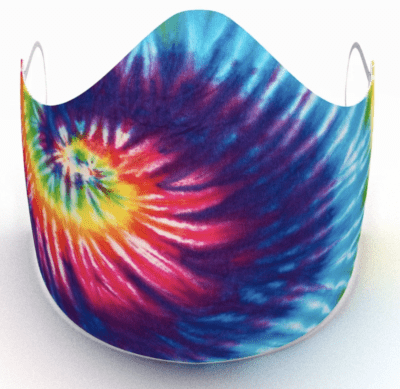 Protect Styles
These masks are made in Toronto and for every purchase made, proceeds go towards supporting CAMH.
Made in Toronto
$18.95 per mask
Lots of fun styles including patterns made to look like Minecraft, Pac-Man, Harry Potter, and MORE
Custom Designs available
Adjustable ear loops
Made of polyester
Two layers, with pocket for filter
More info on website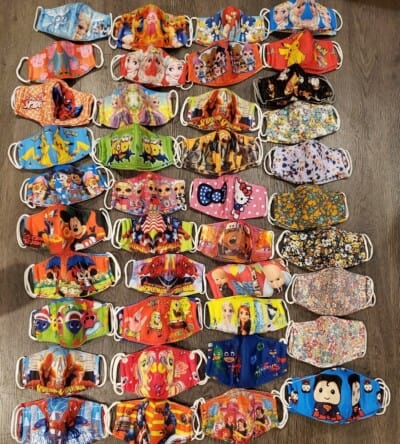 Poop Café
For months we've been reading positive reviews from parents about the $5 masks available at Toronto's Poop Café. As reported by BlogTO, the restaurant "known for serving desserts in toilet-shaped bowls", turned into a sewing factory when COVID halted their business.
Made in Toronto
$5 per mask
A gazillion styles, including all the TV & Disney characters your kid loves
More info on website
IG: @poopcafe.ca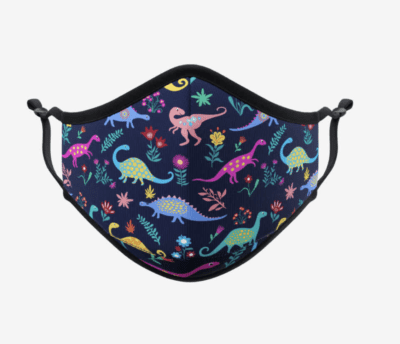 Vistaprint
Another example of a local company doing a pandemic pivot! Vistaprint—which is normally a printing house for all your marketing needs—now makes masks, and local parents have been saying good things.
$18
Lightweight masks are made with materials that wick away moisture (so faces get less sweaty)
91.7% polyester fibre, 8.3% spandex
Offer thick, high-quality filters slide right in and can be used for 12 hours of active filtering time, available in packs of ten.
Adjustable latex-free straps
Tons of fun styles and bright colours
Delay on shipping due to high demand
More info on website
It's going to be a challenging year; get them masks that they will want to wear that fit well and feel good.