Indigenous artists have long told their stories and shared their cultures through art, whether it's beautiful beadwork, compelling memoirs, or captivating performances on stage or screen. Truth and Reconciliation calls us all to truly listen to the lived experiences of Indigenous peoples, both past and present, acknowledge the harm and trauma they faced, and reflect on the steps we can take toward reconciliation.
On September 30 Canada will mark The National Day for Truth and Reconciliation for a third year. On this day, but also throughout the year, it's important to take the time to learn about the history of systemic oppression in our country, but also to celebrate and uplift expressions of Indigenous cultures that have been historically suppressed.
Whether you attend a cultural event, watch an Indigenous-led film or series, or purchase work from an Indigenous artist, here are ten ways you can commemorate The National Day for Truth and Reconciliation.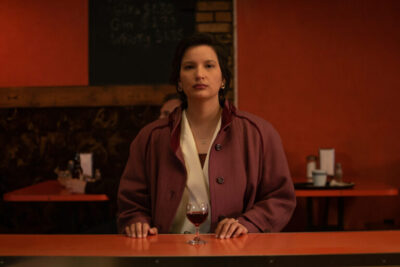 Stream Little Bird
Powerful, devastating, and absolutely vital, Little Bird is a must-watch series for all Canadians. This six-part fictional series from Jennifer Podemski captures the irreparable harm caused by the Sixties Scoop and the painful realities many Indigenous families faced due to colonial violence. "It is about identity and belonging, the longing to fit in, the yearning to know the truth about the past as a way to move forward," Podemski told us. Stream Little Bird on Crave.
See Indigenous artists perform at Koerner Hall
Indigenous artists will gather at Koerner Hall on September 29 for an evening of drumming, music, and spoken word to honour those affected by residential schools and offer hope for the future. Hosted by spoken word artist Zoey Roy, featured performers include Cultural Knowledge Keeper Marie Gaudet, singer-songwriter Julian Taylor, Andrew Balfour, and the Eagleheart Singers. More info here.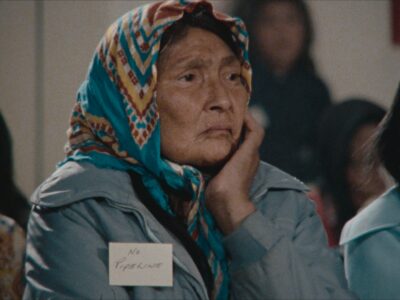 Watch the new music video for I Pity the Country
Paying homage to Indigenous sovereignty and resistance, this beautiful found footage music video is set to Leanne Betasamosake Simpson's version of Willie Dunn's classic song, I Pity the Country. "This beautiful, celebratory short reminds me that Indigenous peoples fought hard to get us to this moment, and it reminds us that we were born into a proud and joyful movement of Indigenous resistance we will pass along to the coming generations," says Simpson. The video will be available to watch on YouTube on September 29.
Visit the Indigenous Legacy Gathering
The 6th annual Indigenous Legacy Gathering in Nathan Phillips Square brings together more than 20 local Indigenous organizations for a vibrant celebration of Indigenous cultures through workshops, art, dance, film, and music. This gathering is open to the public on September 29 and 30. More info here.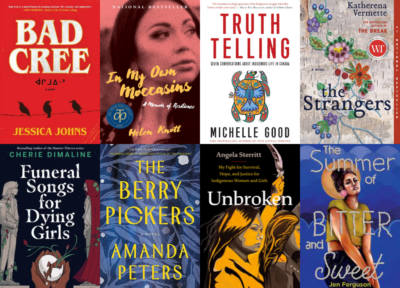 Read a Book by an Indigenous Author
An excellent way to learn about Indigenous cultures and heritage is to pick up a book by an Indigenous author. Back in June, to mark National Indigenous History Month, we created a list highlighting the many literary contributions of Indigenous peoples, from powerful literary works, to memoirs, to atmospheric horror to well-researched nonfiction and more. Some of our favourite authors—Cherie Demaline, Michelle Good, Katherena Vermette—are on this list.
Take in Murals by Indigenous Artists
At this Orange Shirt Day Art exhibit, experience a digital presentation of murals created by Indigenous artists across Toronto. The Native Canadian Centre of Toronto and StreetARToronto have partnered to showcase these stunning works of art. More info here.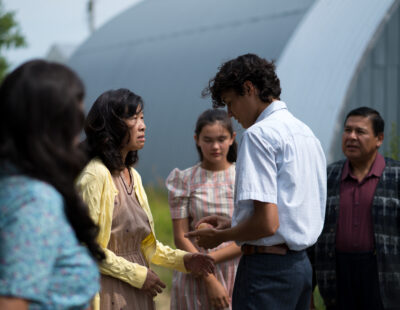 See Indigenous history unfold in True Story Part Two
True Story Part Two is a heartbreaking and astonishing journey through Indigenous history and a look forward toward reconciliation. In a follow-up to the acclaimed Part One, this documentary tells the real versions of stories that are often misrepresented, covering historical events including the Indian Act and Residential School system, the Sixties Scoop, and Indigenous political movements. Produced by the award-winning team behind Buffy Sainte-Marie: Carry it On, another documentary we loved, True Story Part Two will premiere on The HISTORY Channel ® on September 30.
Attend a Powwow Comepetition
On September 30, the Tkaronto Open powwow competition is coming to Toronto's Union Station. Women-identifying, Indigenous performers will compete in the Jingle Dress Category. All proceeds from the performers' entrance fees will be donated to the Native Women's Resource Centre of Toronto. The event is free for the public to attend. More info here.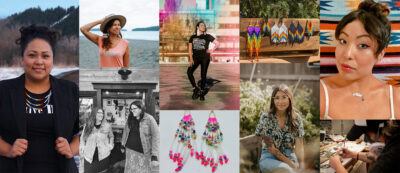 Support an Indigenous Designer
There are so many local Indigenous artists creating beautiful clothing, jewelry, accessories and more. These artists incorporate traditional designs and materials, and often give back to Indigenous communities in need. Check out this list of nine independent Indigenous artists we adore, and support their work! The City of Toronto has also set up a page with creations from Indigenous artisans and authors that are available to purchase—from stunning earrings to beautifully printed tote bags and more.
Purchase a Tee with Meaning from the Native Arts Society
You can show your support on September 30 by wearing an orange shirt, but you can also go a step further by purchasing beautifully designed clothing from a local Indigenous arts collective. Founders Nanook Fareal and Brianna Olson-Pitawanakwat created The Native Arts Society to provide a platform for Indigenous art, with proceeds supporting Toronto Indigenous Harm Reduction. Visit their gallery in Moss Park and shop for hats, tees, and accessories. More info here.