Get to know incredible Indigenous designers, add something beautiful to your wardrobe, and find a unique gift for someone you love.
From stunning beadwork to fine art prints and striking contemporary jewelry, here are 9 independent retailers whose work we adore. The craftsmanship is awe-inspiring, as are the stories behind the work.
We're grateful for the Indigenous Fashion Arts Fest for having introduced us to several of the designers; others we have discovered on Instagram, or have stumbled into at various markets. Support these artists during Indigenous History Month, and all year round!
Running Fox Beads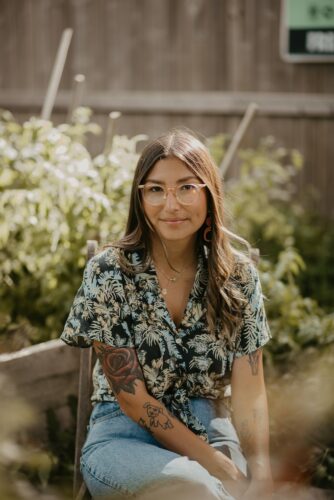 Skye Paul's beadwork brand offers vibrant, hand-beaded pieces, including earrings, patches and pins. Skye is a Toronto-based Dene artist, who approaches her work with a new perspective, allowing her to sustain traditional skills and knowledge while also continuing to explore cultural intersections. She describes learning how to bead for the first time, using her grandmother's design, as healing. She explains "practicing my art is an act of survival, sustenance, and connection." Running Fox Beads' ripe blueberry earrings are a favourite — a perfect fruit accessory for any outfit.
Native Diva Creations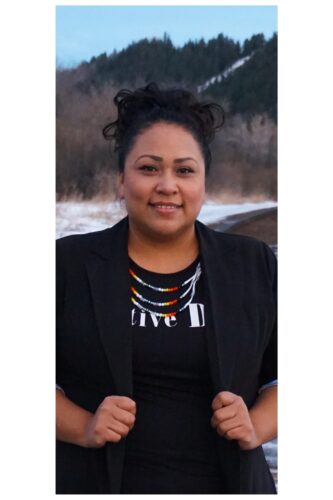 Designer Melrene Saloy-EagleSpeaker takes pride in how the accessories and jewelry she creates are authentic and appropriate for anyone to wear respectfully. Each piece made for Native Diva Creations brings together "the traditions of pow-wow beadwork and urban street," with both modern and traditional influences evident in the intricately beaded earrings, hoops, and necklaces. In addition to being a featured designer at this year's Indigenous Fashion Arts Festival, Native Diva Creations was showcased on the runway at New York Fashion Week in 2021!
SheNative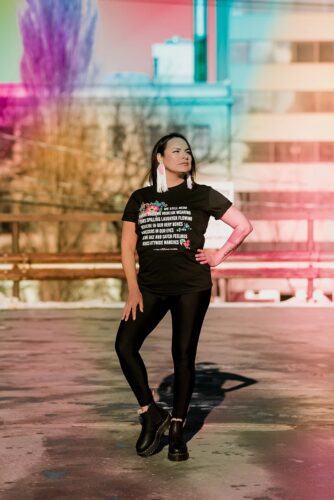 This lifestyle brand is led, made and created by Indigenous women. From leather bags, accessories—such as one of our faves, the gorgeous leather-fringe earrings—and sustainable apparel, SheNative creates beautiful things that, "share our cultural teachings embedded with positive values passed down by our ancestors." Their commitment is to:
Employing Indigenous women in the design and manufacturing of our goods.
Involving Indigenous communities and customers in our design process.
Sharing the experiences and perspectives of local, national and international Indigenous female changemakers.
Giving 2% of revenues toward causes that positively impact the lives of Indigenous women.
And their products are not just products—perusing the website reveals rich and meaningful stories behind each collection, such as the Honi?aze Collection, which speaks "to Urban Indigenous experiences, to activism, to self-love and feasts. Each poem stanza [appearing on luxurious hoodies, and t-shirts] was carefully chosen from Nedi Nezu, the latest poetry book by Tenille K Campbell, with beadwork by Heather Dickson of Dickson Designs."
Women Helping Women Beadwork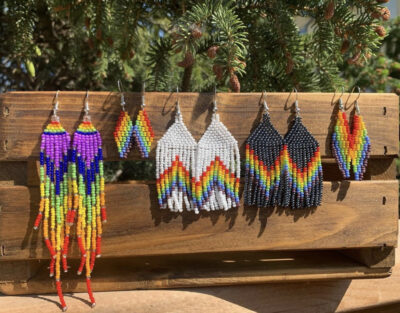 Indigenous women are disproportionately represented in the Canadian prison system, accounting for nearly 50% of women in federal prisons. Women Helping Women Beadwork is raising awareness about this injustice by selling original, handmade beaded jewellery made by incarcerated Indigenous female artists doing all of their artwork out of prison. The Instagram features the work of 10 women who sell their traditional and traditional-with-a-twist artwork via Sandra Burling who runs the account. The money they make takes the financial burden off their families while they're incarcerated. It also gives them spending money (they often end up spending some it on more art supplies). The idea is to save enough "to be able to afford clothing and a month's rent when re-integrating back into society," as Burling points out.
Totem Design House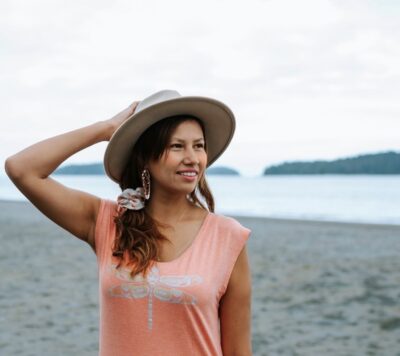 "A bold re-imagining of the traditional animal crests of the Northwest Coast Peoples" began in 2004, when Erin Brillon (Haida/Cree), "tired of the typical Northwest Coast art t-shirts, decided to start a contemporary clothing and home decor brand utilizing her artist/carver brother Jesse Brillon's Haida designs." Coordinating Indigenous Youth empowerment programs and learning the art of scree-printing with Brillon's daughter Marlo, and eventually joining forces with Andy Everson—an artist and a cultural leader from K'omoks First Nation—allowed the house to expand and become a reputable, locally made, artist produced, one-stop-shop for authentic Indigenous made products. Totem Design House relies on traditional materials (sealskin, shell, silver) but doesn't shy away from modern techniques of using acrylic to create unique, large pieces that are as light as a feather and blow any drop earrings out of the water with their loud, fun design. As for inspiration, the force is strong here.
Fat Daug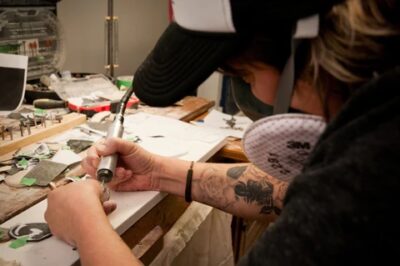 Candace Lipischak has started her company, Fat Daug (short for Father Daughter), more than six years ago and she specializes in the art of antler carving passed on from her father. Lipischak says, "Our Métis culture is humble and simple. We believe in using every part of the animal, as much as we can, as a sign of respect and appreciation. I believe in quality and crafts(wo)manship and that every piece will find its way to the rightful owner." From pendants to earrings (we love those deer studs), the designs are simple and unique in their execution.
Coastal Bead Collective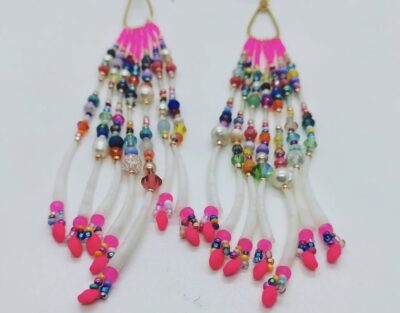 Coastal Bead Collective is a group of Indigenous women from various backgrounds from unceded territories, ranging from Kwakwaka'wakw territories, Nlaka'pamux people to Various Salish nations of the Southern tip of Vancouver Island and North Vancouver. Incorporating traditional designs and inspired by nature, Brendi, Jenna and Chelsea offer a variety of pieces that rely on simple, classic designs to gorgeous statement pieces that will accessorize any shy garment and elevate it into a fashion status.
Aunty Collective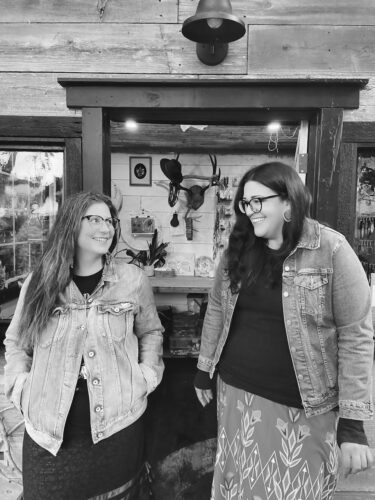 Aunty Collective is "an Indigenous hub of aunties, artisans, and artists creating pieces inspired by and handed down from their ancestors, the land, and their culture. Moccasins, Regalia, beaded and woven jewelry, leatherwork, medicines, drums, rattles and more; contemporary and traditional works, from ready to wear art to heirloom pieces. Aunty Collective provides an accessible platform for Indigenous artists and a place for all to access authentic Indigenous works."
Ahlazua-Indigenous Woman Made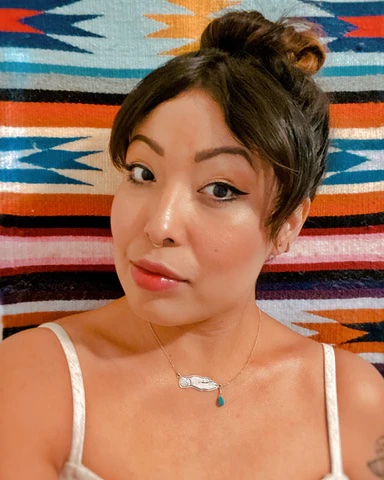 For Rykelle Kemp, starting Ahlazua-Indigenous Woman Made was an important step in allowing her to showcase her heritage. The name of the business comes from her given Euchee/Yuchi name 'Ahlazua', while her designs incorporate her tribal heritage. Traditional techniques and materials such as shells, pearls, and turquoise feature strongly in her jewelry, which includes a line of affordable laser-cut creations. You can also shop for handcrafted pins, stickers, journals and bags at Ahlazua.