A longtime sewing hobbyist, Lee-Anne Thibert was gifted a new sewing machine this past Christmas by her husband. A few weeks back, after reading an article about hospitals in need of masks, she decided to pull it out and start a sewing group on Facebook, with a mission to make masks for whoever needed them. The group was originally called Durham Region Sews and started with 13 members (Lee-Anne and twelve friends she added). Overnight, the group swelled to 300, and now—seventeen days later—the group has gone national, uniting 8000 volunteer sewers from across the country, with regional leads in 8 provinces.
"We're seeing thousands of people across Canada working towards one common goal," says Thibert. "I've never in my life heard of anything happening so fast, and spreading so far. It's incredibly beautiful to see all these people coming together in this crisis to work together. We're doing it, as long as we can and as fast as we can."
Thibert has been blown away by the movement, but what has been equally shocking (and not in a good way) is the huge need for these masks. While there are 8000+ sewers, working furiously to pump out masks, the requests for masks, as of yesterday, hit 43, 404. "They are not medical grade, and we have no interest in pretending they are. They are a mask of last resort. In our call-out we said, 'If you are desperate, if you need them, let us know and we will try to help you out.'" The desperation is there, and it's coast to coast.
Normally, Thibert spends her days in court, as she's the owner of a paralegal firm, but since launching Canada Sews, she's spending about 20 hours a day managing the logistics of Canada's sewing army, which is predominantly a female movement, but one that is attracting volunteers of all ages and skill levels. "We have some experienced tailors, and their output is going to be far higher with industrial machines, as opposed to people working at home. We're seeing some put out 10 a day, and others putting out 60 a day—it depends on the comfort level of the sewer."
I don't know how to sew—I joined the Canada Sews Ontario group out of curiosity. From my own home, I've been inspired by the regular updates in the group, from sewers all over, sharing photos of completed masks, headbands, caps, and more. Perth, Kemptville, Kenora, Shawville, Brockville, Almonte: it's a lesson in geography as much as it is a lesson in community care.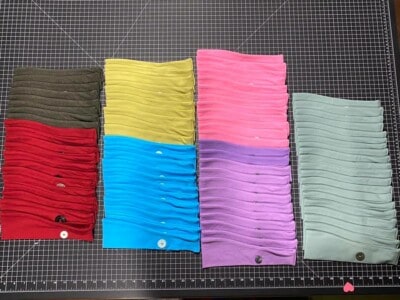 Some sewers use fun prints, like Elvis Presley or Pink Panther masks, and others are less 'fancy' but every bit as practical. Everyone, however, is following the same pattern. "We're collaborating with a group called Created for Crisis it's an international design & research team, and they've developed these patterns and they're in discussion with the CDC, so those are what we're recommending now," says Thibert. But she's prepared to pivot if things change, "If Ontario or Canada provides a specified pattern, then we will adjust."
Whenever a sewing volunteer finishes a batch, they drop it in a bin at the nearest UPS (there are currently 30 participating locations across Canada) and then a regional lead will pick up the batch, clean it, and redistribute to an organization in the community in need. "We try to keep everything locally made, and that way everyone sewing knows that they are directly helping their nursing homes, and their hospitals. We don't want things going to one location, we want to make sure that everyone across Canada is getting their needs met."
Right now, beyond the overwhelming need for masks, there is a dire need for materials, "We are now at a complete crisis for materials. We have no elastic, and we have no fabric. That's across Canada that we're seeing this. We're now working on getting big donations of fabric that we can turn into kits, and distribute those across Canada. That's been my focus for past few days, getting big donations of fabric."
In the interim, a GoFundMe page has been set up to raise funds to help purchase materials. "Our model so far has been 100% donated, and we've been able to get out over 6000 masks just by having the community say "I have some extra material let me put it forward", but we've hit a wall with that, that's dried up."
Eighteen days ago, Thibert couldn't have imagined that this movement would have grown to what it is, nor did she think that she'd be working around the clock to try to manage it—but she's determined to keep going. "We've grown so fast because that need is there, and because that need is there, we can't stop. Every time I start to get a little bit worn down, I get that daily number, like 'today we put out 1700 masks!', and that drives me forward."