I was drawn to the steampunk genre precisely for its ability to resist definition. Steampunk has been described as Victorian futurism or the greatest era that never was; its forms are many and varied. Grounded in its association with the age of steam power, the 'punk' in steampunk allows the practitioner to disrupt the historical narrative, inserting their own take on the tech, and of course, the fashion.
For newcomers seeking an answer to "How to Dress Steampunk," well, steampunk is whatever you make of it. You can look for inspiration in media, such as the works of Jules Verne, H.G. Wells, Gail Carriger, or in films like Wild Wild West, League of Extraordinary Gentlemen, or The Golden Compass. There are recurring themes in the callback to the Victorian era — corsets, parasols, monocles and the like—but there's endless space to add your own interpretation, and the community is incredibly welcoming.
The Toronto Steampunk Society comes together for various events and gatherings throughout the year. Costumes are not required, but certainly encouraged. They're friendly to newcomers, and always willing to share their recommendations on where to find a good corset or some steamy jewellery. Dinners, tea parties, museum tours — all are usually followed by a photo shoot.
As an aspiring author I was already drawn to the aesthetic of steampunk. Then I wrote Tales of the Captain Duke, a steampunk adventure series about airship pirates, publishing the first book in 2014 and the sequel this past May. One of my favourite parts about steampunk is that it draws together creators of all kinds: artists, costume designers, models, musicians, inventors, and authors alike. Everyone is passionate about their work and eager to share, support and collaborate.
I've come a long way from my early days of piecing together costumes with rented corsets from Malabar. Steampunk does require investment in a few key pieces (corset, goggles, perhaps a pocket watch if so inclined), but it leaves lots of room for personal taste. The look can totally be achieved on a budget with thrift store finds and a DIY approach. After two book tours for Tales of the Captain Duke and a few speaking engagements, I now have a growing collection of steampunk pieces that I can mix and match for events. The following are four outfits that I've put together for my debut at this year's Fan Expo Canada where I'll be appearing as a guest author.
1. Steampunk Lite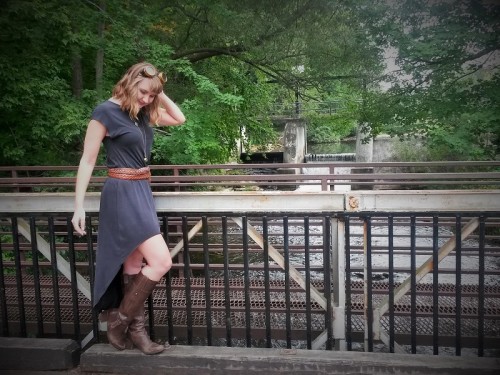 This outfit is one I use for an everyday steampunk look. A simple tunic and a solid pair of boots provide a good base, accessorized with multiple belts. And of course, airship pirates need their goggles (I always misplace my goggles). For steampunk on a budget, accessories are your best friend.
2. Steampunk Sartorialist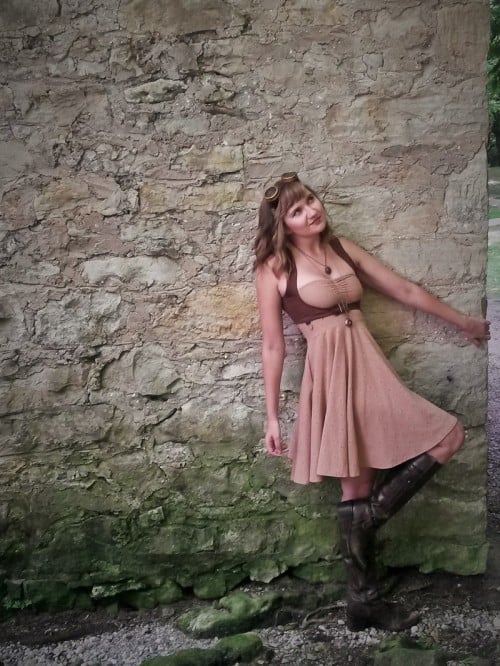 Getting the right look for steampunk has as much to do with the fabric as the silhouette. I bought this strapless dress from Boutique Lustre in Montreal four years ago for a friend's wedding, but when I was shopping my closet for steampunk threads I found that the texture and pattern works perfectly as a base. The harness is from Clockwork Couture, an online treasure trove of neo-Victorian fashion.
3. Full Steampunk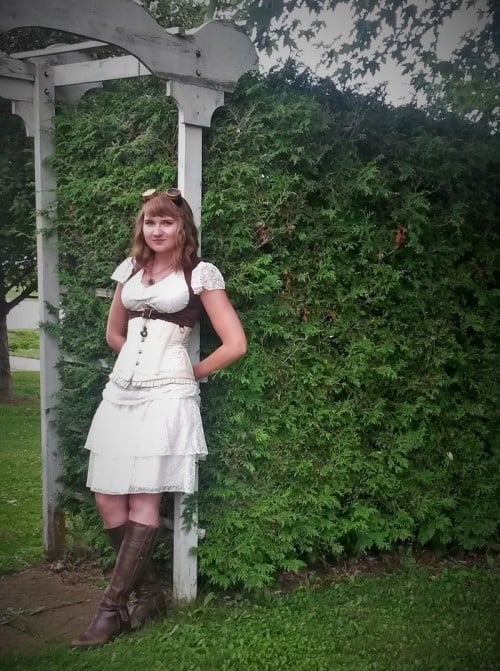 The white outfit is one of my favourites. I used this costume a lot on my second book launch tour. The corset is from Borderline on Queen West (steel boning is a must), where the staff were very helpful instructing me how to do a proper "bunny ears" tie so I could lace it myself. The dress was only $20 from Courage My Love in Kensington Market. It's an odd-fitting, drop-waist, tiered dress, but the corset gives it a really nice shape.
4. Steampunk Adventurer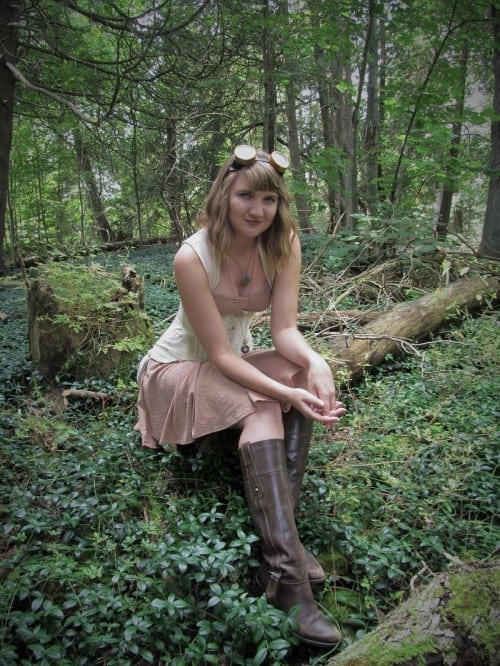 This was one of my first steampunk outfits that I wore to a meetup with the Toronto Steampunk Society. I layered the pink dress and corset with a loose cream-coloured vest given to me by my sister. The mix-and-match method is always a great way to showcase your steampunk style and get more use out of all of your pieces.
It's been an exciting year, and I can't wait to keep building my collection. The next pieces on my wish list are a bustled skirt, an overbust corset, and more steampunk jewellery, hats, and accessories. It's easy to get hooked.
The most important thing to remember is that there's no wrong way to do steampunk. Whatever you love about the aesthetic, the era, or the literature, incorporate it into your take on the genre. There's room for all ages, genders, ethnicities and body types, and abilities – you decide how to celebrate your steampunk style.
The world-building in the steampunk community is top-notch, and it's one in which everyone gets to write their own story.
Meet Rebecca Diem at Toronto's Fan Expo, happening Sept 3-6. She'll be signing copies of the second novel in her Tales of Captain Duke collection, "The Stowaway Debutante." Rebecca will also be participating in the Steampunk Authors Panel. For more info, check out her blog.