I've been using and loving Aveda hair products for the last 10 years. They work amazingly well and smell GREAT. Like, the amalgamation of everything that's right in the world, but in a scent. I've even lathered my arms with Aveda shampoo just so I could take delicious sniffs throughout the day. THAT'S HOW GOOD IT SMELLS!
So when I received an invite to attend the Living Aveda event, I was stoked—it was destiny. Little did I know that I would be treated to a scalp message, yummy organic lunch (avec vino), a fashion show, and a bag full of Aveda goodies that I love. And all before 1pm. Can you say, best start to a day ever?
I should also probably tell you that I've got a head full of coarse, curly hair that dreads at the first opportunity it gets, and it was only after I discovered Aveda that my mane got tamed and became manageable. Yet, that still didn't completely unravel the mystery upstairs.
I can flat iron like a champ, but am completely useless when it comes to round brushes, tricky braids, or hairstyles involving fancy accouterments like bobby pins.  My hair motto: put a hat on it.
But I'm thinking that may soon change. During the Heart Lands fashion show, one thing became obvious to me: I will never be able to perfect a hairdo like the Aveda pros (DUH)! But the looks weren't about having perfectly coiffed locks; they were about taking risks, like daring shaved side parts and exposed bobby pins. Wait…I can TOTALLY rock that! I can't wait to try out some of these looks, and to play with my hair instead of fussing over every stray, getting frustrated, taking it all apart, and running out of my house with a messy bun and a heavy heart.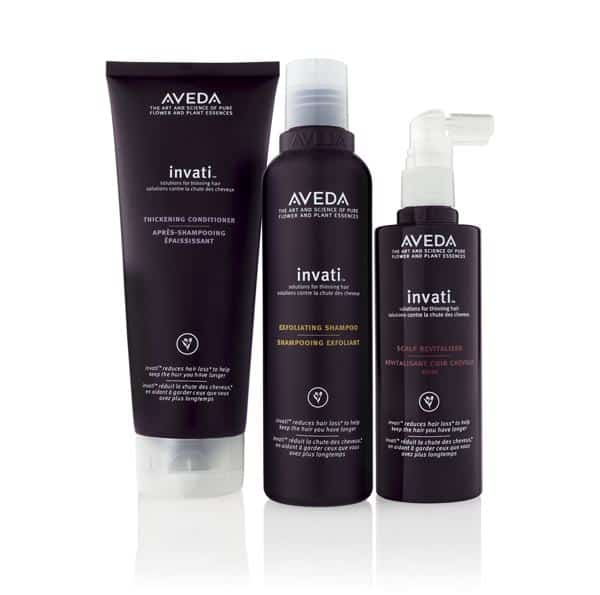 At the lunch we were also introduced to Invati, which is quickly becoming the most popular haircare line at Aveda. The name is derived from Sanskrit and means "invigorate." The system is composed of a whopping 97 percent naturally derived products while it increases volume, fights thinning hair, and reduces hair loss. It includes three products: Exfoliating Shampoo, Thickening Conditioner, and the Scalp Revitalizer, which I got to try. I usually avoid these sorts of products because they feel too oily and rich—you pretty much have to take sandpaper to your hands to get the oily feeling to go away and they mess up your hair. This stuff did not have that problem. It was super light and seemed to absorb into my scalp right away without leaving hair or hands greasy.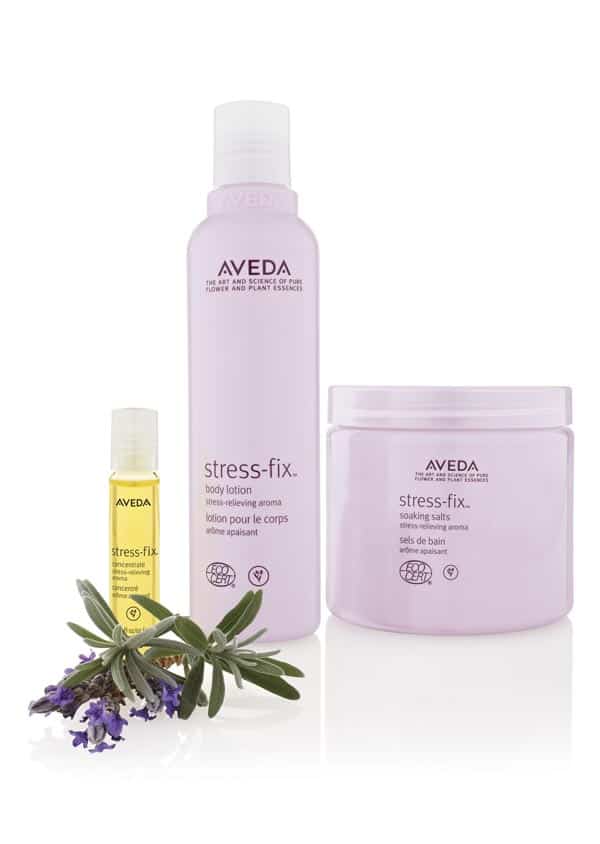 I also got to play with a line of products that I discovered more recently called Stress-Fix. Finally, I no longer need to put shampoo on my arms because I can get the signature Aveda scent wherever I desire with the Stress-Fix Body Lotion or Concentrate! And it's manufactured in an ECO-CERT facility in Minnesota by scientists using essential oils and aromaology, which sounds like pretty much the best job ever. Or at the very least, I'm willing to bet it's the best job in Minnesota. ("What did you do at work today?" "I smelled 240 variations of lavender." Tough day at the office.) Joke aside, the stress-relieving aroma is clinically proven to be effective in restoring balance and easing the negative symptoms associated with stress, which is something we can all most definitely use!