We were thrilled to hear the news that Cree journalist Connie Walker was awarded both a Pulitzer Prize and a Peabody Award this week for her exceptional storytelling in her podcast Stolen: Surviving St. Michael's, produced by Gimlet Media.
In this gripping podcast, Walker delves into her own family history, learning about her late father's experiences attending St. Michael's Indian Residential School in Saskatchewan. Her investigative skills and compelling storytelling craft a haunting and powerful story about one of Canada's darkest chapters, examining how trauma is passed down through generations.
The cover art for Stolen: Surviving St. Michael's includes a photo of Walker's father as a young boy, when he attended the residential school. "This image of the boy he was when he went to St. Michael's breaks my heart," Walker wrote on Twitter. "But it also leaves me in awe of the man he was able to become – how he reclaimed the beauty of our culture, language & community in spite of it all."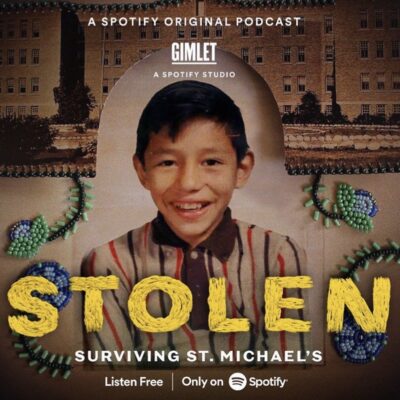 Walker is an absolute force in the world of storytelling. Her body of work has consistently drawn attention to underreported stories about Indigenous communities, bringing dark parts of Canada's history to light.
"This feels like undeniable proof that Indigenous stories matter & that we should support Indigenous people to tell them. We are so grateful to survivors who shared with us & hope this means more people will hear their voices," tweeted Walker, after her Pulitzer and Peabody wins.
We interviewed Walker back in 2021, following the release of her CBC true crime podcast Missing and Murdered, about the devastating fates of Alberta Williams and Cleopatra Semaganis Nicotine. She told us about her mission to share the aspects of Canadian history that we didn't learn about in school—stories about the mistreatment and oppression of Indigenous people in our country's past and present.
"It wasn't until 2015 that I was working almost exclusively on Indigenous stories. It took 15 years for there even to be an acknowledgement that these were very important stories, and it's our job as journalists to tell the truth about the realities of how Indigenous people live."
Hundreds have taken to social media to congratulate Walker, including New York Times columnist Lydia Polgreen, and Anishinaabe journalist Waubgeshig Rice. "Connie told a deeply personal story, one so hard to report on, but as always she did it with grace and much humanity," wrote Globe & Mail journalist and bestselling author Tanya Talaga (Seven Fallen Feathers). We can't wait to see the groundbreaking work Walker does next.
You can listen to Stolen: Surviving St. Michael's and Missing & Murdered on Spotify.