Rachel Lears' Knock Down the House is an inspiring look at how four exceptional women mount grassroots campaigns against powerful incumbents, eventually tipping the balance of power at the 2018 midterms in the US.
When tragedy struck her family in the middle of the financial crisis, Bronx-born Alexandria Ocasio-Cortez had to work double shifts as a bartender to save her home from foreclosure. After losing a loved one to a preventable medical condition, Amy Vilela didn't know what to do with the anger she felt about America's broken health care system. Cori Bush, a registered nurse and pastor, was drawn to the streets when the police shooting of an unarmed Black man brought protests and tanks into her neighbourhood. A coal miner's daughter, Paula Jean Swearengin, was fed up with watching her friends and family suffer from the environmental effects of the coal industry. Winner of the US Documentary Audience Award and the Festival Favourite Award at the 2019 Sundance Film Festival, Knock Down the House joins these courageous women on the campaign trail as they mobilize their bases, engage voters, and fuel a movement during a historic time in American politics.
With a provincial government that is making some seriously damaging moves, the easy thing to do is complain. This film will make you wanna STAND UP, SPEAK OUT and TAKE ACTION. Power is within our grasp, but we have to be willing to take it.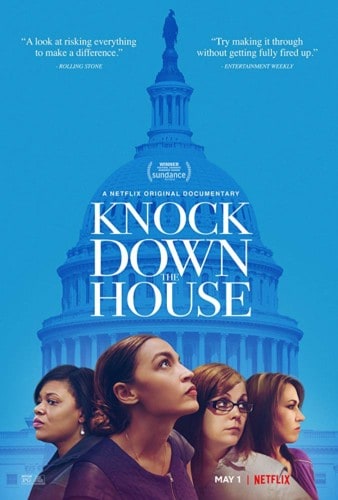 CONTEST
We're giving away a pair of tickets to Knock Down the House, opening at TIFF Bell Lightbox (350 King SW) on May 6.
There are three ways to enter:
TWITTER: Tweet "Hey @shedoesthecity – I can't WAIT to watch @AOC in @knockdownmovie on the big screen at @TIFF_NET"
FACEBOOK AND INSTAGRAM: LIKE + COMMENT on our Knock Down the House posts.