Elle-Máijá Tailfeathers is known and celebrated for her bold choices, but her latest role as an Indigenous cop in Amazon Original drama Three Pines is arguably her most daring to date.
Based on Canadian author Louise Penny's best-selling and beloved Chief Inspector Gamache novels, and produced by Left Bank Pictures, the award-winning team behind The Crown, the hype for Three Pines is fever pitch. Shot in Montreal and rural Quebec, the series will premiere on Dec 2 in ten countries (Canada, U.S., UK, Ireland, Australia, New Zealand, Sweden, Denmark, Finland, and Greenland). For Tailfeathers, it's a game-changing career move—an opportunity to connect with audiences all over the world.
In recent years, Tailfeathers has become one of Canada's most eminent talents to watch. In 2019, she co-wrote, co-directed and starred in the critically-acclaimed hit The Body Remembers When The World Broke Open. Tailfeathers was inspired to make a film that examined violence against Indigenous women through the lens of privilege, based on a life-changing chance encounter in her own life. It was a breakout role, and the film was awarded the top prize from the Toronto Film Critics Association.
In 2021, Tailfeathers wowed audiences globally in Danis Goulet's Night Raiders, which used science fiction to draw attention to Canada's horrific residential school system. In that same year, Tailfeathers turned the camera on her own community of the Kainai First Nation in Alberta to document their fight against the opioid crisis in the powerful and gripping documentary, Kímmapiiyipitssini: The Meaning of Empathy, which the NFB has made available for all Canadians to watch (and everyone should).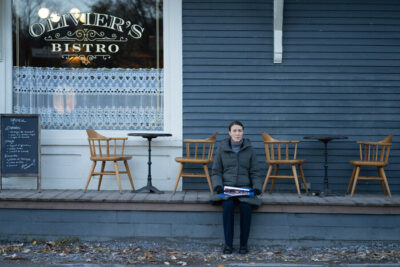 In Three Pines, Tailfeathers stars as officer Isabelle Lacoste alongside Alfred Molina, who is superbly cast as Chief Inspector Armand Gamache. The drama-detective series follows the duo as they investigate a spate of murders in the sleepy village of Three Pines, Quebec. "I was compelled by the challenge of playing an Indigenous police officer," Tailfeathers tells us, explaining that taking on the complex role under Tracey Deer's direction was an enticing combination she couldn't resist.
"This show came about on the tails of very public conversations about police brutality and Black Lives Matter, violence towards Black and Indigenous people, racialized people, from the police and this really difficult and important conversation about the violence of policing," Tailfeathers says earnestly. "As an Indigenous person I have my own experiences with police violence, personally with my family, with my community. We look at the history of the RCMP in Canada and it's very clear that the RCMP was created to police Indigenous people. I was really drawn to the idea of playing an Indigenous police officer and navigating the complexity of her experience and her choices."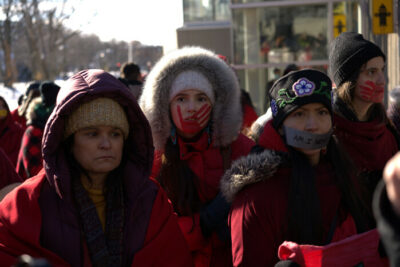 In the first episode, a sudden unusual death leaves the residents of Three Pines in shock. They are an odd bunch of eccentric personalities, and like so many engrossing mysteries, everyone seems suspicious. A string of clues, along with the over-the-top characters, feels akin to many small town whodunnits. But in the background, a darker and real-life theme pervades: missing and murdered Indigenous women.
The series is different to anything we've seen; audiences will be surprised by both its twists and turns, and how the tone shifts, moving quickly from scenes that feel almost spoof-like to diving into Canada's very serious issue of missing and murdered Indigenous women and girls. At times, Three Pines is jarring, but the jolts also feel intentional, a tactic to draw our attention to an issue that has been dismissed for so long.
"There's the murders that take place in the books, and there's a lightness to them that is very different from this undertone of truth and pain that we're seeing in the Indigenous storylines. It's interesting to see the two juxtaposed on screen and I think it speaks to the fact that the Indigenous stories that we're seeing on screen are very reflective of reality and reflective of the lived experiences that Indigenous people have in this country on a daily basis."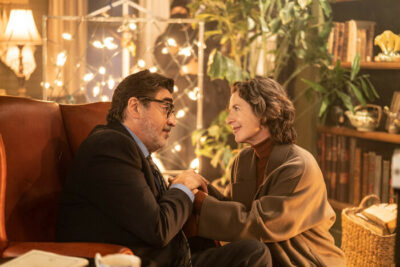 Despite making up 4% of Canada's population, Indigenous women and girls represent 28% of homicides perpetrated against women in 2019, and are 16 times more likely to be murdered or missing than white women in Canada.
For Tailfeathers, the role of Isabelle Lacoste provided a fascinating challenge: she is a woman caught between worlds. She's navigating life as an Indigenous female on the Quebec police force, while also trying to do due diligence for the Indigenous peoples of Three Pines who are reeling when a young woman from their community goes missing. Lacoste is trying her best to connect, to help, but it's difficult when there's such long standing mistrust towards a police force that has a long history of mistreating their communities.
"She's an outsider in so many ways, not only an outsider with her own people, but also an outsider as an Indigenous person working in a largely non-Indigenous profession. And then further to that, being a woman working in a profession that's largely dominated by men. So she's an outsider in so many ways, but I think what's so compelling about her is that she finds a way through as an outsider and finds ways of belonging in really smart ways."
Both Tailfeathers and Molina give outstanding performances. The writing is ambitious, although at times misses the mark. But where the series succeeds is how it uses fiction and the police procedural genre to address serious Canadian issues, including systemic racism, police accountability and corruption and missing and murdered Indigenous women. Three Pines isn't an art-house film or a hard-hitting doc, it's a series made for a wide general audience, releasing in numerous countries, and it will inspire millions to reflect on these issues.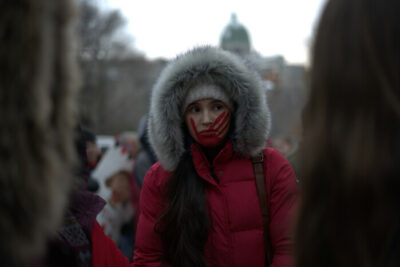 What's also noteworthy is the broad range of Indigenous experiences reflected in the series.
"I think what's really wonderful about this show is that there's a vast representation of experience on screen when it comes to the Indigenous characters. There's depth and nuance and complexity to all of them, not just Isabelle Lacoste. "
The first two episodes of Three Pines will premiere exclusively on December 2 on Prime Video, with two new episodes released weekly until the finale on December 23.