More than 50 years later, Judy Blume's beloved coming-of-age novel Are You There God? It's Me, Margaret is coming to the big screen.
First published in 1970, Blume's middle school novel has touched the lives of many young girls with big questions. The story follows 11-year-old Margaret, who has just moved with her family from New York City to the New Jersey suburbs. She's confronting all of the anxieties that come with puberty — boys, periods, bras — but she's also struggling with faith. Her mother is Christian and her father is Jewish, but she wasn't raised in either religion, leaving her confused about her own beliefs and religious identity. The book's iconic title, Are You There God? It's Me, Margaret, comes from the opening line of Margaret's prayers.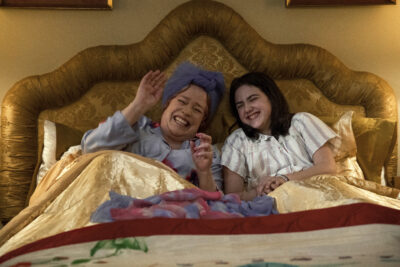 Directed by Kelly Fremon Craig (director of the moving coming-of-age dramedy The Edge of Seventeen), the upcoming film adaptation stars Abby Ryder Fortson as Margaret, Rachel McAdams as her mother, Benny Safdie as her father, and Kathy Bates as Margaret's grandmother Sylvia.
Are You There God? It's Me, Margaret tackles real issues that pre-teen girls struggle with, and has remained a timeless story. After it was published in the 1970s, the book was often challenged and banned for its honest discussions of menstruation and its portrayals of some Christian characters. But Blume was ahead of her time in creating a book that would resonate across generations and help girls feel less alone in navigating the challenges that come with growing up, without shame or embarrassment.
Are You There God? It's Me, Margaret releases in theatres on April 28. Watch the trailer below.