Get ready to step inside the dreamhouse. The teaser trailer for Greta Gerwig's Barbie dropped today, giving the world a first glimpse at the film's sensational, over-the-top spectacle.
The trailer, a parody of Stanley Kubrick's 2001: A Space Odyssey, opens with dramatic narration from Helen Mirren. "Since the beginning of time, since the first little girl ever existed, there have been dolls. But the dolls were always and forever baby dolls, until…"
A larger-than-life Barbie (Margot Robbie) appears, the baby dolls are destroyed, and the world erupts into a bright pink, glittery extravaganza. We see a shot of the endless, seemingly plastic neighbourhood of brink pink houses and perfectly manicured lawns, as well as brief glimpses of the film's stars.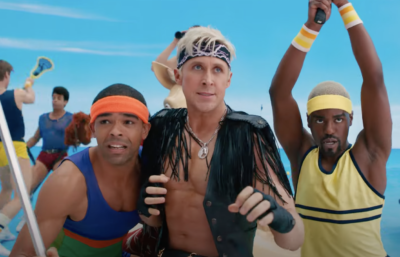 One of Barbie's major draws is its star-studded cast, led by Margot Robbie as Barbie and Ryan Gosling as Ken. Will Ferrell, Kate McKinnon, Issa Rae, Hari Nef, America Ferrera, Simu Liu, Michael Cera, Emerald Fennell and Rhea Perlman are just some of the huge names you can expect to see, as well as Sex Education breakout stars Emma Mackey, Ncuti Gatwa, and Connor Swindells.
Gerwig, the Oscar-nominated director of Lady Bird and Little Women, also wrote the film's screenplay, alongside her partner Noah Baumbach. Everyone involved has been top secret about Barbie, especially the plot of the film. Margot Robbie and Ryan Gosling were photographed on set in Venice Beach earlier this year wearing bright pink and neon yellow rollerskating gear, generating even more buzz for the highly-anticipated movie.
No one has any idea what to expect, but given Gerwig's roster of women-led films, we'd love to see some feminist twists on the story of the All-American doll.
Barbie will be released on July 21, 2023, and is bound to be one of the biggest blockbusters of the summer.