When I was younger, I used to dye my hair at home all the time and hope for the best. Eventually, I got tired of the guessing game. Will the colour go on evenly…this time? Will a piece of hair break off, and where? Will my hair be green? Will my boyfriend help me get the elusive strands in the back, or will he throw a hissy fit about how he doesn't want to mess things up, which will escalate into an unnecessary fight?
Then, there's that moment of truth when you remove the towel wrapped around your head. Your heart stops. Time stands still. The next second will dictate the course of your ENTIRE life. Will you grab your phone, unable to contain your excitement, and IMMEDIATELY share a selfie of your new look with 732 of your closest friends? Or, will there be a moment of silence, followed by tears, then wine and a flow chart chronicling where things went so wrong?
There were just too many variables. The emotional rollercoaster associated with at-home hair dying just wasn't it worth it anymore. I opted for the salon.
Unfortunately, regular salon visits soon got costly. And figuring out what to do each time got tricky. I was over the ombre trend I was sporting but had no idea what was going on in the great wide world of hair.
Fall is a month for change and I desperately wanted to try something new that wouldn't break the bank. Something that I could maintain at home. I toyed with the idea of red but couldn't quite commit since it's got a terrible rep for fading and turning drab the moment it touches water.
Luckily, I recently got the chance to ask John Frieda's Creative Consultant and Celeb Stylist, Alain Larivee, some hard hitting hair questions to help us all make better, informed decisions when it comes to our locks!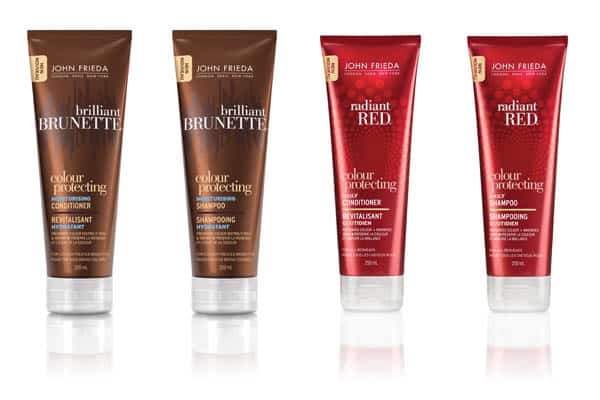 What are the biggest hair colour trends right now?
Alain: Hair is definitely going darker for this Fall and Winter season.  From rich and radiant red tones to cold brown brilliant brunettes, hair is toned down and healthy shiny hair colour is taking centre stage. John Frieda is leading the trend with three new Precision Foam Colour shades:  5C-a vibrant medium copper brown and 5RV- a rich and bold medium burgundy, the perfect shades for the warm side of the spectrum.  6A is a light ash brown that works best for those seeking a natural colder tone.
2. I'm so bored of my ombre locks, what else can I do at home that won't require salon upkeep?
Alain: Not to worry! Ombré can be toned down by working your John Frieda Precision Foam Colour shade into your ends after applying the rich foam onto your roots. The natural looking results can easily be maintained at home.
3. What separates John Frieda Precision Foam Colour from the rest?
Alain: Simplifying the process is what our experts at John Frieda have done. Easy to apply, non drip, rich foam formulation with no patchiness, John Frieda's Precision Foam Colour makes it possible for consumers to affordably achieve amazing colour results at home.
4. We LOVE redheads like Florence Welch and Christina Hendricks who always have perfect bright red locks. How do we get their look and keep the fading to a minimum?
Alain:  The very best way to stop your reds from bleeding out is to block water from entering the hair shaft. To maintain your colour, use John Frieda's Radiant Red Colour Protecting Shampoo and Conditioner – it's been specifically designed to stop pigment loss when washing your hair, allowing you to keep the look and feel of freshly coloured hair for up to ten weeks. Radiant reds are achievable with John Frieda's trendy new Precision Foam Colour shades 5C or 5RV.
5. We can't get enough Coco Rocha's style. Every time we see her in a magazine she's got a new hair colour and looks great! If we're feeling non committal and want to bounce around from shade to shade – what's the best way to keep our hair from drying out?
Alain: Going from light to dark and back will undoubtedly have a huge impact on the condition of your hair. Chemically abusing your hair isn't recommended, ever!  Products containing Inca Inchi Oil will help to restore and heal damaged locks. Try using the John Frieda Full Repair Hydrate and Rescue Deep Conditioner as a treatment and the Full Repair Shampoo and Conditioner to care for your hair and reverse the look and feel of damaged hair.
6. DIY hair colour can be terrifying, especially for women with long hair. What are you tips for making sure hair colour goes on evenly?
Alain: The beauty with John Frieda's Precision Foam Colour is that it is easy to apply. Always make sure to properly massage foam colour throughout entire length of your hair; the foaming action makes the process easier.  Remember, the more you massage the foam, the better the overall results.