On April 12, 1980, Terry Fox commenced his Marathon of Hope, determined to run across Canada to raise funds for cancer research. Every day, after Terry ran, he'd write in his journal before going to bed. On that very first day he wrote, "Today is the day it all began." They're words his older brother Fred has been thinking about a lot lately. "Terry could have never imagined what those simple few words would mean all these years later, and the impact of what he started 42 years ago."
After two years of the Terry Fox Marathon being disrupted, everyone is hoping that this September will be a big one. Cancer patients have been deeply affected by the pandemic, with many people forced to delay treatments. As Fred says, "Cancer doesn't take a break." To help energize fundraising efforts, and inspire Canadians to sign up for this year's Terry Fox Marathon, the Terry Fox Foundation has partnered with artist Douglas Coupland to create a limited edition collection of t-shirts that commemorate the 42nd anniversary of the Marathon of Hope.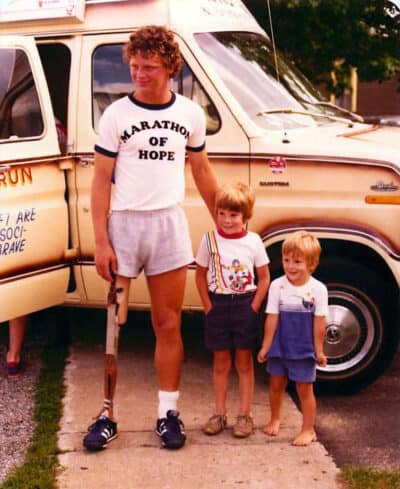 To mark this milestone moment, the Terry Fox Foundation has partnered with a diverse mix of remarkable Canadians across music, film, television, fashion and sports including Alessia Cara, Catherine O'Hara, Catherine Reitman, Darryl Sittler, Josh Trager, Margaret Atwood, Maitreyi Ramakrishnan, Michael Bublé, Amanda Brugel, Rachel McAdams, Sarah McLachlan, Sidney Crosby, Tessa Virtue, and others.
Fred shares that seeing so many famous Canadians show their support is extremely moving for him and his family. "It shows how Terry has touched Canadians of all different walks of life, and how they've been inspired." Hockey legend Sidney Crosby even has a Terry Fox print in his home—a reminder to persevere.
The shirt features a dot-screened portrait of Terry and the words 'I'm Not a Quitter' printed on the sleeve or back, inspired by a quote from Terry in 1980, "Nobody is ever going to call me a quitter."
It's an attitude that Terry always possessed, even as a small child.
"Growing up in Port Coquitlam, athletics was a big part of our childhood. Terry wasn't the best athlete—he wasn't the biggest or the tallest or the strongest—but he had to show the work ethic that our parents had taught us," says Fred, adding that he has memories of him and his siblings picking blueberries to sell, in order to make some money to buy their first bike. "Terry was always going to be the last one out of the blueberry field. He'd never quit."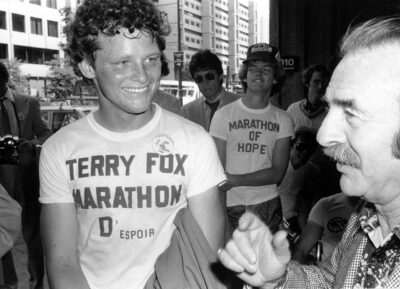 It's been 42 years since Fred joined his brother running up University Avenue in Toronto with thousands of people cheering them on, and 41 years since his little brother passed away. "Terry was deeply impacted by who he saw in the hospital when taking his chemotherapy treatments in the 1970s. Terry said that cancer made him a more caring person, and I think that's the one thing that has always inspired me. That's why we do what we do, we want to help other people."
Terry Fox fans and supporters can now purchase a limited-edition T-shirt at terryfox.org and register to join the annual Terry Fox Run, which will take place on Sunday, September 18, 2022. The T-shirts, produced by adidas, are available in a variety of sizes and styles. All proceeds support cancer research in Canada.