This Sunday, SodaStream is hosting a Virtual Drag Brunch fundraiser with beloved Drag Queens, Miss Fiercalicious and Sofonda Cox. Throw down some pancakes (or whatever your preferred brunch dish is) and tune into the @SodaStreamCanada IG account at 11am for a lively performance from two of Toronto's most beloved Queens!
This virtual Pride event also marks the launch of the "For The Love of Tomorrow" Soda Stream kits. 100% of the proceeds from each kit sold will raise money for Pflag Canada, Canada's only national organization that offers peer-to-peer support to help with issues of sexual orientation, gender identity and gender expression.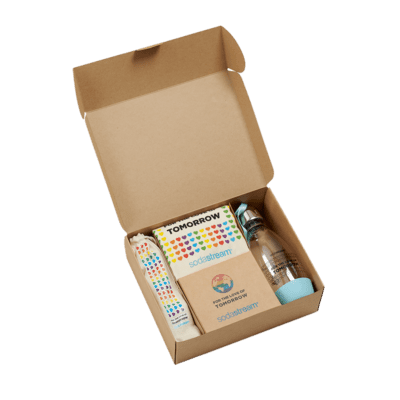 This event, which you can join from the Soda Stream to kick off both Pride month, and launch their "For The Love Of Tomorrow" Pride Kits, which will raise money for Pflag Canada.
For those of us who are sober, or sober curious, SodaStream has a ton of flavoured concentrates that make non-alcoholic drinks feel really special. The colourful "For The Love of Tomorrow" kit includes SodaStream's newest 0.5L reusable bottle, a reusable bag and a reusable straw, in bright Pride colours.
Tune in Sunday, June 14th at 11am on @SodaStreamCanada.