Adrienne Butikofer's clothing line Skinny Sweats is both practical and chic—in other words, perfect for our everyday wardrobe. A designer pretty much all her life (she was whipping up her own clothes in high school!) she's also an ardent and passionate supporter of slow fashion and quality design.
Originally from Manitoba, Adrienne's called Toronto home for the last 10 years. She fell into her line of casual clothing after she had her two daughters and wanted to simplify her life. Fashionable pieces in the line include everyday staples, leggings with a twist, and oversized sweatshirts with jeweled embellishments. It's clothing that can be worn comfortably every day for years to come.
SDTC: What was the inspiration for your collection?
Adrienne Butikofer: I started Skinny Sweats with the one tried and true product and have been adding new designs as they come up. My thing with Skinny Sweats is polished comfort. I look to design tailored loungewear that mixes well with a contemporary wardrobe, including vintage.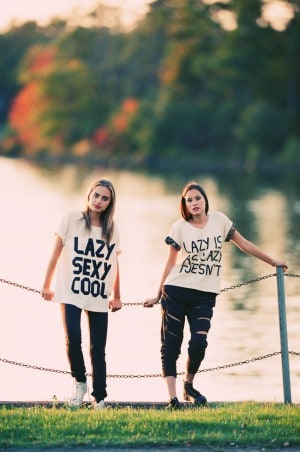 SDTC: How would you describe your line?
AB: It fits well and it looks good. It's obviously really comfortable—and it can be easily and creatively styled.
SDTC: What's the best advice you can provide for anyone looking to get into the industry?
AB: You've got to be really passionate and persistent because it can be difficult. Know your skills, and develop them. If you want to be an independent designer, try to develop all skills, or as many as you can.
SDTC: What has been your career highlight so far?
AB: I made a dress out of newsprint in 2006 that I won an award for. The process of making the dress was exhilarating and winning the competition was icing on the cake. My career path the last year or so has been invigorating. I'm learning more about business and I'm getting some talented people around me to help me out. I'm excited about what I'm making now, and also about what I've got coming up.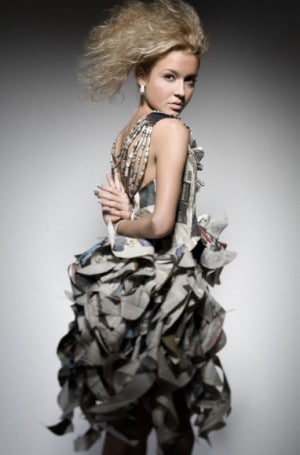 SDTC: If you weren't a designer, what do you think you would be doing?
AB: I would likely enjoy a career in advertising—I find branding really fascinating and I like writing quippy copy. I often get to use these skills with Skinny Sweats, but I could probably apply them to anything. To be completely out of the fashion world—I could also see myself being a personal support worker for the elderly.
SDTC: What are some of your favourite places to go in Toronto? Where are we likely to find you?
AB: We're just about to resettle in the Junction after a 4-year suburban experiment. I love the neighborhood, and I'm excited for a summer exploring the city with my kids. Ask me again in a year…
SDTC: Why are you so passionate about slow fashion?
AB: As a business, I have to always be thinking about how to keep my costs down, so the consumer ends up with a lower price. I get that it's part of the equation but it would be nice to not have to think about speed, and to only think of the work I'm creating. I prefer quality over quantity and my heart lies with creating one-of-a-kind pieces that timelessly disregard current trends.
SDTC: What do you hope will happen to fashion in the future?
AB: I think it could stand to slow down both in production and consumption. I'd love to be able to put more time and effort into the art that I make—which happens to be fashion. I hope people develop a more thoughtful approach to what they buy.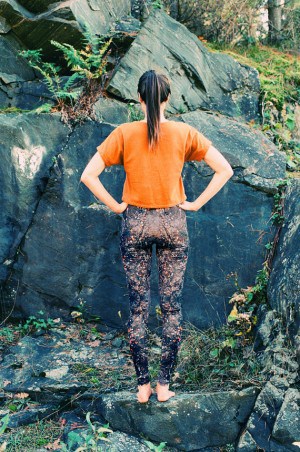 SDTC: What's the best piece of advice you've received?
AB: Don't quit!
SDTC: What's next for you?
AB: Another line is coming up for me—maybe even as early as this spring, time permitting. Not everything can be called Skinny Sweats. The focus will be on simple shapes with really nice finishing made in vintage and deadstock fabrics. Sporty elegant basics that can be worn with the Skinny Sweats line—easy separates like silky tee shirts, tanks and tunics.
Adrienne Butikofer's clothes are available online here:
Skinny Sweats (http://www.skinnysweats.com)