My Prairie Home is a charming Canadian feature that follows Calgary-born, Montreal-based trans country/electro pop artist Rae Spoon on their (Spoon uses the gender-netural, third-person pronoun) journey "home" across the prairies. We fell in love with it immediately.
Written and directed by Chelsea McMullan, the film was shot with small crew and three directors of photography, including Maya Bankovic, who has been collaborating with Chelsea for almost a decade.
We recently got a chance to chat with the filmmakers behind the docu-musical about the two-year journey that took them from Alberta's premiere dinosaur museum to Sundance.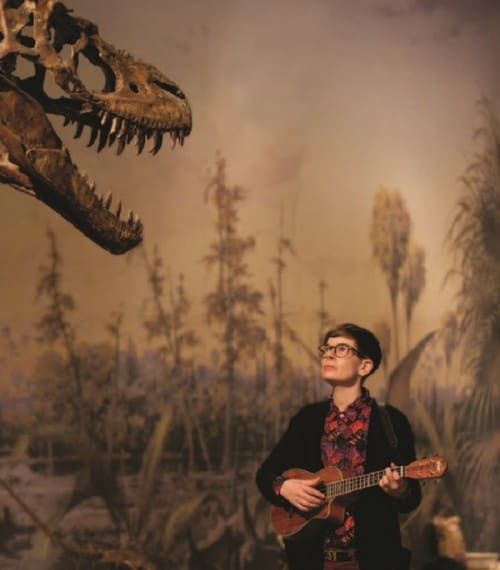 SDTC: When did you first realize that you NEEDED to make A Prairie Home?                                             
Chelsea: The first time I heard Rae's music I remember having a visceral reaction to their voice. My whole body began to tingle, and I felt a sense of nostalgia and longing.  When Rae and I began collaborating and they slowly opened up and told me their story, I realized it's all in their music.  Rae carefully wraps secrets in their sparse melodic voice.  This spawned the idea not only to make a documentary but also to use Rae's music, to tell their story (hence the documentary musical). I felt like it was an important story to tell because Rae's history is quite unique and yet very Canadian, because they transcend gender in a way that scares people, and because we have all had the experience of feeling like an outsider at home. I sort of saw Rae's journey home as mythological one, it reminded me of Odysseus's journey in the Iliad. Rae returns to the people who both love and reject them, to an endless and complicated landscape, and to the versions of their identity that have been left behind, like ghosts scattered across the prairies.
SDTC: What was the best part of making this film?
Chelsea: We shot this film for so long that the crew, Rae and I became a little family.  Rae called us Skeletor because we were such a tiny stripped-down crew following them around.  My best memories are just driving through the prairies en-route to gigs, it was like a road trip outside of time and space and we all grew very close during those times.  Maya documented a lot of those moments of us on the road.  I get very nostalgic when I see her photos.  Cause as much as I loved touring I also hated it, driving or taking the bus all day to play at night and get up earlier to do it all over again.  We were also sleeping five to a single motel room.  Rae usually took the cot.  I kept getting ear infections, it was nuts.  I know I'll never tour like that again, it's something you do when you are young, idealistic, and don't have high standards of hygiene, but I'll always feel tingly when I think back to it.
Maya: Touring was indeed a grueling experience but one that I've wanted to live and document ever since I was fourteen or so and became obsessed with both music and photography. So sticking it out for the long haul and doing it the authentic way was important to us as filmmakers but also to me personally, as it was an experience I'd always been curious about. Rae was super generous in terms of giving us access to their entire life on tour—the professional but also the personal. We had to share everything from meals to bathrooms and the quarters were tight so it had to get personal, I suppose. But they never let on that it was anything short of a good time having us around. Plus, shooting the endlessly vast and beautiful landscape of this country was also really special and something I'd always hoped to do as a DP in Canada. That part was also a lot of fun.
SDTC: What was the most challenging part of the process?  
Chelsea: I think the biggest challenge was getting the money to make it in the first place.  It took a long time to get the film financed, which required a lot of patience.  Admittedly it's a weird pitch, "I want to make a documentary about a trans musician from Alberta told through musical numbers…and there's going to be dinosaurs."  But Rae defies gender and I felt like needed to make a film that paid tribute to them by telling their story in an equally genre-defying way.  Luckily my producer at the National Film Board, Lea Marin, was familiar with my work and trusted me, she went to bat for it and really pushed to get it made.  Without her there would be no film, I'm sure of that.
Maya: The challenges pertaining to my role were more logistical: keeping batteries on charge off of a car power inverter in the van as we crossed thousands of kilometers to the next show and keeping the footage organized at makeshift hard drive stations we'd set up in our cramped motel quarters. Making a documentary on a limited schedule is difficult enough, but keeping up with a musician's touring schedule added an additional level of complexity to the shoot that isn't normally there. This country is truly enormous and getting to the next gig often meant 10 hours of driving and having the resources to be shooting the entire time. Luckily, on both tours, there was always another cinematographer working with us, so we were able to stay organized together.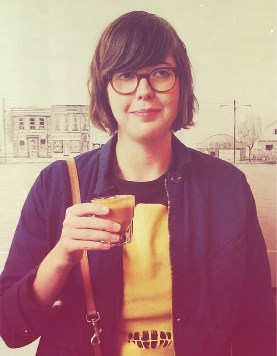 SDTC: How did you stay focused while travelling around with Rae and having to adhere to their touring schedule?
Maya: We'd Yelp the best coffee joints in each town and consume a lot of lattes/Americanos/what have you. I can now tell you where to get the best caffeinated anything anywhere in Canada (S/O to Parlour Coffee in Winnipeg!) We also fell into the rhythm of the tour pretty quickly. Film set life is also intense so actually getting to sit down in a moving vehicle for hours at a time often felt luxurious by comparison. Plus we'd get to watch/shoot Rae's shows at the end of each night, which felt like leisure time!
SDTC: What do you hope viewers take away from the film?
Chelsea: My intention for the film was to create a biography of a feeling.  I want an audience to really understand in a visceral way what it's like to be Rae Spoon.  Also if it exposes more people to Rae's music then that's great too.  I have so much respect for them as an artist.  I don't think there are too many artists out there like Rae, who have total autonomy over their work.  They don't play the "industry" game, instead they just sing it out and let the music speak for itself.  Finally, my films are not overtly political but I would love if this film starts a conversation about gender. Since meeting Rae my perspective on gender has totally shifted.  It's liberating when you sort of let the binary fall away and just be.  I think we are on the cusp of a gender revolution.  Gender-neutral washrooms for all!
Maya: Gender neutrality is a big one for me too. I've long thought about androgynous qualities being something of a virtue in both the men and women in my life, but Rae's decision to do away with gender entirely is very refreshing. But more generally, I hope audiences take away the idea that there are many ways to live and think about identity, and that it's a very personal thing that we shouldn't feel threatened by. One might feel compassion or mere indifference towards someone else's identity—but ideally people would stop feeling offended by it. In that sense, Rae's story can actually be seen as very relatable, and I think Chelsea's choice to keep the politics more implicit than overt is what gives the film this universal quality.
SDTC: What did you enjoy most about collaborating with Chelsea?
Maya: I feel like I grew up with Chelsea, creatively-speaking. We've been shooting together now for about eight years and our aesthetic is an ever-evolving thing that we work on together. She trusts her collaborators completely, as we all understand the aesthetic parameters of her vision, so there's a lot of freedom when I'm grabbing shots. It gives me the same feeling of joy and zen I would get shooting photos, but with the massive benefit of the shots being used for a greater purpose, something with higher social and conceptual aspirations. We have a ton of fun and end up talking about life a lot when we're traveling. It just feels like we're doing something good for our souls.
SDTC: The film is so beautiful to watch. Can you tell us how you decided on the feel and aesthetic of it?
Maya: Thank you! I suppose the biggest conversation we had was how to integrate the musical numbers into the documentary narrative. We wanted them to stand out aesthetically, but we didn't want them to feel like appendices that were tacked on later. They needed to look intentional, as they are integral to the narrative. So for the most part we used our documentary camera, a Sony EX3, to shoot the musical sequences, with the exception of Love Is A Hunter, which was shot on Red. We also discussed at great length how to transition into these scenes. Everything else was sort of intuitively captured, keeping in mind the aesthetic framework of long takes, wide shots, very still compositions which might emphasize the enormity and isolating quality of the prairies, while capturing the details that give the environment its character, and always making sure to capture the context. Nothing is profound, interesting or even funny without context. We also kept things as technically simple as possible, which in my opinion lends a certain honesty to the visuals. There were three of us shooting footage for this film over a period of two years, so the discipline in keeping with the framework that Chelsea laid out was essential.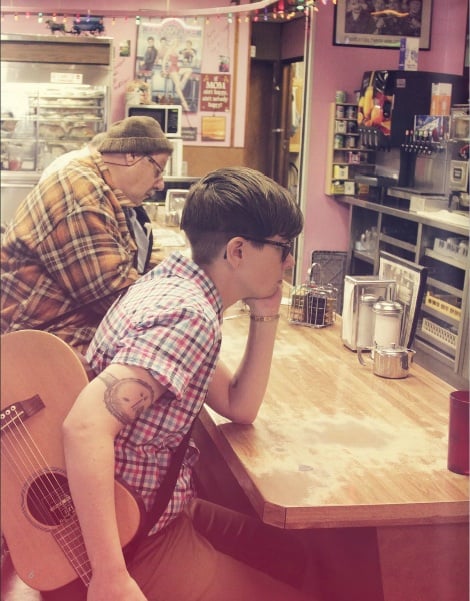 SDTC: How deeply was Rae involved in the process, and what was their first reaction to seeing a cut?
Chelsea: Rae was deeply involved in the creative process but not in the filmmaking process.  They didn't want to have a say in what ended up in the final film because they felt, and so did I, we would enter some ethically grey areas if they had any involvement in what went into the film.  Though in saying that this is the most collaborative process I've ever had in making a documentary.  Rae's music and stories are the skeleton that the film hangs on.  I essentially adapted those into a film.  I never creatively interfere with Rae's music either, we both respect each other so much as artists that we give each other a very wide berth.  I was obviously very nervous when I showed Rae a cut for the first time.  At that point we were at a fine cut stage.  I had pinpointed parts that I was worried about.   Rae talked and laughed throughout the whole screening.  Literally, wall-to-wall, through the whole film, it was as if we were watching home movies together.  At the end of the screening they said "I love it."
SDTC: Was there a moment when everything clicked? When you knew you were making something really special?
Chelsea: There were incredible moments that happened all the way through that encouraged me to keep going and stay focused. A few of these moments include when we recreated the Prom Rae and their high school girlfriend Sandhya never had, or witnessed Rae bringing an audience of Saskatchewan farmers to tears, or when an unprompted Rae sang directly into the protective ice-blue light of the glacier.
Maya: Something about shooting Rae singing directly to camera while standing inside of a dinosaur diorama almost brought me to tears. I felt very lucky to be there. That scene still gets me every time.
SDTC: What's next for you?
Chelsea: A bunch of things! We are creating a digital media component with the NFB for My Prairie Home aimed at LGBTQQ youth. I am also finishing up a music video for the incredible Simone Schmidt of Fiver.
I am just going into production on a feature documentary Executive Produced by Mercury Films entitled Michael Shannon Michael Shannon John.
I am living isolated on a farm in northern Ontario developing a feature fiction script with my partner Douglas Nayler.  We pretty much shovel snow, chop wood, write, eat, and sleep in that order.
Maya: I'm finishing up post on a very local feature film that I shot last year with director Sarah Goodman. After that I'm following Chelsea to Thailand to shoot her next documentary. Keep your eyes peeled!
My Prairie Home will have its Toronto Premiere on Tuesday, February 4th at the Cinema Politica at the Bloor, 506 Bloor Street West, at 6:30pm. See the trailer below!