Myseum of Toronto has organized a panel discussion to illuminate and discuss the systemic oppression and violence that Black and Indigenous folx experience by police in Toronto, and across the country. The speakers they've lined up for this Thursday's event are some of the most respected authorities on the issue, and we encourage everyone who can 'attend' to do so.
From the staggering disproportionate number of incarceration rates to police shootings, this event will take a critical look into the history of policing in Canada, the communities most affected, where things stand now, and where we go from here.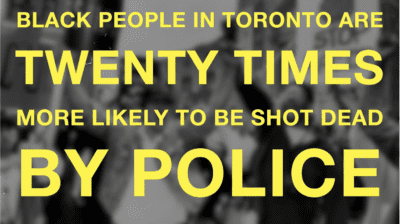 The guests on this panel are familiar to many, but for those who haven't yet been introduced, get to know them, and follow them on Twitter.
Sandy Hudson is a Toronto-based organizer, communications specialist, political strategist, public intellectual, writer and abolition activist.
An award-winning public intellectual, Sandy has been honoured as one of Toronto Life's 50 Most Influential Torontonians in 2016, Post City Magazine's 12 Most Inspiring Women of Toronto, a recipient of the Lincoln Alexander '53 Award, the William P. Hubbard Award for Race Relations, Now Magazine's Best Activist Campaign, Now Magazine's Best Social Justice Group, the Terry Buckland Award for Diversity & Equity in Education, one of Canada International Black Women's 100 Black Women to watch, and featured in Racism-Free Ontario's 100 People to Watch list.
Sandy is the founder of the Black Lives Matter movement presence in Canada and Black Lives Matter – Toronto. She also co-founded the Black Liberation Collective – Canada, the campus-based extension of the movement. The work Sandy has accomplished with her team has been formidable, and her efforts to publicly address anti-Black racism have resulted in concrete policy change, including the winding down of the program that places police officers in the largest school board in North America.
Sandy also helped to found the Black Legal Action Centre, a specialty legal aid clinic, which provides direct legal services and test case litigation for Black communities in Ontario. She currently serves as the organization's Vice-Chair.
Follow Sandy on Twitter: @sandela
Robyn Maynard is the author of Policing Black Lives: State Violence in Canada from Slavery to the Present (Fernwood 2017). The book is a CBC national bestseller, currently in its third printing, designated as one of the "best 100 books of 2017" by the Hill Times, listed in The Walrus's "best books of 2018", shortlisted for an Atlantic Book Award, the Concordia University First Book Prize and the Mavis Gallant Prize for Non-fiction, and the winner of the 2017 Annual Errol Morris Book Prize. This work received a starred review in Publishers Weekly as well as glowing coverage in the Toronto Star, the Globe and Mail, Now Toronto, Maclean's, and the Ottawa Citizen. In fall 2018 the book was published in French with Mémoire d'encrier, titled NoirEs sous surveillance. Esclavage, répression et violence d'État au Canada. Translated by Catherine Ego, it recently won the 2019 Prix de libraires in the category of "essais".
Maynard, who won "2018 author of the year" by Montreal's Black History Month, has published writing in the Washington Post, World Policy Journal, the Toronto Star, TOPIA: Canadian Journal of Cultural Studies, Canadian Woman Studies, Critical Ethnic Studies Journal (forthcoming), Scholar & Feminist Journal (forthcoming), as well as an essay for Maisonneuve Magazine which won the acclaim of "most-read essay of 2017". Her writing on race, gender, and discrimination is taught widely in universities across Canada and the United States. Her expertise is regularly sought in local, national and international media outlets and she has spoken before Parliamentary subcommittees, the Human Rights Committee of the Senate, and the United Nations Working Group of Experts on People of African Descent.
Maynard has a long history of involvement in community activism and advocacy. She been a part of grassroots movements against racial profiling, police violence, detention and deportation for over a decade and has an extensive work history in harm reduction-based service provision serving sex workers, drug users, incarcerated women and marginalized youth in Montreal. She is currently a PhD student and Vanier scholar at the University of Toronto and is working toward the completion of a new book manuscript.
Follow Robyn on Twitter : @policingblack
Caitlyn Kasper is an Advocate lawyer with Aboriginal Legal Services.
Follow Caitlyn on Twitter: @catekasper
Moderator
Rania El Mugammar is a Sudanese Artist, Liberation Educator, Anti-oppression Consultant , multidisciplinary performer, speaker and published writer. As a writer, Rania's work explores themes of identity, womanhood, Blackness, flight, exile, migration, belonging, gender, sexuality and beyond. Rania's primary mediums are poetry, spoken word and oral storytelling. She is a published poet, storyteller and playwright. Rania is deeply interested in poetic form and the auditory texture of words as well as the visual/aesthetic impact of language and form.
She is co-chair of the St. Jamestown Collective Impact Steering Committee, a member of the Leaders Panel for the Economic Development and Culture Strategic Plan at the city of Toronto. Rania is the also the lead anti-oppression consultant for RECENTRE, Program director of B Inc at Bcurrent Performing Arts and co-founder of the How to be an Ally Series at the Centre for Social Innovation.
Rania is an experienced anti-oppression, equity, inclusion and liberation educator and consultant who is unflinchingly committed to decolonization and freedom as the ultimate goals of her work. She has worked extensively with contemporary arts institutions, STEM based enterprises, media organization, educational institutions and community/grassroots spaces. Rania has worked with hundreds of organizations, collectives and institutions including VIBE Arts, the Art Gallery of Ontario, the Ministry of Canadian Heritage, Daniels Spectrum, Trinity Square Video, Ebay, Facebook Canada, Toronto Cultural Music Lab, Canadian Art Magazine, Bcurrent, Toronto Arts Council, WattPad, Women's College Hospital, the University of Michigan, Canadian Art Magazine, TPW Gallery, Peel Dufferin Catholic District School Board, Regent Park Focus and beyond.
Follow Rania on Instagram: @rania.writes
This is a FREE event, but you need to register. Thursday, July 23, 2-3pm EST. More info on the eventbrite page.