Meredith Shaw is a creative force. She first made her mark in Canada as an award-winning singer/songwriter and now she can be heard daily on 104.5 Chum FM and seen regularly as a style expert on CTV's The Social. Meredith's modeling career has landed her campaigns for Hudson's Bay, Penningtons & Calista Bridal, multiple national television appearances, walking the runway at Toronto Fashion Week, working with Ashley Graham to model her lingerie line for AdditionElle and a cover on Canada's curvy fashion bible: Dare Magazine. Meredith cares deeply about issues effecting women and girls and works closely with both Girls Inc. and Shoppers Drug Mart Run For Women. Despite a hectic schedule, she remains full of energy, quick to smile and is always ready to help someone wanting to follow in her footsteps.
SDTC: As a style expert on The Social, you give Canadian women lessons on how to look chic. What pieces do you recommend we get our hands on this spring?
I'll limit myself to my top three pieces or this could get REALLY long 🙂 An off-the-shoulder dress, a long vest in a great white suiting fabric, and a gauzy gorgeous spring version of the winter blanket scarf.
What do you think about the return of the all-black fashion trend? Any advice for how our readers can rock that look?
I love it. It's effortlessly chic, it's slimming, it's rock 'n' roll, it's easy to put together. The key to wearing all black is mixing up textures and layering. I love combining ponte fabric with leather and maybe even a little lace or silk. Also make sure that you are cleaning your black pieces with extra care and with products for dark colours; you don't want that richness to fade.
Many of the trendier stories out there still only sell clothes up to a size 10. Do you have any recommendations for fashionable retailers that cater to a body diverse crowd?
Do I ever! There are so many fabulous body positive fashion houses these days that curvy shopping has never been more fun! Online? My go-tos are Eloquii.com and TheBay.com. Stores in Toronto: Your Big Sister's Closet (Junction), Primalaa (Dundas West), Gussied Up + (Bathurst St), and Voluptuous (Queen W). For trendy pieces, Forever 21+ is perfect. For bathing suits, Torrid. For cute summer festival fashion, AdditionElle. And for jeans, OLD NAVY. (Yeah, I used all caps for a reason, go there now!)
Any advice for a busty girl who wants to pull off crop tops? How can girls with D cups or over work this trend?
Your confidence will carry you through any trend, so if you are busty and want to rock a crop top, rock it. You do have to make sure that the girls are in the right place though (aka get a bra that fits and lifts). I also think a key to the crop top trend is what you pair with it on the bottom. Make sure that it fits you comfortably. I think a loose boyfriend jean is a great combo, or a circle skirt.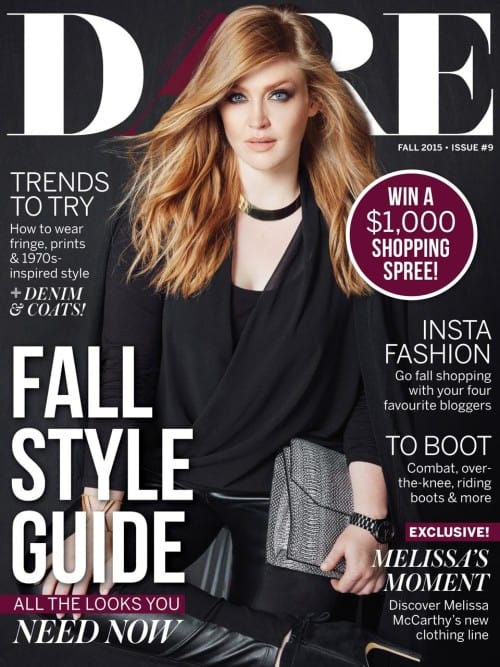 Any tips for how to find the perfect bra to wear under our flirty summer dresses?
That's always the dilemma, right? You find the cutest summer dress, but it's see-through or backless or strapless. Step one: I think we should all pick up a few lace bralettes. My favourites are from Torrid, AdditionElle & Free People. What's great about a bralette is that they are super on trend and are meant to be seen. Step two: Grab a girlfriend and head out specifically to go bra shopping. Don't be shy about getting fitted and try on absolutely everything. Then go for much-deserved cocktails.
You are an expert on shape wear. What do you enjoy about these garments?
I enjoy how far they have come in their fabrication. No longer are the pieces super uncomfortable (some are, I'm not gonna lie, but damn do they squeeze you in!). In fact, most are suited for daily wear. Shape wear is like having a little superpower; wield it wisely.
What is the one piece of clothing you yourself cannot live without?
My denim jacket from Denim & Supply. It's SUPER beat up. My mum hates it, but I can't ever get rid of it. I think a denim jacket is best worn shrunken and close to body. It adds a sense of ease to an otherwise 'fancy' outfit, and it allows me to start wearing summer dresses right now.
As a successful model who always looks gorgeous in photos, do you have any advice on how to pose for that perfect social media profile pic?
Marilyn Denis just told me about her new LuMee light, and now I'm obsessed. But I think the really important thing in any profile pic is to look like the best version of yourself. So don't post something from that one night you decided to wear faux bangs and dark lips if that's not your thing on the daily. Find your light, chin down, eyes open wide and pop that smile.
Finally, what is the most important style lesson you've learned from your time working in the fashion industry?
Go for it. Period. The end. Don't let your own insecurities or anxieties hang you up. Often times we stop ourselves from giving something a try because we are worried what other people might think. But here's the lesson, those 'other people' are also worried about what 'other people' think, so they aren't thinking about you!