Imagine lovely literary ladies baring all while reading passages from some of their favourite books. Naked Girls Reading is exactly what it sounds like! Sultry, smart and provocative, NGR has gotten so much attention that it now has a worldwide following (we can see why).
The Toronto chapter of NGR presents themed readings every six weeks downtown. The next reading takes place on Saturday August 15th at the Round Venue, and we want to send you and a friend!
We spoke to Red Herring, founder of the Toronto School of Burlesque, to find out more about Naked Girls Reading.

SDTC: Why do you think Naked Girls Reading has such a devoted, worldwide fan base?
Red Herring: I think Naked Girls Reading is so popular because it's different. Though not always featuring burlesque performers as readers, it's easy to see why an art form like burlesque (which is known for creatively approaching its subject matter) is drawn to a show like this. We're dramatic bunch.
All the naked women in the world wouldn't be enough to keep a show like this alive if it weren't for the fact that every reader that I select is capable of dramatically reading, and in some cases, acting out parts of their excerpts. A good reader makes the entire show, and it's so easy to forget that we're naked.
What makes NGR different from burlesque (from the point of view of the performer and the audience)?
From a performer's point of view, the rehearsal is incredibly different; it involves finding our piece and then selecting the proper passage to read from it, and then going over our delivery time and time again. It's closer to rehearsing for a play.
From the audience's point of view, we're not nearly as active on stage, but we reveal more of ourselves. I believe that each performer's reading says a lot about who she is by her taste in literature.

What is the NGR audience like?
The NGR audience includes couples and groups of girls coming out to enjoy the show. Aside from that one time that we had a bachelor party, we don't often get groups of men. We do have a lot of crossover with local reading, monologue, and storytelling groups. If you enjoy nights like that you'll probably have a great time with us as well.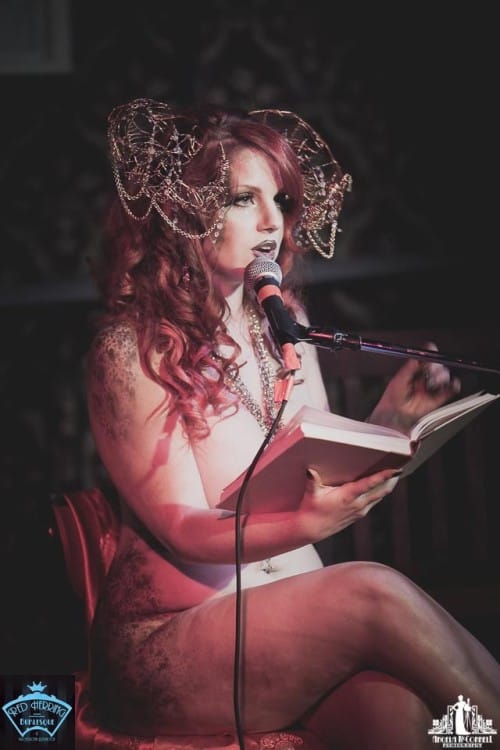 What's the weirdest thing that has happened at a NGR show? Creepy dudes? Boners? TELL US!
We actually haven't had anything creepy or strange happen! We had one man who insisted on listening to the show blindfolded, which was weird for us. But I guess the strangest thing that's ever happened is an entire bachelor party showing up…and causing absolutely no problems, and being completely charming. Bachelor parties can get fairly rowdy, so I was ready to redirect any untoward behaviour, and it never happened. They were wonderful.
What can we expect at Saturday's show?
Saturday's show will be a mixture of Wild West and sci-fi. We often do a sci-fi or nerd theme in August, because FanExpo usually falls on the same month, and I'm a giant nerd. A few of the readings are always fairly questionable in quality, and we don't know why some of this stuff gets published. We only read published work, so no fan fiction. Some of the work that the girls find for this show is so horrible, and it makes the best readings.
Are all the performers completely naked? Like, bush fully out?
Yes, we are completely naked. We wear shoes, jewelry, and maybe an interesting prop like a cowboy hat. But other than that, we aren't wearing anything. That being said, I can't guarantee everybody will have a full bush.
As a performer, do you feel that being nude on stage allows you to access a part of yourself that you can't while clothed?
While I'm not denying that being nude on stage is freeing and can contribute to a performance, personally I'm just used to having no clothes on. Though we can get deep, we don't often push boundaries in that direction. We like to underline the entertainment value and the ridiculousness of literature in order to make it fun and interesting again. Sitting down to read a book isn't often something that people will make time for. There are a lot of distractions.
We are naked women, and what could be more distracting than that? By making literature more entertaining, I personally hope that more people will pick up the book that they wanted to read.
How do you get ready for a NGR show? Do you have any pre-show rituals?
It takes a long time to get ready to be completely naked on stage; it's an ongoing joke with the girls in the show. We usually discuss what we're wearing in terms of theme ahead of time. For example, for our pirate show, I wanted to make sure that all the girls don't show up with an eye patch and pirate hat.
We spend time on our hair and make up, because that's all that's really up there. Also a lot of body make up going on, and the required amount of glitter or shimmer.
There's also a good amount of discussion about decoration of our nether regions: to vajazzle or not to vajazzle? Sometimes things can even go as far as dying our bush (if we have one). The discussions turn fairly hilarious.
We usually get ready at the Toronto School of Burlesque, which is right down the street from our venue at Round. And then we slap on our robes and strut to the show!
Have we enticed you? You can buy tix to the show HERE!
CONTEST!
Win two tix to the upcoming Naked Girls Reading on Saturday August 15th at the Round Venue (152 Augusta Avenue). Doors open at 6; reading begins at 6:30.
To enter, tweet: "Hey @Shedoesthecity, you've peaked my interest! I'd love to win tix to Naked Girls Reading."
The winner will be announced on Friday August 14 at 4pm. Good luck!