We first had the pleasure of viewing Vancouver-based Sarah Mulder's jewelry line at TIFF's Baskit Style Lounge earlier this fall. After leaving her job as a community programmer in an elementary school to explore her creative side, she decided to put her BFA in painting from Emily Carr to good use and began to pursue her passion by painting full-time and making jewelry, which she'd dabbled in since she was 15 years old.
Before long, people took notice of Sarah's talents and unique aesthetic and two years ago she officially launched her jewelry line. Now she spends her days and nights (mostly nights, she's a self-proclaimed night owl) making gorgeous jewelry and sneaking in snack breaks for two crackers with cheese and two with peanut butter and jam. That's her snack. Every. Single. Time. 
The one woman organic jewelry factory recently took time away from crackers and creations to talk to us about her newest collections.
SDTC: What was your inspiration this season?
Sarah Mulder: My inspiration for Smitten is typically nature based; I love symbols of birds and leaves.  Anything soft and feminine that will be a classic staple.  I always throw in something really whimsical each season. This year it's the Rain Cloud necklace, it's a fan favorite in Vancouver! 
For Wild & Free I usually let my materials inspire what I'm going to make. This is where being messy helps – I tend to pile everything on my work table and see what comes out of it.  This year I have really enjoyed mixing metals, playing with spikes and crystals and using recycled chain. This line is typically trend inspired.  I really like these pieces to have a voice… when my customers wear them I don't just want the jewelry to compliment their outfits, I want it to be BE the outfit!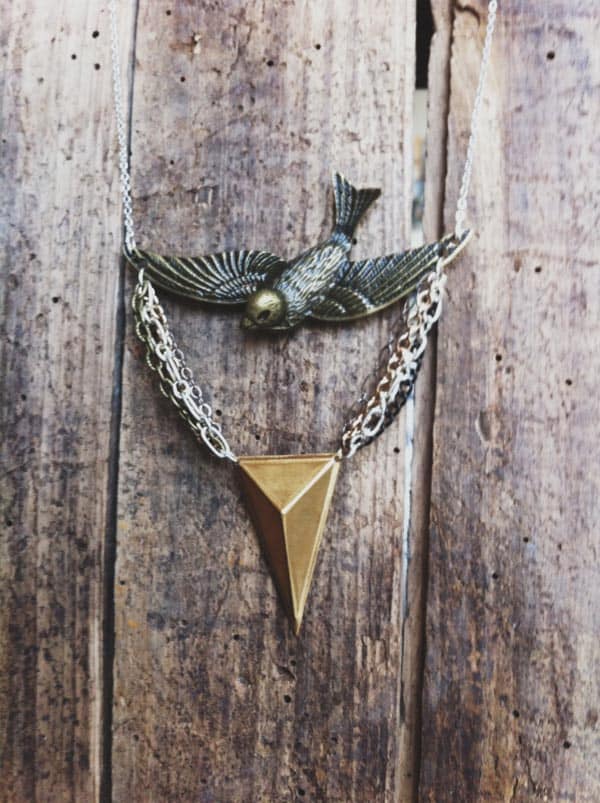 Nomad is a wing of the Wild & Free Collection.  These pieces were totally inspired by the desert and Egypt.  It's a smaller collection of a styled theme & so far I have kept one of every piece in the collection, so I know that my customers will love the line as much as I do!
SDTC: What does your work space look like?
SM: I have a home studio that is lined with one huge shelving wall (perfect for all of my little drawers and boxes full of jewelry and supplies).  The other wall is a display for new lines that I'm developing, and I also hang all my different chains and stones up for easy access.  The table is always full, the floor is usually a mess but that's all part of the creative process!
I have a vision for a new space that I am looking forward to bringing to fruition.  The two things I would love to add are an area for the beautiful photos from photo shoots that my jewelry has been in, and mason jar lights from Brick & Mortar Living, I've had my eye on thosee handmade lights for a year!
SDTC: Who is your dream celebrity customer and why? 
SM: For sure Karen O (Yeah Yeah Yeahs) and Alexis Krauss (Sleigh Bells)… I am a HUGE fan of both of these ladies.  I devour their music.  They inspired my Wild & Free line. They're not afraid to make a statement, be bold and have fun! 
SDTC: If you couldn't express yourself or your aesthetic as a jewelry maker, you would be a…
SM: More than likely teaching kids in some capacity.  I have taught art classes and worked in an Elementary School, and being around their energy made me happy to come to work everyday.
SDTC: What's the most exciting part about your job?
SM: I get to be my own boss and create limitless possibilities for myself, there is literally no one holding me back from what I want to do and where I can go with my business and that is pretty darn amazing!
SDTC: What is the most challenging part about your job?
SM: Figuring out the business side of my creative mind is tough!  Accounting, book keeping, sales etc., can be a challenge.  But a challenge only pushes you to learn more and that's exactly what I want to do!
SDTC: Where do you hope to be 5 years from now? Where do you see yourself? Your business? 
SM: I feel like 5 years is soooo far away. This year has gone by so quickly and so much has happened for my little business.  I would love for my business to expand into other parts of Canada (right now my jewelry is only available in stores in Vancouver and Victoria, BC and online).  I am actively looking for stores that love my work and I'm excited to have my jewelry represented in different areas outside of Vancouver.  For myself babies will probably be in the picture (I just scared myself saying that!)…in which case employees will be required!  I've also put my art on the back burner a little bit this year, but I would love to learn to make time for it to make sure I have time to give to that part of my soul as well.  I just want to be happy, in love and surrounded by wonderful people & creativity…simple right?