We've been surfing, clicking, buying and making WAY too many outfit collages – that have now taken over our entire bulletin board. Why? Well….the other day on Facebook we tossed out the question – what are your favourite online shopping destinations? We've since been hooked…maybe even addicted, so here's the skinny on the major URL's that got the most rah-rah cheers: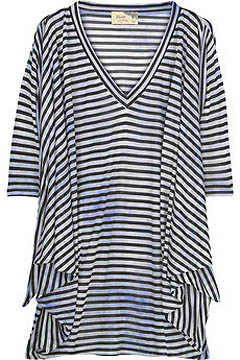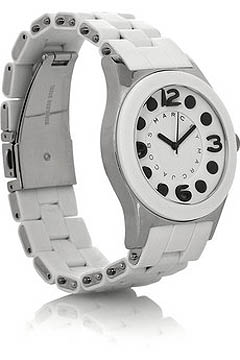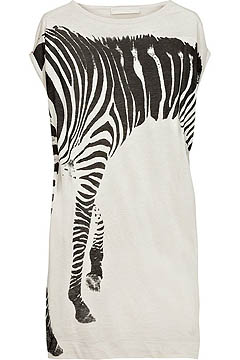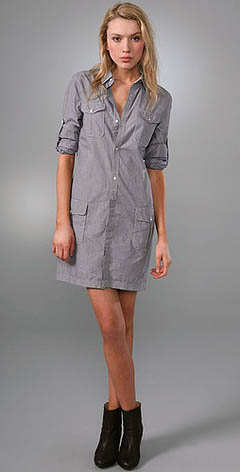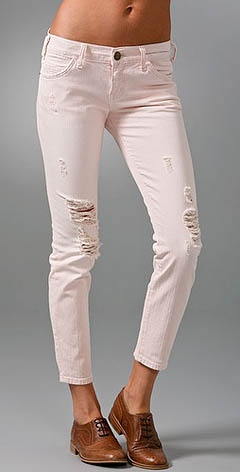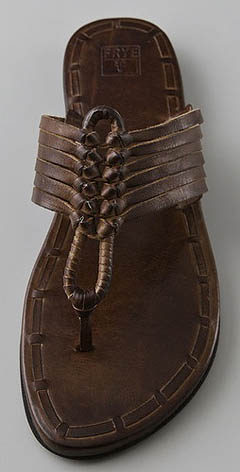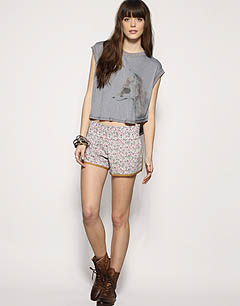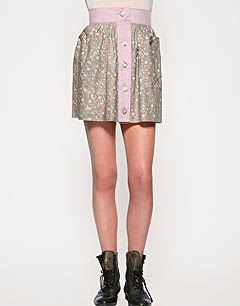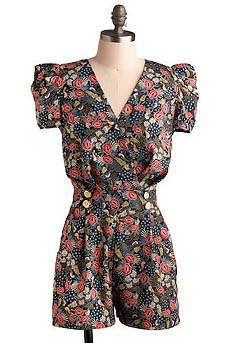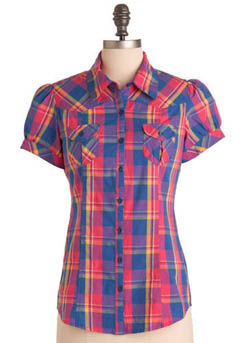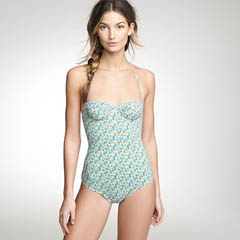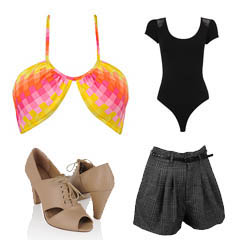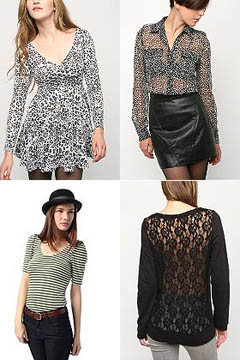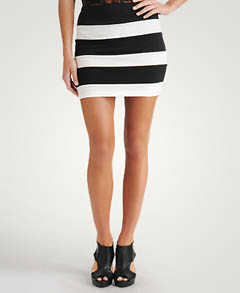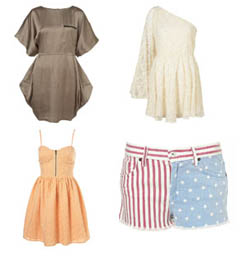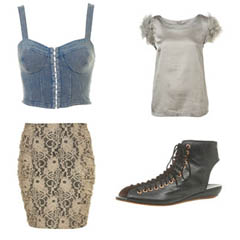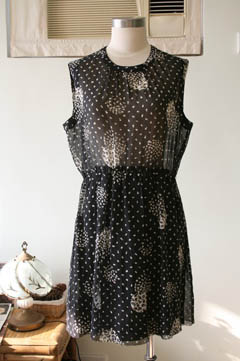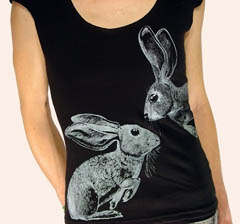 Why we love: A hub of the world's top designers, it's like taking a walk down Fifth Avenue Manhattan or London's Bond Street, but you can do so in your pyjamas.
Designers profiled: There are over 300, but here's a taste: A.P.C, Alexander McQueen, Jimmy Choo, Stella McCartney, Marc Jacobs & Canadian designers Erdem and Smythe
Site origin: London, U.K
Price Range: In the dress category, simple Splendid Camisole's start at $77 – and then it shoots way up to a strapless silk-gozar beaded gown from Lanvin priced at a mere $15, 440.
Something to note:
-The Essentials boutique on site is a great way to build timeless and classic pieces into your wardrobe
– For the daring bride, there is a comprehensive wedding section which also acts as an excellent way to view potential options. Settle in with a cocktail, your best friend and have some fun clicking arrows.
What we are eyeing that won't completely knock us sideways financially: Elizabeth and James Stripey Tunic, $195 / Rubber and Stainless Steelwatch from Marc by Marc Jacobs $175 / Stella McCartney Zebra Cotton T-shirt Dress $235
Why we love: Free worldwide delivery in 3 days or less, clearly marked sales and special features to help you build and personalize your look.
Designers profiled: Rag and Bone, Cheap Monday, Free People, L.A.M.B, Hanky Panky….it includes many of the top designers as Net-a-porter, but the price point median is less.
Site Origin: The fashionable Madison, Wisconsin Area
Price Range: 1420 dresses that range from Free People's Poison Ivy Tunic at $34.00 to Herve Leger's white sequin and strapless mini at $3900
Something to note:
– Themed lookbooks help you figure out how to nail the all American girl (hee hee) or go for something more edgy like "In Tatters." Lookbooks are also categorized by designers.
What we are eyeing: Rag and Bone Utility Shirt Dress, $195 / Current/Elliot Pink Destroy Ankle Skinny Jeans $144.90 (on sale!) /Generra Tie Shoulder Dress ,$225 / Frye Zoe Huarache Thong Sandals, $118
Why we love: this site is targeted at women 18-35, so it's fairly spot on in price and style.
Designers profiled: Betsey Johnson, Dirty Pretty Things, D&G, Philosophy, Sonia by Sonia Rykiel
Site Origin: Camden Town, London, UK
Price Range: 309 Dress Styles that range from 35 pound Jersey dresses to an 890 pound Ina Kalivas Embroidered Ruffle Corset Dress
Something to note:
– Prices marked only in UK currency…slightly irritating.
– Terrific ways to sort clothes and find exactly what you are looking for
What we are eyeing: Cheap Monday Belted Denim Turn Shorts, 35 pounds / We The Free Ditsy Floral Shorts, 45 pounds / Johann Earl Button Down Skirt, 35 pounds
Why we love: they specialize in vintage finds!
Designers profiled: Vintage and vintage inspired pieces by indie designers.
Site Origin: Pittsburgh, Pennsylvannia
Price Range: Averaging between $20 – 150
Something to note: Started by high school sweethearts in 2002 when they were just 17! Now this innovative couple has a staff of over one hundred.
What we are eyeing: Dear Diary Blouse, $29.99 / English Seaside Dress, $49.99 / Rooftop Get Together Romper
Why We Love: Their site is easy to navigate, and you can see the products from every angle. Other shoppers rate each item, so you can get some insite into fit and quality. Sale items are easy to find AND, best of all, handbags are displayed on models, so you can tell how big they are. The Sale section is seriously comprehensive.
Price Range: Sale and basics for under $20, up to covetable purses for over $200.
Something To Note: The More Ideas feature is a great way to find other items up your alley.
What we are eyeing: byCORPUS Long Sleeve Wrap Circle Dress: $24.99, Sparkle and Fade Scoopneck Top: $14.99, byCORPUS Epaulet Chiffon Blouse: $29.99, Silk Striped Bibbed Tank-Online Only: $29.99, Kimchi Blue Lace Back French Terry Pullover: $24.99
Why We Love: A haven of bargains, without having to brave the store. You could spend hours building a new summer wardrobe with these seriously affordable pieces.
Price Range: Just like the store, items start at accessories and sale under $5.
Something to Note: The Shop By Outfit feature allows you to shop by price range-so instead of tempting yourself with things you can't afford, you can stick to business.
Geometric Bandeau Bikini Top: $12.80
Betty Oxford Pump: $29.80
Netted Short Sleeve Body Suit: $16.80
Double Knit Striped Skirt: $16.80
Belted Plaid Shorts: $9.99
Why We Love: Ohhh, Topshop. There is no affordable clothing store more covetable. The knowledge that we can order online makes us extremely nervous. The range of styles is our favourite thing here-you can dress for a sweaty summer music festival or a fancy tea party on the same site.
Price Range: From the seriously affordable to the affordable.
Something to Note: Everything on the site is extremely well-organized. Even sale is split up into categories, so you can find exactly what you're looking for. They also have Tall and Petite sections, combatting that hard-to-fit internet myth.
What We Are Eyeing: Broidery Cup Sundress: 35 pounds
Emroidered One Shoulder Dress: 50 pounds
Tulip Drape Zip Pocket Dress: 50 pounds
Organza Sleeve Tee: 35 pounds
Denim Bralet Cami: 18 pounds
Lace Ruch Bodycon Skirt: 32 pounds
Flag Print Hotpants: 32 pounds
Naomi Lace Up Sandal: 45 Pounds
Why We Love: Etsy is a treasure trove of handmade and vintage items, being sold by the people who craft and collect them. There's a range of one of a kind pieces, and it feels good to support an artist. As well, often you'll find the fabrics are ecologically responsible.
Price Range: From insanely affordable to a little more pricey-but remember that you're often paying for handmade craftsmanship.
Pieces We're Eyeing: CeiCeiStudio 1980's Vintage Yellow Sweater: $15
CeiCeiStudio Vintage Black Pattern Print Minidress: $28
NYHop Silver Hares on Black Boatneck Tshirt: $26
Betenoir Small Leather Hair Clip Bow: $5
Outofline Cotton Jersey Necklace Top: $68
Pretty Birdie Hemp Jumper: $180.00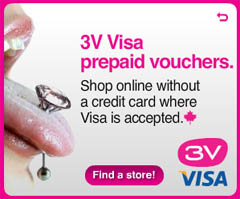 Don't own a credit card? Concerned about racking up interest on your credit card? Listen up, the new 3V Visa is the best way to shop online! Here's why:
1. Debt is a horrible thing. Don't go there! Because 3V Visa is prepaid, you can only spend the amount available on your 3V Voucher – so you stay in control of your finances. It's like having a pay as you go credit card.
2. No credit checks! Just go to a local retailer – which you can locate right now or 3V Visa Prepaid Vouchers are also available at any participating Esso or Canadian Tire gas station.
3. No interest rates! You won't find yourself in a financial rut when the big bill comes in…'cause there is no bill, it's all prepaid!
4. No fraud! Any site that accepts Visa will accept the sexy 3V Visa. It's a super secure way to shop online, over the phone or by mail order.
Perfect for those who don't have a credit card and for all of us who want to shop online with confidence – and keep our debt in check.
Next time you don't get a bill in the mail, you'll know whom to thank 🙂
Tweet Tweet – find some great online deals by adding 3V Visa on Twitter @3vcash.
AND check out the 3V Visa Facebook group – 'cause they are running a contest to giveaway FREE prepaid vouchers!! (If you win….you can spend it how you want and make your own prize!)
Here's to no-debt and stress free online shopping!