Philistine is one of those stores it's nearly impossible to walk out of empty handed.The small space in Parkdale (1394 Queen St. W.) contains vintage clothing as well as vintage-inspired pieces (a.k.a new clothing that has a lived-in feel) that run the gamut from well-worn denim to beautiful booties to unique accessories. One of our favourite things about Philistine is, hands down, its presence on our Instagram feed. Many of our trips into the store are fuelled by the artfully crafted square images with well-chosen filters that display complete looks or new accessories as they enter the space. If you haven't been to Philistine yet, it's time to take a trip out to Parkdale, pick up a coffee at The Mascot and peruse the well-selected (and affordable!) stock.
Because of our admiration for Philistine's Americana stylings, we reached out to co-owners Aaron Doucet and Colleen Ramage to show off what the store does best. Ramage modeled a look that is Philistine from head to toe and they gave it the title, "Western, Revisited." So giddy up, folks and get yourself to Philistine to pick up some cut-offs or a bolo tie if you're into it, which, we are. 
Website: http://philistinetoronto.com/
Instagram: http://instagram.com/philistinetoronto
Twitter: https://twitter.com/philistineto
Address: 1394 Queen Street West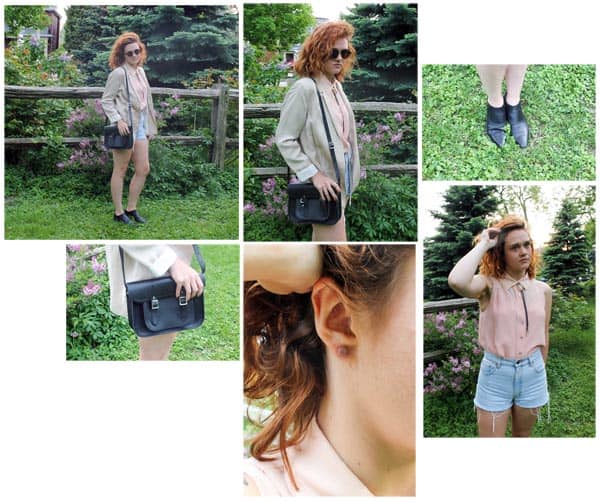 Outfit information: 
MinkPink "Wild West" Top, $79
Bolo Tie, $25
Vintage linen blazer, $42
Vintage Levi's cut-off's, $32
Vintage western booties, $48
Cambridge Satchel Bag, $140
Gem stone earrings, $20
Sunglasses, $10
In Styled By Local, Meredith asks our favourite local designers, boutique and vintage shop owners to style an original look to share with our readers.