"When a man gives his opinion, he's a man. When a woman gives her opinion, she's a bitch."
– Bette Davis
It's likely that Bette Davis was Hollywood's first female badass.  Working at a time when roles for women in the movies were predominantly docile, submissive, and based on attractiveness and likeability, Davis became known for tackling "harder", more complex, and at times deeply unlikeable women. She did not shy away from being labeled a "bitch" and her performances were all the richer for it.Staring this Friday and running until Dec. 8th, the TIFF Bell Lightbox is celebrating Grand Dame Davis with The Hard Way: The Films of Bette Davis, a retrospective featuring 15 of her essential films (out of over 100!)(busy BETTEEEEEE!).To give you a taste of the films, we've previewed a choice few! So throw back a whiskey sour, toss on a fur, and do try to keep up, darling.
Jezebel
Featuring Davis as a scorned and scheming Southern Belle, Jezebel could be film-kin to Gone With the Wind (spin-off idea featuring Davis' Julie Marsden and Vivien Leigh's Scarlett O'Hara as feuding, drape-wearing neighborinas???). If you can get past some unfortunate early-Hollywood racism, and check any modern feminist readings at the door (albeit both big leaps), the movie's an epic feast, chalked-full of romance, tragedy, and helpful etiquette tips like "never mention a lady's name in a bar", or "don't wear red ever".  It also features a litany of bustles in glorious poofy-ass effect, a leading man who goes by the name of Prez (eg. "oh Prez! Darling!"), and some very earnest complaints of "palpitations". At the film's heart is Davis, curls bouncing and eyes blazing, infusing every moment with fire, ice and spirit.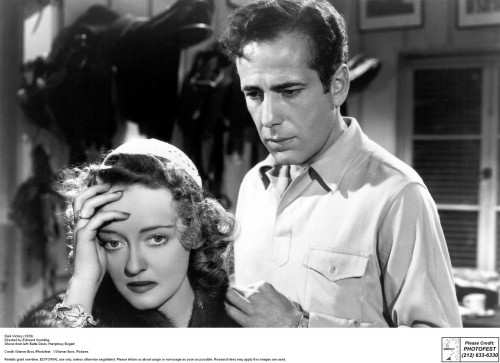 Dark Victory
The plot of Dark Victory– involving a frivolous socialite (Davis) who is diagnosed with a deadly neurological condition that is kept secret from her by her doctor/ lover- may seem outrageous, but it's really no farther out there than The Vow, say, or PS I Love You. And DV has a few huge advantages over those; first and foremost being Davis (obvi) channeling socialite, vulnerable patient, embittered grand dame, lovelorn school girl, and every shade in between.  This style of "Olde Hollywoode Melodrama(e)" is not for everyone, but the role was apparently Davis' personal favorite, and her vivid performance keeps the film from feeling too overtly saccharine, or camp.  It's also worth noting that the best scenes feature her in a fur coat and devilishly glam bejeweled chapeau, which the character wears to hide her "brain scars".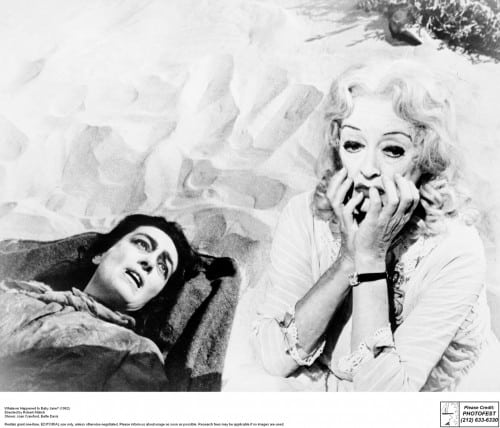 What Ever Happened to Baby Jane
I don't even know where to begin re: WEHTBJ. Starring an older Davis as a former vaudeville star (think Shirley Temple meets Honey Boo Boo meets pure terror), and Joan Crawford as her invalid sister, it's no wonder it became a cult classic. But the film is honestly more wild than I could have ever imagined, with Davis' performance at the radical center. And she is fearlessly grotesque in the role, right down to the disturbing pancake makeup she apparently insisted she wear. What's fascinating is that I can't imagine a film like this being being made today; a film where the effective protagonist spends the majority of it schluffing around in a petticoat, swilling booze and singing "I've written a letter to daddy", whilst terrorizing her sister with a rat in her "dindin".  Full-on disturbing, ballsy, brilliance.
I'd also highly recommend All About Eve, perhaps Davis' most well-known film. But with titles like Of Human Bondage, Marked Woman, Beyond the Forest, Dangerous, The Great Lie, and Mr. Skefflington (!!!) I really don't think you can go wrong with any ! All-in-all, the retrospective presents a wonderful opportunity to discover, revisit, and celebrate the artist who Meryl Streep credits as "lift[ing] the veil of appropriate behavior in women, to expose what was scary, unexpected, or ugly; in other words, to do what was appropriate for the character"…even if it meant doing it the hard way.
More information and scheduling available here.